BABBEL BOUNCES BACK IN BERLIN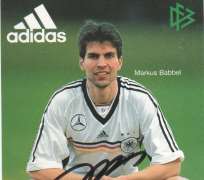 BERLIN  (AFP) - Former Germany international Markus Babbel has experienced the highs and lows of football, from winning trophies to suffering an illness which threatened not just his career but his life.
After an agonising period spent battling Guillain-Barré syndrome, a neurological illness affecting the nervous system and leading to paralysis, Babbel is back - albeit on the touchline as coach of Bundesliga outfit Hertha Berlin.
On Saturday, the 1996 European Championship winner will be back in his former spiritual home of Munich as he leads out his current team to face old club Bayern.
It's all a long way from the years when Babbel wondered if he would be able to shake off an illness which also afflicted former US President Franklin D. Roosevelt, Chicago Bears great William 'The Refrigerator' Perry, and former Denmark player Morten Wieghorst.
The syndrome left Babbel - who won a host of silverware with Bayern, Liverpool and then Stuttgart - confined to a wheelchair.
His latest adventure requires Babbel, who led Hertha to promotion last season, to plot the downfall, at least on the day, of the club with whom he won three league titles.
Following their promotion, Hertha, nicknamed the 'Old Lady' having being founded 119 years ago, stand in mid-table seven points off the table-topping Bavarians - not bad for a side which only recently was stood on the verge of bankruptcy.
'It's for the right to contest these matches that we fought all last year in the second division,' explains Babbel, who does not turn 40 until next year.
Speaking to AFP the former defender harked back to 20 years ago when he started out with Bayern, where he had a short initial spell before heading up to Hamburg for two seasons and then returning to his native Bavaria.
After six more seasons back in the south Babbel decided he wanted to embark on a new challenge - in England with Liverpool.
But after lifting both domestic cups and also the UEFA Cup in 2001 another challenge emerged from nowhere as Guillain-Barré struck.
He fought the life-threatening disease resolutely with months of re-educative treatment and came through.
And he explains: 'I became a different man. I really realised that everything just came to a stop just like that.'
After a short spell with Blackburn he decided to go back to Germany in 2004, joining Stuttgart, where he signed off as a player with the 2007 Bundesliga title.
'I no longer took pleasure in playing - I really wanted to go into coaching,' says Babbel, who became an assistant coach at Stuttgart and was then handed the reins on his own late in 2008 following the sacking of Armin Veh.
Babbel led the Swabian side to Champions League qualification following a magnificent run in the second half of the 2008-09 season, but he soon found the strain of combining the job with his studies for his coaching badges too much, and he was sacked not long into the next campaign.
However, after a spell out of the game, he returned at Hertha last year, charged with the task of leading the capital club straight back up to the top flight.
'I think now I can even say the illness helped me as a coach. For two years I was sat on the bench and even in the stands.
'Now, when a player is out, I know what he is feeling and can talk to him about my experience.'
His Hertha squad pins much of its faith in youth with promising striker Pierre-Michel Lasogga just 19, while they are offset by others who have fallen from favour elsewhere such as midfielder Andreas Ottl, formerly with Bayern, and unsung Brazilian creator Raffael.
Bayern have not conceded a goal in ten games and will be favoured to win their weekend duel but Babbel says he will draw on the experience.
'Bayern have so much quality. We are there to learn (but) everything's possible.'
Especially for a side which has already turned over reigning champions Dortmund this term.