STAR ACTRESS,SIKIRATU SINDODO SET FOR A BIG THANKSGIVING PARTY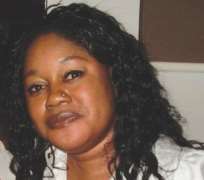 Actress Tayo Odueke widely known as Sikiratu Sindodo is said to be planning a Thanksgiving Prayer - with light refreshments.
Information made available to us revealed that the session is pegged for an event center later this month (October).
Details are being kept guarded because it is planned to be a strictly by invitation affair.
Sources further informed that 'it is planned to be more of a family affair with a sprinkle of friends and fans'
The move to host it at an event center is to be able to enforce the no invite, no entry rule.
According to source, October 23 2011 is event's date.
Recall,the popular actress widely known by the stage name Sikiratu Sindodo has been off the scene for a while due to ill health.
click the link below to go to...
AFTER 12 MONTHS STRANGE ILLNESS,POPULAR YORUBA ACTRESS SIKIRATU SINDODO STEPS OUT.