How Nigerian songster Mish rose to become a celebrity within a month of the release of his album singles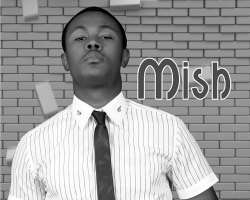 It is the first time I have done an interview inside a moving car. He was rushing to the studio to voice another song in his yet to be released album and I caught up with him. He said I should hop in to the car…I thought we would have to get to the studio before we begin the interview but it was on the contrary. While driving, he was answering the questions I threw at him as he carefully chose his words with his British accent. His name is Mishael but popularly known as Mish, the tall and handsome dude who has carved a niche for himself in the music world within the short time of his emergence. He has grown to become a celebrity overnight with his monster hit 'Akwa Ibom Ayaya'. The song has been so appreciated that even the governor of Akwa Ibom State, Chief Godswill Akpabio had to send for him. In this 'car interview', he talks about his background, the song 'Akwa Ibom Ayaya' and his sudden rise to stardom amongst other sundry issues. Though it was brief, it was not short of being interesting. Enjoy…
About Mish
My name is Misheal Mesach. That is where the name Mish came from. I am from Ibiono Ibom Local Government Area, Akwa Ibom State. I am the first son in my family. I studied Mechanical Engineering at the University of Port Harcourt. I am an entrepreneur. I am into oil and gas. That is what I do but music is more or less a hobby for me. That is my own little contribution to the industry.
Family Background
I am from a-not-too-wealthy family. It is a family of four, two boys and two girls. My siblings are all in tertiary institutions. I am currently based in Abuja while my family is at Port Harcourt. So I have been shuttling between Uyo, Port Harcourt and Abuja.
What gave you the inspiration to write 'Akwa Ibom Ayaya'?
It is the ignorance on the part of some people as usual because people tend to discard the flower under their nose to envy the green horizon in front of them. The inspiration came when I was in Heathrow Airport, London. It has happened before but this time was more of pictorial. I met a young lady at the airport and she was telling me about her home and stuffs like that. She said there are white sand and blue waters in her home. The lady is not from here. I think she is from Jamaica or so. She was telling me all that and I told her that I'm from Akwa Ibom. We got talking and I told her the things I was missing about my home, Ekpang Nkukwo, afang (native foods) etc as you heard in the song. I had to educate people, Nigerians and people all over the world about my language. I used a bit of my language when I said 'Di mi means come here' and stuffs like that. As I was writing the song, more inspiration came in. Just like using good entertainment or piece of arts to inform people, so I married all that together and we had 'Akwa Ibom Ayaya'.
No political undertone
If you listen to the song, you will not hear any politician's name. I was singing from my heart. Even in the video, you will not see any political undertone or overtone. I know a lot of people would think so but a vast majority of people appreciated the song because it's a nice piece.
Becoming a celebrity overnight
Well, if you call me a celebrity (laughs)…I'm grateful to God. I'm humbled. I'm just happy that I could offer something however small to my motherland (Akwa Ibom State). Good music is lacking here and we lack good representation. I feel very honoured and happy that people have appreciated me and my song and this spurs me on to do more.
Genre
I have been listening to music all my life, so I write tunes, I write instrumentals to communicate my feelings. I do all kinds of my music for the listening pleasure, so I can touch different people.
About his album
I have not had an album yet. But my singles are out. 'Akwa Ibom Ayaya' happens to be the last song of my singles. My debut album will be out late this year or early next year.
Being appreciated by the governor
When I heard that the governor (Godswill Akpabio) mentioned my name in a public event…that he was saying 'ha..where is that young man that sings this nice piece', I was very excited. I felt a sense of belonging that someone could appreciate what I have done. I was happy that I have been able to reach the heart of the number citizen of my state. It meant a lot to me and I was absolutely happy.
Where he hopes to see himself in the next few years
The sky is my starting point. I don't want to come down. I want to keep on doing good music. I just want to leave an indelible mark in the music world.
The state's entertainment industry
We need to do more work. The talents here should do their work well. They should come out so that people could see them. You can't keep gold in darkness because it will not be appreciated. All they have to do is to come out. So far so good, we have very good talents here and I believe the sky is their limit if they work hard.