FOR FIFTY CENT, AFRICANS ARE FED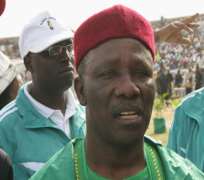 Ever wondered why the Kaduna State government recently spent hundreds of millions of public fund to feed some citizens of that state who recently ended their religious fasting period? Well, you need not go too far to understand the impressions created by die-hard critics of the Kaduna state governor Mr. Patrick Yakowa who said the decision to expend huge public funds to feed some religious adherents was purely political and not altruistic contrary to the reasons adduced by the Kaduna State government.
For me, the impression I came out with regarding the unusual practice of some state governments in Northern Nigeria that expend huge public funds in feeding the people during Islamic religious fasting periods is that hunger and mass poverty caused by the prolonged neglect of the Agricultural sector by successive administrations have become ever present and gravely disturbing.
What more can I say and how else can one explain that hundreds of thousands of families now rely on state governments in most parts of Northern Nigeria for food hand-outs during religious fasting periods other than the fact that most families have abandoned the time-tested practices of engaging in Agricultural activities even at subsistent levels?
Nigeria's former Education Minister and current World Bank's vice President Mrs. Oby Ezekwesili puts it succinctly thus; "Most of the economies are today mono-cultural, depending on a single source (or window) for their economic activities. In case of Nigeria, they can relate to the oil sector as one that provides government with almost 80 per cent of its budget and represents over 90 per cent of the foreign exchange earnings. It needs not to be so".
Oby Ezekwesili also stated what most conscientious analysts have said on how Nigeria can grow her economy and end poverty and mass hunger when she recently told the Cable News Network (CNN) that Agriculture is 'the next big thing' in Africa.
Her words: "If you want to diversify your economy you must pursue the kinds of policies that enable sectors that hold those opportunities to unleash".
The lack of infrastructure, a dearth of relevant skills and unfavorable business climates in many African Countries are stumbling blocks, Ezekwesili stated.
But she adds that recent examples from other nascent industries on the African continent provide hope that the ambitious aims of the agricultural 'miracle' can yet be fulfilled.
We will return to this conversation on how the agricultural 'miracle' can save Nigeria and other poor African nations to find lasting solution to the situation of growing hunger and poverty.
First, let's analyze the recent ambitious decision of one of America's best known musical Icons, known by his stage name of 50 cent to feed African children in his ongoing charity work to end starvation in Africa.
The reputable black American musical prodigy in a recent media interview disclosed that his range of street king drinks have already raised enough funds to feed 2.5 million children in Africa.
This laudable initiative of Mr.50 cent should provide the tonic for policy makers in Africa and especially in Nigeria to take a fresh look at how to revitalize the Agricultural sector because the continuous neglect and the political lip-service paid to the Agricultural sector consistently by successive administrations may occasion grave hunger in the coming years in Nigeria and we may not get 50 cent to bring up another initiative to feed our hungry and poverty -stricken Nigerian children.
After attending the Sunday mass at the Catholic Church in Asokoro, Abuja, recently, I came face to face with over fifty poverty stricken and severely malnourished street children who besieged worshippers for alms to buy food for their hungry stomachs. This scene is a daily occurrence after every Sunday mass and this signpost great danger if noting is done to bring back the Agricultural sector. Should Nigeria wait for 50 Cent before our hungry children are fed?
Nzamujo, a Nigerian who started the Songhai agricultural center in Benin Republic faulted the situation whereby the severe state of starvation on the continent has made most people in the Western World to see Africa as a charity ground.
Said he: "Africa can feed itself and the rest of the world if it puts its house in order. We are in trouble today because we service other economies. We produce cocoa, coffee, oil and others to service other economies. We export wealth and import poverty".
Father Nzamujo also gave his candid opinion on why Nigeria's agricultural sector has collapsed under the weight of corruption, needless bureaucracy and lack of focus.
He said: "Nigeria has cheap oil and feels it doesn't have to work. Imagine how many billions of Naira we pump into the ministry of Agriculture every year. But the ministry has turned to fertilizer ministry. I wept when I drove from Abuja to Jigawa. We have so many resources, yet we can't feed our people".
Pathetic, you may shout. But wait a minute. Nzamujo hazards a scientific guess that very soon; Nigeria's population will hit 160 million. How are we going to feed them? Are we thinking about that?
Nzamujo's apprehensions were corroborated by a serving minister in the current federal administration of President Good luck Jonathan who lamented to me in a recent private conversation that the nation is yet to show pragmatic commitment towards revitalizing and reviving Nigeria's moribund agricultural sector which according to him can actually create a lot of jobs and reduce social tensions that have accumulated over the years, enveloped the public space thereby making most youths restive and ready to venture into violent crimes.
This concerned Nigerian and a member of the current federal cabinet said he is worried that the ministry of Agriculture spends some of the largest annual budgets in the purchase of choice heavy duty vehicles and jeeps parked in the vicinities of some departments of the ministry scattered all over the country but nothing concrete is being done to encourage practical agricultural activities and entrepreneurial practices by the large army of youths.
He noted that from practical experiences that he has gathered; only old people engage in farming activities in Nigeria.
A key point I took away from my conversation with this minister is that he said a nation that leaves the agricultural sector to the aged and mostly illiterate population who are largely into small scale or rather subsistent agricultural practices, is doomed. Is Nigeria doomed then?
Mrs. Oby Ezekwesili in that widely acclaimed interview with the Cable News Network (CNN) re-affirmed her belief that if concerted efforts are made by government in reviving the agriculture sector, then the economy will grow in an unprecedented pace.
I am of the opinion that the Federal ministry of Agriculture and that of youth should collectively commence intensive training programs on modern technologically-driven agricultural skills for the teeming unemployed youths all over the country and the Bank of Industry and other commercial financial institutions be compelled to offer basic take-off grants to qualified candidates at very modest and subsidized interest rate and these young prospective farmers should proceed to start off their agricultural businesses in the rural areas. Experts like the founder of Songhai farms, father Nzamujo should be included in the design and implementation of these new revolutionary agricultural skills' acquisition to be financed jointly by the ministries of Agriculture and that of youth.
Government must also upgrade road and electricity power infrastructures in the rural Nigerian communities to encourage these young farmers to site their farms in those places and live and practice their profession as young and upwardly mobile farmers from rural Nigeria. By so doing, we may not need Mr.50 cent to feed Nigerian children in the nearest future.
* Emmanuel Onwubiko heads Human Rights Writers' Association Of Nigeria and can be reached on [email protected]
Disclaimer:

"The views/contents expressed in this article are the sole responsibility of

thewillnigeria.com

and do not necessarily reflect those of The Nigerian Voice. The Nigerian Voice will not be responsible or liable for any inaccurate or incorrect statements contained in this article."
Articles by thewillnigeria.com