My mother thought I was impotent – Faleti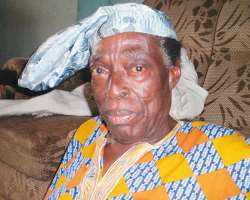 Despite his indigent background, Pa Adebayo Faleti always dreamt of a fulfilling life in drama and entertainment. "I never knew how but I was determined... to succeed by every good means'', he recollects. And devoid of financial assistance from parents and relatives, Faleti kicked his journey into the world of theatre in 1949. However, his thirst for knowledge and excellence despised all intimidation and barrier, propelling him into taking giant strides that saw him to the peak of his career. Today, Alagba Faleti as he is popularly referred to by friends and colleagues, is a renowned poet, retired but seasoned broadcaster and an articulate thespian. He tells YEMISI ADENIRAN of his rough climb to limelight, the inspiring role of his father, his message on polygamy and how he has managed to remain relevant in the industry even at his age.
You studied English Language in the university yet you are so versed in the Yoruba Language. What would you say is responsible for this?
My village background of course and the intimacy I have with my father. As a village boy I did not have to read or be lettered in the language before having a mastery of it. Everyday, I got tutored about it. I was born into it and the blood flows freely in me and my parent also took their time to teach me its rudiments. You know it is not everyone that studied a subject that is a good master of it. For instance people like Professor Akinwunmi Ishola studied French and not Yoruba, yet he has a good command and the use of the language. Basically, the village setting where I grew up had a lot of influence on me in this aspect. My father, for instance, made me to read Yoruba texts and story books to his hearing every evening, this way, I managed to get well trained.
Could you share with us some fond memories of your growing up days. How smooth were they?
I had a very interesting childhood. As the first son of my father and the only child of my mother, I enjoyed much attention from both. My father was so tolerant of all my ideas and escapades. Although I did not start schooling early enough and had to stop after my primary education, I was busy working out my dream all through.
What was the dream about?
All along, my desire was to become a celebrated artiste and I had my eyes for dramatist such as the late Hubert Ogunde, Kola Ogunmola, Duro Ladipo and Oyin Adejobi. I wished very strongly to become great and very popular like them even when this desire of mine seemed quite slippery to many of my peers. An opportunity however came for me when at a point, I couldn't continue my primary education. My parents became handicapped at funding my education from their meager income and I wouldn't take that for an unnecessary break off. I decided then to make an exploit of the situation and do something; I gathered some interested fellows and settled down to do my own thing, this was how I founded my own theatre group, Oyo Youth Operatic Society in 1949.
How did you find your way back to school?
I picked a job with a primary school to gather some money for my secondary education and my father later added some money on it.
For how long did you teach before furthering your education?
Six years. By the time I resumed secondary school, I was already over- grown, almost twice the age of every classmate of mine. Because of this, my education was made piecemeal. I owe my success to my father's tolerance I have seen the good, bad and the ugly sides of life. I have tasted the roses and the crosses of life. So, we have all dancing and singing throughout. I think we are improving really, we now have more serious stories, a lot of practical performances unlike then when we have theater groups now we have lots of artistes producing their work, everyone putting up their plays, videos and it is also affecting the stage. The stage is dying now and we have to do something quick to bring it back.
How?
By concerted efforts, encouragement. A lot of actors and actresses are not inclined into learning lines. They don't want to learn their dialogues but improvise for them (the dialogues). Whereas many writers don't know that this is the problem we have now, with the video thing, one is allowed to improvise on the stage it is not permitted; the lines must be repeated line by line. Filming can be done piecemeal, this is why people run away from it. It takes a lot of rehearsals, constant ones for that matter.
Why is your book, Won Ro Pe Were Ni not on video?
There is not much money.
How did you get the drive?
I got my drive from the initiatives of people like Ogunde who was a policeman before he ventured into acting and becoming a professional. His came before every other drama group. It was about interest and not finance, or the money. Then, you beat drums and dance round and people just want to follow you and become part of your drama group. But before then, we usually had lots of losses, so many times you went out and drum round and nobody would come and watch you. It wasn't the money at all, people just get attracted by the music your band presented. They follow you to many places, round the town. Many times our fans might not even have enough money to eat but they love it and just remain stuck. You see, music has high level of captivating effect on people and in drama. They try to remember you by the song you sing. The drive to the drama group came through the music, the dance and the drums and invariably they were popular too, Ogunde, Akin Ogungbe, Ogunmola and so on.
When did you get married?
I married later than my mates. I can't really say now but I know that I must have married 10 years after my peers got married because I wanted to achieve my dreams first and this got me into lots of problems with my parents who desired that I got married quickly. And like my mates too I kept assuring them of my intention to be married although not at when they expected. Again, this did not get down well with my mother who had to probe the efficacy of my manhood. It was as serious as that but I kept telling them that I was okay, I just wasn't ready for marriage yet. My father was more tolerant than my mother. I was the only child of my mother, my father had children from other women. My father didn't mind much and I must be thankful to him because he tolerated my adventures. When I founded my drama group and I was going up and down about it, he never told me to stop because if he had told me so, I would not have had any other choice than to do so. Himself had a little stunt with drama himself, he was a good poet, taught us about many poets and he was generally an inspiration. My father is Joseph Akangbe Faleti while Mariami is the name of my mother. Both of them were baptised together. My father became a christian and was baptised at the age of 82. My mother was the only one who did so immediately my father did.
What is your opinion about marriage, as an African man?
I am not a polygamist, I only marry a wife at a time. I live with one wife at a time. I always say this all the time that an average African man is not polygamous by nature only by chance; not by choice but by some accident. If there is a quarrel and it gets unsolved, we part ways and marry another one, that's what I believe in. I am not a polygamist but honestly I would have loved to be one. '
Why?
It is only one woman who can inflict punishment on a man. If they are two, if one boycotts you, you go to the other one and then the envy would make her to embrace you later and if the second one played the fool, then you go to the third one. If I had been a polygamist, I would not have permitted unity or friendliness between my wives, I would have made sure they were poles apart so that they would not be planning conspiracy against me. Make them enemies and you will enjoy yourself, I really want to work on a movie that talks about true friendship, true love. Is he or she ready to bear your burden? It is not easy to find a true friend. It is good to have your friend as your wife or husband. Friendship should precede everything. That is why the olden days marriages lasted longer. The courtship was usually long enough and that availed them enough space to study and know each other well.
What advice do you have for up-coming artistes?
They should not be so desperate for money. Money will come later but they should work hard first. Most leading actors became stars by chance. They should be patient; money will come their ways if they are good enough on the job, they should try to improve themselves first; great artistes don't come by money, money come by them. There might be frustrations at the beginning but they shouldn't bother. Don't be frustrated at times, there would be need for an actor and when he is not around and there is a gap to fill, and you are around they may just try you and if you are good, you may become discovered as a perfect alternative and then you become just popular. Like I said, great artistes become stars by chance, try to put in your best in whatever role you find yourself. If today you find yourself with the role of a pauper, tomorrow they give you that of a rich man, take both with gladdened heart. I can recollect the case of my role in 'Saworoide'. I was to play the role of a servant who is a bench warmer in the palace and I didn't mind. People who didn't have as much experience that I had were made chiefs. I would have loved to be a chief myself, and they know that it was a part that was below my standard. But when they approached me I did not object as an actor. I am supposed to play any part at anytime. It is not when you play a king's part that you become a great actor. No actor is above any role. That was how I became the palace gate man and incidentally that part was the most known part of the story and anywhere we go now all the Yorubas today "Ko le ye won, yo ye won lola". So, you don't reject a part for any reason. No actor is superior to play any part, you may be a servant today and be king tomorrow, it is not when you play a king's part that you become a great artiste. In every play you want to play a pompous part. At times you can play the role of a robber or a rogue. Great artistes don't discriminate on roles and this will make them outstanding.
Are you satisfied with what you have achieved so far?
I am grateful to God with all that I have achieved. I have moved round the vicissitudes of life and I have no regret. I have tasted the good, the bad and the ugly part of life. I was once in detention, removed from my office and put back. All the danger and the good aspect of the profession have come my way and God has made me to truimph. There is hardly any good or bad thing that I have not experienced.
Why were you detained?
It was during my broadcasting career. I was detained, retired from my job and after a while when they discovered that I was not guilty of the offence, they released and returned me to my office. I have tasted the roses and the cross of profession and in life as a whole. During the military regime, there were some broadcasting made that they thought I was instrumental to and that led me to be detained by the then governor, but when the truth of the matter came to the open I was freed.
What are you working on now?
I am trying to work on Won ro pe were ni and some others.
You have a peculiar way of wearing your cap.
I do not know how to wear it, so I just draw it anyhow and it has since been my style.