Foluke Daramola slams ex-hubby Says: "You've abandoned your kids"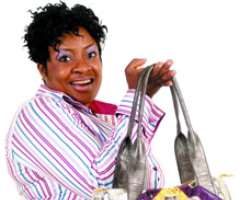 Estranged actress Foluke Daramola, has no plan to remarry any time soon, at least for now. The actress, who has been separated from her ex said: "I've too many things on my mind bothering me at the moment. Marriage is not one of them. I have two kids, a boy and a girl. I have a good job. I'm studying for my Masters degree and most importantly, I have love."
Justifying her decision not to remarry, she said: "It's not like I don't need a man. But marriage is not a priority. But let me also say that I am not divorced. I am only separated from my husband. I am not God. I don't have any bitterness towards my ex because I love my children so much. It's not like I'm planning to get back in the relationship. I am already in a relationship. But the fact is that I'm not in a hurry to remarry. I had a glorious wedding I must confess; the kind most girls only dream of. I've had it all and seen it all. Marriage's not on my mind at the moment."
Debunking rumours that her ex made a punching bag of her while the relationship lasted, she said: "I don't know where people got that from. Guess what? It takes two to tango. I was in love with my man. I just believed that we had ideological differences. But that does not amount to animosity or enmity. He never raised his hand to strike me on any occasion. Sometimes, it could take the separation of two people to understand each other. It must not bring about bitterness or anger and if I love my children, I can't have any bitterness for their father. We had our differences. We were two people coming from two different backgrounds. So there was bound to be friction.
She also denied rumours that her acting career could have culminated in her domestic travails: "I cross my heart. He never got upset on account of my career; not for one day. In fact, I'm a principled person even before I married him. In the industry, I have my scope. I don't do the sex symbol thing; I'm out to create a persona that would inspire youngsters. I don't want them to see me as a sex symbol. When it comes to romantic roles, I did one with Ade of Dudu Heritage. He was on set with me and Ade was fidgety. But he chided him by telling him to do his job because I would do mine. There were peculiarities, but it wasn't based on my career.
Single mother
Today, she is single-handedly raising the two kids from the union. But her ex-hubby couldn't care less! He is not contributing a dime to their upkeep.
However, she says on that ground, he's missing a lot. "You have to give them double love and double affection. I try to be always there for them. I live a regimented life. I spend quality time with my kids. I tuck them into bed every night. I try to strengthen the bond I share with them. I remember what my mum told me while she was raising us as a single mother after my dad died. I was just two years old and I try to impart that to my children. I try to make sure that whatever I had with my ex should not affect my kids in any way. So far, he has not supported me financially. But then, this is not America where they pay alimony. It's an individual thing and there's a lot he's missing but he doesn't even know. We all have stages of awareness. Maybe he hasn't seen it in that light. Maybe, when he comes around, he would. But I hope it wouldn't be too late for him. Meanwhile, I'm enjoying all that right now."
Currently, Foluke is working on a couple of projects including a TV serial, Passion. "It's the story of a grandmother and grand-daughter. It's a children-oriented programme. I am also working on my N5 million movie, Wata Ke Da. I am premiering it soon. Foibir, my entertainment outfit, would be giving out gifts like wheel-chairs to the disabled. I am working on a serial called, Tag Team as well. There's Ann Njemanze, Taiwo Obileye, among others on the set. It's a children-oriented programme."
Most challenging experience
"My marriage. Everybody wanted to know what happened. But a lot of people forget that Foluke is human and that I can make my mistakes. Don't get me wrong. My marriage was not a mistake; we just had our challenges."
Saddest moment
"When I read stuff about me in the papers that are not true, because to a large extent, the media added to our separation. I am a very practical person and take issues the way they come."
Having survived the break-up, she says she is haunted by the fear that her experience could have a negative effect on her kids: "My fear is that my daughter doesn't grow to dislike men of believe that all men are grouchy. For my son, my fear is that he should have confidence as a man in whatever he does. So I pray for them a lot."
Regrets
"I don't have any regret."