Ann Njemanze laments over her residence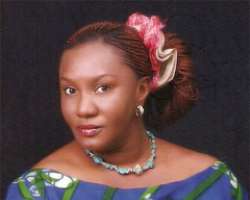 Penultimate week, the pathetic story of Ann Njemanze was published on the Sunday edition of our paper. Till date, the popular actress is still lamenting what has befallen her with the sudden downturn in her life. When 'Chit-chat' called her on the phone last week for a chat, she declined. Reason? She is particularly disturbed with the picture of her residence located somewhere in the ghetto of Iwaya, Yaba Lagos published on net on Sunday.
She sounded low while explaining that she was putting up in the house because that is what she could afford. Hear the telephone conversation:
Hello Ann, good afternoon. My name is Adaeze. Can we see today for an interview?"
"Oh Ada, how is work?"
"Fine, can I come over to your office for a chat as scheduled?"
"No Ada. Please I'm not ready to talk now. Didn't you see the picture of my residence published in National Life? Oh my God, those people tried to make a mess of me. When a lady is trying to live within her means, is that a crime? If I start sleeping around to get money from men, they would call me a prostitute, 'Ashawo'.
Cossy Ojiakor is driving a jeep, and they are still talking. Look at me, who is working hard, trying to make a living, trying to make ends meet and to bring food on the table for my children, they are now making jest of me. They said I'm living in a shabby place. Ada is that an offence?
My landlord saw the picture and the write up, and he said he was going to tell his lawyer to write me. I'm expecting the letter. I don't know what would be the content. I don't know what to do now. I'm just short of words. Which paper do you write for?"
"nfc."
She dropped the receiver