I'm Sexy, Not Slutty-Bhaira Mcwizu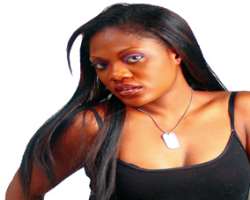 Like every reality TV show winner, Bhaira Mcwizu, who came out tops in the Nigerian Breweries Plc organised Amstel Malta Box Office (AMBO) 3 got her opportunity and made good use of it.
Her winning the show got her a starting role in Cindy's Note directed by Izu Ojukwu. She appeared alongside established stars like Nonso Diobi and Clem Ohameze.
She had so much to tell Klieglights as regards her life, career and newly acquired moniker, 'Sexilicious Bhaira.'
"'Sexicilious' is actually a combination of two words - sexy and delicious! It was derived from what my fans post to my website.
"Many of them say that they love my tracks, my movies, my acting prowess and that I'm delicious and sexy. My fans coined it and I like it," Bhaira explained.
So, would she say she is sexy?
"For me, there is a thin line between being sexy and being slutty. Being sexy to me is being intelligent, sensual, confident and being at peace with oneself. As such, one who is confident, intelligent and enjoys what he or she is doing is considered sexy as far as I'm concerned," she replied as if on cue.
Speaking further, Bhaira said: "If people say that I'm sexy and I think I'm sexy, considering all their criteria, why not? I'm sexy."
For someone who has always wanted to live a life in the spotlight, it would be with all delight winning a well-publicised reality TV show. And how this sultry actress has been able to cope with stardom since she won the AMBO 3 is interesting.
"Stardom has been very awesome. Actually, I have been having a blast. God has been faithful and has been constantly there for me. I've been living my life one step at a time and it's been so enjoyable. I've been living the life I've always wanted," she said.
It is believed in some quarters that Bhaira chooses the kind of societal events that she attends and in recent times, she has not been spotted everywhere like many of her contemporaries, who emerge winners of similar shows.
"I choose the places I go to and I don't just go anywhere. This has always been so and even before I became a star and the
AMBO winner, I have never had time for frivolities. I like to have fun, party and hangout but I can't be caught just anywhere.
"It's either I'm enjoying myself or hanging out with friends. If I don't enjoy the place and I'm not with my friends, I don't go there. If it doesn't agree with my personae, I won't be spotted there. I've made some mistakes though but that is in the past. I have people who look up to me, so I have to be the best I can always," she said emphatically.
Several young people have achieved fame and fortune through reality TV shows but have they been able to maintain such glamour. Has Bhaira?
"I've got a lot of things I'm working on and since I won AMBO 3, I've been doing several things and I've been involved in entertainment as a whole.
"There is this talk show coming up called The Rostrum and it's going to be like David Letterman and Tyra Banks kind of TV show. I'd be anchoring the show alongside other colleagues. Aside this, I'm going to be giving back to the needy and the society. Most importantly, I'd be making new movies. I have three surprises for the public. Right now, I would tell you that my hands are full."
Speaking further, Bhaira said: "There are things that I'm brewing in the movie world and they are things that I have always wanted to do since I knew what I wanted in the entertainment industry. It's a surprise and as such, I would only tell you that three things are in the offing now and are best revealed as a surprise. That's all I can say for now."
Bhaira couldn't hide her surprise when asked about her incursion into the music industry.
"Oh my God! How did you know? I really want to know how you knew. Anyway, it's been nice. I've done some tracks with my friends in Stingomania and those who know me well would readily tell you that I've been into music long before acting came in. I actually love singing and I have been able to learn the art very well that I even went to school for it. I've an album in the making with a track called 'Sexilicious' on it."
"I'm lucky to have happiness and everything I've always wanted, so it makes me humble and thankful to God. I see things in a different light and I don't take things for granted. There are no lows for me since I attained what I've always wanted. I've always believed that one shouldn't get into the kitchen if you don't want to feel the heat. There is a sacrifice to be made to get everything, which is not always enjoyable."
Bhaira, who says she doesn't listen to killjoys, maintains that the worst thing she's heard of herself is being labelled a snob. However, she said she's not only fun to be with but she is also humble.
"People have a different notion when they meet me because I'm a very fun and humble person and I still don't know where they got that notion of being snobbish from. I think what informs my personality would have to be my background and the way I was brought up. I shy away from being caught doing things that are not positive or exemplary."
The prized possession for most actresses is their bodily features. This gives them a unique edge over others in the industry but for Bhaira, it's her talent!
"An edge over others? I'm a fantastic entertainer; I was born to be on the stage, I was born to entertain. I'm confident in myself and there's absolutely nothing you want me to do that I won't do to the best of my ability and which would always stand me out. So, my confidence, faith in myself and talent, because I'm multitalented, would always be an added advantage for me. I can sing, dance, act, and speak different languages," she said.
Several people have several views about how they want to be viewed while alive and when gone, Bhaira is not left out and in her own words: "I would like to be seen as another person who is doing what she loves to do. I'm an actress and I take pride in doing what I love doing. I love to know that I'm adding value to lives, believing that I came to this world, did my best and it was good enough."
Bhaira, like any young woman her age and with her stature in entertainment, must be battling to keep the horde of men angling to have a share of her at arms length. But there was no going down that road for Bhaira in the chat.
"I'm not sure I would want to answer that because I never talk about my private life!"