Nigeria, India plan joint film festival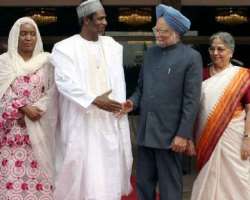 INDIAN and Nigerian governments have concluded plans to host a joint film festival for Bollywood and Nollywood to commemorate the 60th and 50th independence anniversaries of both countries respectively.
The festival, which is scheduled to take place in Nigeria by January 2010, is expected to serve as a vehicle for strengthening the cultural and economic ties that have existed between the two countries over the years.
Indian High Commissioner to Nigeria, Mahesh Sachdev, disclosed yesterday in Abuja during a visit to the Minister of Information and Communications, Prof. Dora Akunyili, that the two countries were the largest film producers in the world, adding that the result of the partnership would benefit 1.1 billion people in India and 140 million Nigerians.
He said that apart from collaborating with the audio-visual media in Nigeria, the Indian government has concluded plans to train about 100 top management employees of the Nigeria Postal Service (NIPOST) on current methods of sorting and delivering mails.
The envoy observed that the Indian government through its technical and cooperation programme recently trained some Nigerians on information and communications technology and suggested that the training be extended to the postal sector.
Responding, the minister commended the effort of the Indian government in building the capacity of Nigerians on information technology, adding that the training of NIPOST staff would be a major boost to government's efforts at repositioning the postal sector to make it the highest employer of labour in the country in line with the seven-point agenda of the existing administration.
Akunyili, who observed that the two countries had had long-standing cordial economic and cultural relationship, commended the Indian government for the successful conduct of the recent election in the country.
Nigeria was recently rated the second largest film producer in the world after India.