MERCY JOHNSON, MIKE EZURUONYE RETURN TO THE TRENCHES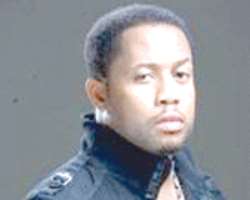 •Mike Ezuruonye
Newly wedded Mercy Johnson and actor Mike Ezuruonye recently renewed their bitter war of words in Nollywood. Surprisingly, not in real life this time, but in a new flick where both stars played antagonistic roles.
Entitled The Feast and from the stable of Sea-World Movies, the duo who once had a real life face-off on set and avoided each other for months before finally settling amicably, acted alongside Jibola Dabor, Akeem Rahman, Beverly Nayah and a few others in the fast-selling movie.
Produced by youthful Uchenna Nwankwo and directed by Michael Jaja, the suspense-filled work dwells on a Prince's insatiable appetite for power and mundane cravings and their unwholesome end result.
On whether he deliberately featured both Mercy and Ezuruonye, in order to further fuel their 'cold war,' Nwankwo, the producer of the controversial flick, who is currently topping Nollywood charts, answered on the contrary.
'We chose both Mercy and Mike because they were the most qualified for the lead roles while we were casting and suggesting possible names.
Again, I'm also happy that the movie has further bridged the existing friction between them.
No doubt, they were sworn enemies in this movie based on their opposing characters, which I must commend, based on their professional delivery. But that aside, they were the best of friends while filming lasted in Delta State,' he explained.