Emem Isong on the march again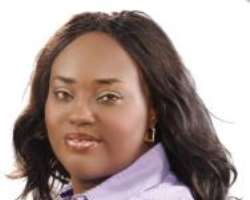 Respected and celebrated female filmmaker Emem Isong is set to kill three birds (not two) with just one stone. And since she is a member of the make believe world, the above scenario could only happen in Nolloywood, now the world's second largest filmmaking nation.
After a long wait, Isong and her partners; Desmond Elliot and Uduak Oguamana, are poised to dazzle movie buffs with their latest film projects. Already, Edikan, an Ibibio language film she jointly produced with the above two, would be premiered on July 10, in her native Akwo-Ibom State and later, Lagos State, the US and UK, amid splendour and pizzazz. In the words of Isong, the film thematically centres on the issue of child witchcraft and its effect on the victims as well as the society.
Meanwhile, Before The Light, a Christian movie jointly produced by Isong and Elliot, is also expected to hit shelves same July, with the sole aim of winning more souls for Christ.
"Edikan is a movie after my heart because of its plot and sub plots and what the society, especially my State stands to gain and learn from it. I'm also using this opportunity to implore my State Government Akwa-Ibom, to partner with us on this movie by using it as an advocacy tool round the State. It's the first Ibibio language movie to openly treat and thoroughly dissect the issue of child witchcraft and its effect on the society. We can do more of these language movies, but that can only happen if government supports and shares in our visions as film makers".
In another development, Isong, further disclosed that she has concluded plans to formally open her long awaited Nollywood training school. To be known as Royal Arts Academy, she posited that when opened in the next couple of weeks, the institute would train aspiring
Nollywood stars as well as those who intend working behind the scenes.
" We have made all the necessary arrangements towards the smooth take-off the institute. We are only waiting for signals and the arrival of some of the state-of-the-art equipment from our foreign partners. As soon as they are here, we would immediately take-off. Our aim is to help empower Nigerian youths through entertainment."