Not even World Cup match could stop Beautiful Nubia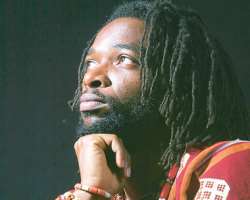 Even on a day the Super Eagles played a crucial World Cup qualifier against the Harambee Stars of Kenya, Nigerians still found time to shuffle their feet, wriggling their bodies and chorused different tunes.
The event was the yearly show of Nigeria's folk and Roots musician, Segun Akinlolu, popularly known as Beautiful Nubia, with his Renaissance band. It was, indeed, a day to remember.
Akinlolu, the playwright, poet and novelist dished out songs from his four albums, Jangbalaajugbu, Awilele, Fere, and Kilokilo. He was able to hold the crowd spellbound, making Lagosians to ask for more.
As the Beautiful Nubia sang, he interjected with some messages, like: "All of us should make the desired change. Everyone should be blamed for the failure of the society.
This is our country; we should contribute our quota in making this place a better place."
The event was organised by Eniobanke Music, in association with the Beautiful Nubia Fans Club.