Why I combine singing with music production –Terry G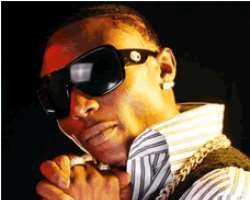 Call him Mr bling bling or Ginja Ginja as many of his fans know him, fast-rising hip hop musician, Gabriel Oche Amanyi a.k.a Terry G within a short spell has made himself a force to reckon with in the music industry.
Among the teeming numbers of young hip hop musicians in Nigeria today, Terry G belongs to the exclusive few like Paul Play Dairo and OJB Jeezrel who have effectively distinguished themselves combining the roles of a songwriter, music producer and music performer.
Since he caught public attention a few years back with his hit single Love You Sexy, a classic dance-hall beat, the music has become a source of inspiration to most producers.
This has also made him one of the most sought after producers with an impressive credit including production of popular songs such as Incase You Never (by 2Shotz), Aye Po Gan (by Ill Bliss) as well as a number of songs in Gift and Grace (Timaya) among others.
A talented producer, songwriter and musician, Terry G's work is characterized by deep lyrics, distinctive keyboard sounds and a creative signature jingle.
Terry believes that his proposed album and a new video entitled Free Madness would surely establish him as a major musical force among music marketers in the popular Alaba international market.
For the young man who was once a back up vocal singer for Faze, he said "Music is my salvation and the only way for me to gain financial success''.
But quite puzzling is the video of his hit single Love you sexy which never made it to MTV BASE. He recalled the challenges he faced while shooting the video, saying "We stayed for over a month in South Africa due to financial constraints, a video shoot that would have ordinarily taken one week. As to why the single was not shown on MTV, I cannot fathom, we did our homework, our usual promos, yet it was not aired but then it is not an issue for me''.
Since then, Terry has proved that he can really sing and not a voice over like most up-coming artists are, he is what the great old-timers would describe as a complete musician, Yes he plays keyboards, guitar and he is a songwriter and producer.
Like most accomplished musicians like R.Kelly, Terry was born into music. His mother who was a choir mistress influenced him to become a chorister and he performed in many church concerts as a solo artiste. But he explained why he ventured into secular music, "it was a decision that was solely based on survival. I discovered that gospel music could not guarantee the type of financial status I wanted. However, I have not totally relinquished the idea to release a gospel album."
Born to a humble family of Deacon and Deaconess Amanyi, Terry G is the first child of four kids. He hailed from Idoma in Benue state, the same state where Afro pop star Tuface Idibia hailed from.
He also dispels rumours that he smokes Indian hemp, describing the substance in his songs as an act, an illusion that is part of a script. Similarly, his appearance is also part of the strategy to identify with the youths.
His words " Most of our famous artistes also had to go through the streets before becoming popular, with time I would probably metamorphosis into something better it is all a process''.
This serious minded young man who is quite focused has been embroiled in some controversies over his very recent productions with another artist who goes by the name Ay.com he simply states "He (Ay.com) will always be my boy, one thing in life is this, you should always be grateful to whoever God has used to bless your life and moreover a song cannot last forever.''