AFRICAN TALKING DRUM QUEEN, ARALOLA WEDS PRINCE LEKAN SALIU IN LAGOS NIGERIA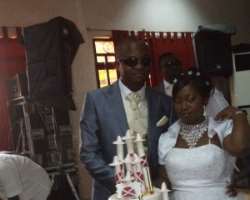 Prolific singer and African leading female talking drummer, Ara and her fiance of many years,Prince Nurudeen Olalekan Saliu were married last saturday 6 June 2009 in Lagos.The event was a gathering of whomis who in the socity as top celebrities, traditional rulers and dignitaries thronged the Etal Hall, Oregun in Lagos to support to support the couple.
The Oba Bbatunde Rilwan Akiolu, the Oba of Lagos led other Lagos traditional monach to support the father of the groom, Oba Bashiru Saliu, the Oloworo of Oworo. Others present are the Ojora of Lagos, Oba Abadulfatai Aromire,Chief Alex Akinyele, a former minister of information who came ith his wife. Asides friends and well wishers who came from different parts of the world, stars such as Yeni Kuti,
Muma Gee, Bisi Ibidapo-Obe and Kefee were also at the function.
One man many would not forget in a hurry at the ceremony was King Wasiu Ayinde with his love tracks.Even those who don't want to love again changed their mind after hearing "I can't just stop thinking about you my love..."
Earlier in the week, the couple had also formalised their relationship at the Oshodi/Isolo registry in Lagos. Unlike the wedding proper, the registry stuff only has three people present,including this reporter.