I want to go International – Oge Okoye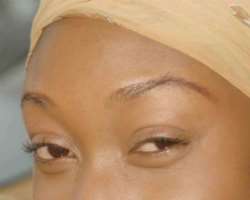 Oge Okoye has been acting in Nollywood for over 10 years and she has featured in over 30 movies. She is one of the actresses ... referred to as Nollywood Bad Girls. In this chat with Salome Johnson, she speaks of her desire to move to the next level.
How are you combining marriage with your tedious career?
It has not been very easy but I thank God for everything. Combining work with marriage is not an easy thing at all. You know that marriage takes a lot and your work also takes a lot of time too. So, the little time I am not working, I take the time off to be with my family and I also have my good rest.
With the absence of your husband, how do you joggle the situation, especially when you have to go out to locations?
I have a nanny who comes in the morning and goes in the evening and I also have a house girl and a house boy who are able to take care of my kid when I am not around. Besides, my baby is a very independent boy. Anytime I am not working, I try to spend a lot of time with my family because they are all I have got for now.
For how long have you been acting?
I started acting in 2001.
How did you get into it? Was it by coincidence or it has been a childhood dream?
I have always wanted to act even to the extent that I had to read Theatre Arts in school because that is just what I wanted to do. I have always wanted to see it come out a reality. It is like a dream come true. On how I started, I went for auditions and, God so kind, I got a role, although not a lead role. The title of my first movie was 'Ceaser to Ceaser' and my first lead job was a popular comedy by Nkem Owoh titled 'Spanner'. But the film that actually brought me to the fore is 'Sisiter Mary' and I have done several movies since then.
You have played the role of a campus hard babe in several movies. Were you really a hard babe back then in your school years?
Not really, it was just the character I was given and for you to be able to make out something good, you have to be very good in whatever you do and going out there with what is really good for the whole world to see. If you tell me I am a bad girl, then I will give myself the credit that I did very well in the movies.
How do you prepare for your roles. How do you fit into the characters?
I do a lot of reading and research each time I am given a script. I go through the Internet and I also ask questions from my friends and colleague on the character I am assigned to play so I will know how to interprete the roles very well. I also try to put myself in the shoes of the character I am to play.
How do you feel when you watch yourself on set?
I feel good although I don't have much time watching my movies, I barely have the time. I just put things into place and sometimes I come in bertween movies and I just watch. Most times I watch to see where I need to make adjustments and see ways of improving.
Have you had any embarrassing moment for playing a particular role?
Yes in the movie, 'The Corporate maid.' I played the role of a house wife of someone who has to retire from the US and decides to employ a maid through an agency, which was why the film was titled Corporate Maid. The maid, which was played by Mercy Johnson, is a lesbian who now seduces me into lesbianism in that film. Some of my fans who watched the movie thought other wise. I was at the Galleria, one day, a girl just walked up to me and said that she liked my movies and then she came close to me and whispered in my ears, 'are you really a lesbian?' I was so embarrassed because it was the first time someone would walk up to me and ask me a thing like that. I just told her that she should come in and I scrammed. I have never experienced a thing like than in my life.
What are some of the challenges you have faced on the job?
Not really much, only that we should try and improve on our equipment. We don''t have much to give the world the solid movie that it needs. We need to have higher hands. Also, the issue of being embarrassed once in a while for playing some cerrtain roles is another challenge.
Does your hubby watch your movies?
He does not even watch Nigerian movies, he watches more of foreign movies unless he stumbles into it when kids are watching it at home and he just like, 'okay let me watch.'
How did you meet your husband?
Our meeting was funny because I met him in a club where we were shooting and he actually thought I was a club girl.I was at work shooting in the club, so may be because of the movement he was like 'ah, this girl, I am going to bring her out of this kind of life and business' so when he told his friends, his friend told him that he should keep quiet that I am an actress and not a club girl as he thought and that we were actually shooting a film and just working. That was how we met, I did not know how he got my number and one way or the other we met again and the rest is history today. We have a baby to show for it now.
For how long have you been married?
For about three years now.
So, how is marriage?
It has not been easy but marriage is an institution on its own. It is all about understanding, tolerance, and knowing when your spouse is angry and how to go about it. You also have to love and trust your spouse.
What is one good thing that marriage has done to you?
Marriage has given me a sense of focus and a sense of responsibility and it has made people accord me a level of respect. You know in our society, people believe that being an actress, automatically, you are a whore but being married has made things different for me and has given me a sense of focus. You no longer think of yourself alone. You think of taking care of your baby, your husband and then yourself. It is more of a responsibility now than I used to be.
If reincarnation is true, would you still be an actress?
Yes, I will come back as an actress because I don't have any regrets at all about being an actress.
Being a beautiful woman, you must have fans, especially male fans and admirers coming in droves. How do you handle these situation, especially with the very persistent ones?
That is really left to me. I have been handling it since I was single. Otherwise, there would have been a lot of scandals about me. But there are some very persistent ones and they can be real pain in the neck. I had to switch off most of my phones and left only one on, the one you called me on. Some of them will call me at midnight and I am like 'excuse me? Why are you calling me at this time? Do you know I am married?' And then some of them will say 'does your husband not know you are an actress and that you have fans? They can call you at any time.' Some stupid ones will just not want to understand. I have been trying to manage the situation the best way I can.
What is your husband's opinion on your acting career, is he supportive?
He has been very supportive. I think that may be because he does not want to come between me and my job or something because before he met me, I was an actress. He does not have anything against my acting.
How does he feel when he sees you being smooched or kissed on set?
He does not really care because he knows and understands that it is just work.
There was a particular film I was shooting and he came to see me there on set. He was there while we were shooting, so after shooting, he was like 'so, this is the way you people do it?' and I said, 'that is it.' He knows that it is not just you and the person, there are lots of people but people don't understand. When you see them in the movie, you just think, it is just the two people but it is not like that. I also don't give him room for any suspicion and, after all, is it not when you have time that you will engage in silly things? I don't have the time.
What is your vision for your career say in the next five years?
I really want to go international. I want to go to Hollywood or even Bollywood.