Genevieve - The Final Straw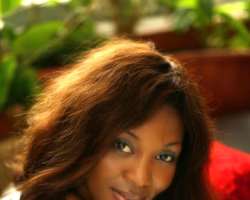 Hmmm, God is so good! All the time!!!
Here I was pining for something to write and Genevieve drops an article unto my lap kagblam!!!!
Genevieve granted an interview and it is here. http://nollywoodgists.com/content.asp?contentid=5152&ContentTypeID=6
In fact, Gen is one of the few reasons I watch Nigerian movies, but I am not one to take sides or mince words. Genny lacks diplomacy. I believe this is due to her lack of education in a tertiary institution and also probably that she was not very fond of her parents' advice in her younger days. She is so flippant in her response about her family, so sad. Why is she no longer with Iconola? Why does Genny have problems with everyone? Is she misunderstood or what? This so strange.
Now, to my beef with the interview; was she referring to the movie TULIPS? I believe she was. So Genny is saying
1. The movie is using her for publicity or that the movie garnered publicity because of her?
2. She is saying there was no contract?
3. She is saying the producers are losers by not getting her on their movie?
Ok. Readers, get ready for the excitement!
Remember I interviewed the production publicist when this issue first reared its head. Since then, Genny keeps running around saying she left the production; there was no contract blah blah blah. The truth is, I had asked, at that time for evidence from the publicist. I was given the contractual offer and Genny's response. I was also given her media release photo she sent. This was the same photo carried by the Hollywood reporter. That is the photo up there and here is an excerpt from the response she sent:
"There are other terms and conditions in your contract that should be discussed and/or negotiated. For now, please contact Debra on +2348077767--- to negotiate terms with you. If all is agreed, everything is subject to my final approval of the script when I read it, but if we agree on all else, from the story I've heard and from the content of your email, it sounds like a story and team I would be happy to work with.

take care

Genevieve"
(PS: I took out the last 3 of the phone number)
Why then is Genny changing her story every now and then?
If anyone was putting Genny on a map other than that of Africa and Africans in the Diaspora, it was the movie. Is Genny saying she is a bigger star than Kimberly Elise or Robin Givens? Or that she is more important the subject matter the movie explores. There are some movies that are not sold by stars by but story/content, a good example is slumdog millionaire and also Sound of Poverty from Nigeria. So, no one is using you for publicity Genny. There are enough powerhouses in the production for it to survive on its own. Who is the star that Shirley Frimpong-Manso has in her works that cause her to sell so much and receive critical acclaim? Genny is not in those movies and might never even be.
So let this matter rest! So, was a contract sent or not? Why was Genny embellishing all this while? I was not going to talk about this anymore but the interview she granted was so rude and arrogant I just had to do this. Thank God for paper trail!
Genny you agreed to play in the movie, the producers HAD you and they let you go. I am not the only one in possession of the severance notice she was served. Encomium has it; a couple of other media houses that asked for proof also have it. We all knew from the get go that Genny was not being very honest about what really went down but simply wanted to let sleeping dogs lie.
I contacted the publicist this morning via email to get some updates on Tulips and I got a "no comment" response. I will try and see what I can come up with this week. But from imdb.com it looks like Becca has clinched the role. I also remember when I interviewed Miss Djansi last year she mentioned that the movie had received too much negative publicity and so until it dies down, she won't shoot under scrutiny.
I still love Genny. But, I must say it when she is wrong. It is hard on both actors and producers so everyone must take it easy on each other. I am looking forward to the student thesis film she acted in here in LA though.
Any way. I hope this matter will die today! Genny, learn to be a bit more diplomatic, please. I want to see you do great things.
Open floor, let the fight begin!!