Day Cashier Embarrassed Me Over N3,000 Withdrawal - Mr. Latin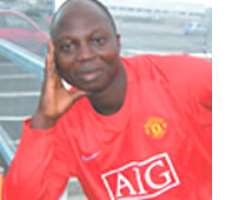 Bolaji Amusan, a.k.a. Mr. Latin, a comedian par excellence, spoke with Gbenga Olumide recently about his life and his activities in the movie industry.
You once said the major regret you have in life is that you are not a graduate. Are you taking any step towards achieving that?
I never said that my brother. I only said not being a graduate is one of my headaches in life. Now I'm trying to go back to school. Two years ago, I got an admission to study Tourism at the National Open University but due to unforseen circumstances, I had to shelve it, but by the special grace of God, next year I must go back to school.
As the governor of ANTP in Ogun State, what can you point at as your achievements?
We have tried our best to identify with the government. We have also tried our best to identify with the populace. At least majority of the public know that there is an association called ANTP in Ogun State, unlike the previous years. And we as well try to put food on the table of our members.We encourage the producers from other states like Lagos, Ondo and Oyo to bring their job to Abeokuta and we also encourage other artistes to produce their movies irrespective of the amount they have.
You arrived not quite long from a trip abroad, how was the journey?
I do travel frequently. I have travelled about two or three times this year. I went out of the country to sort some things out, such as family issues, personal and business issues. A Yoruba proverb says "Ti ina eeyan ba n jo, ki eeyan maa fi jo nnkan diedie." The trip was meant to put some finishing touches on one or two businesses.
People are of the view that you are making moves to relocate abroad. How true is this?
There is no way I can relocate abroad but I'm seriously trying to sort out some things abroad. I visited many countries and it is just on personal business level. There is no place like home. I'm a Nigerian, and I'm still living in Nigeria. There is no reason I will relocate abroad.
How did you see the theatre industry in Nigeria when you compare it with that of the western world?
It is incomparable. At least for now you can't compare our own theatre industry with those of overseas. But despite this, we heard a very good news about two weeks ago that Nollywood is now second in the world. You know, we were in third position before while Hollywood is always in first position. But the major problem we have now is fund. The government is not ready to assist us and the attitude of our producers in the movie industry is not encouraging. In the movie industry of today, we still have a lot of poverty militating against us. We are all struggling to make ends meet.
Are Yoruba artistes part of Nollywood?
Well, Nollywood is being accepted by the Federal Government and it is well-known throughout the world and we in Yoruba movies have no choice than to accept it. Nollywood is well-recognised and there is nothing we can do about that.
What about ANTP?
ANTP is an association like NANTAB which comprises majority of the English-speaking actors and actresses. We have RATTAWU, we have a lot of other associations. But Nollywood is the umbrella body of these other associations, be it Ibo, Hausa, Yoruba or any other language in Nigeria.
You are a comedian par excellence. How would you classify your comedy?
You know, it's not expected of me to mark my own testimonial. It is the people watching my job that can judge me. But I thank God that I'm one of the comedians in Nigeria who are still regconised by the people.
Would you say being an actor is a blessing to you?
Yes, it's a big blessing to me because I have not seen any job which I would have done that would have made me a better person than acting. My acting career has opened doors of opportunities for me. I have moved with the high and mighty. I've dined and wined with the creme de la creme in the society and I've travelled to so many countries. I've been able to mix with the poor, the middle class and the high class.
How will you rate yourself financially?
I'm still poor but thank God, I'm able to feed myself three times a day. It depends on how you quantify success. Success at times does not mean money. It does not necessarily mean cash at hand. Your success also depends on the positive impact you make on the lives of other people. How you can make other people laugh, and I've been trying my best to support the less-privileged. In a nutshell, I thank God that I'm comfortable enough. Though I'm not rich, I'm not poor either.
Can you tell us about your happiest day?
I have a lot of happy days – the day I travelled abroad for the first time, the day I produced my first movie, the day I got married and the day I gave birth to my son .
And your most embarrassing moment?
A lot, because as a public figure, you have no hiding place. The one that readily comes to my mind was the day I was 'broke' and I went to the bank to withdraw between three and five thousand naira from my account and one of the cashiers said, " Mr. Latin, so you came to the bank just because of five thousand naira!" If not because I'm a public figure, such would not have happened. If I'm not a celebrity, I can even withdraw a thousand naira but on that day, my staff were all on holiday, so I had to make that withdrawal by myself and the cashier raised such an embarrassing question. But I asked him if three thousand naira was not money. If not because of the job I'm into, nobody would be aware that I was in the bank because of three thousand naira.
What should your fans be expecting now?
By the special grace of God, I am leaving office next year March as Ogun State ANTP's governor. So we are trying as much as possible to put a round peg in a round hole. We are making consultations, we are meeting with artistes, contestants to select at least two or three peole who can start from where we would stop in ANTP both at the state and national levels.
Which post are you contesting at the national level?
I'm not contesting for anything again and I've said this times without number.
But what if your people say they want you?
Of course, they have been saying it, but I'm not ready.
Why are you withdrawing yourself?
I'm not withdrawing myself. We have a lot of people out there who can move the association forward as well. I've tried my best in the state for four years. However, that doesn't mean that I won't still contribute my quota to support whoever emerges as the ANTP governor in Ogun State or as the national president. It's only that I now want to face my family, business and life.
When is your next production coming up?
My next production is Government House. By the grace of God, it will come out by next January. I'm trying to do some researches and it is based on the politicians. I did it in Taa lo n gbemu? and Mr. President. I'm trying to x-ray what is in the government house that is supposed to be occupied by just one person at a time and hundred people will be jostling for the post. Most of them are millionaires before they get elected but immediately they get to power, they derail and despite this, they still want to retain that seat for a very long time without performing.
Can you tell us the major problems facing actors in the movie industry?
Piracy. We have been saying this for a very long time. When a film is released into the market, within four days, you will see people hawking it on all over the market, selling it for N250 per copy without the consent of the producer. A lot of factors are militating against us, but piracy is the major problem we are having.
Who is then to be blame for this?
It is the government. If we arrest them and charge them to court, before judgment can be pronounced it may take six to eight years, and it is a bailable offence, which means the man would have been released, left free to continue his nefarious activities. If the pirates can be arrested and detained pending the time of judgement, it would have been better. But immediately you take them to the police station, their lawyers will come for their bail and they will go back continuing with their piracy job.
Any advice?
Let everybody be patient. Nigeria is going to be a very good country. I believe that Chief Obafemi Awolowo never saw ATM, Chief MKO Abiola never saw GSM and these are the people that fought for the freedom of this country. I'm sure a time will come when Nigeria will be like the U.K. and America. Though it may take another 20 years, I believe Nigeria is going to be a good country.