Nollywood rising, more than just hype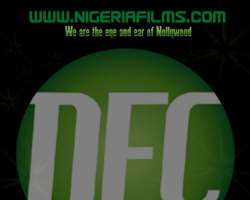 Nollywood thrives on self-finance and low cost strategy. Digital cameras are used to shoot, mostly during the day - sunlight saves cost. Sadly, this phenomenal growth is just a tip of the iceberg.
Nollywood is rising. The indigenous film industry was recently ranked number two (in terms of production volumes) in a survey by UNESCO Institute of Statistics (UIS). Bollywood topped the chart while Hollywood was third.
Patrick Enaholo, faculty member of Pan African University's School of Media and Communication, opines "It's well known that Nollywood is not just "hype" anymore. Media researchers have, for some time now, been very interested in the phenomenal growth of the industry – not in the quality of the movies (which is lacking in many aspects) but in the quantity. For many academics, Nollywood is always worth studying." The Institute of Strategy and Competitiveness (ICS) at Harvard did just that.
In a 2008 report, Nollywood: The Film Industry, it analysed the industry's potential – using Michael Porter's cluster methodology, vis-a-vis Nigeria's economic performance and global competitiveness. The report concludes with recommendations for both the government and industry practitioners.
But research interest in Nollywood isn't limited to outsiders alone. Uchenna Uzo, a PhD candidate at IESE Business School, Barcelona, Spain, is working on Nollywood as his one of thesis papers. He is gathering data: articles, reviews and news articles, on the Nigerian film industry from Living in Bondage, now considered a classic, in 1992 till date.
Resourceful by nature
Nollywood thrives on self-finance and low cost strategy. Digital cameras are used to shoot, mostly during the day - sunlight saves cost. Sadly, this phenomenal growth is just a tip of the iceberg. Nigeria is a dual economy heavily skewed toward the informal sector. Though floods of FDI, unmatched in 25 years, are pouring into the oil and gas industry, the country's potential to do and be more is nobbled by corruption, a not-so-friendly business environment and inadequate human development.
Nigeria ranked 121st, 181st and 174th in global rankings by Transparency International (Global Corruption Index), World Bank (Doing Business) and UNDP (Human Development Index) respectively in 2008. These factors cripple the country's capacities for innovation.
According to the ISC report "The US Patent and Trademark Office granted 42 patents to Nigeria in the last 40 years". Innovation's lodestones: engineering, science, mathematics and technology, rule of law, a developed capital market and a stable business environment are not Nigeria's strong points, at the moment.
Absence of a strong legal system fosters piracy. Incompetence and poor funding hinder quality. In addition the industry is dogged by poor distribution network within and outside of the country, under-equipped training facilities and under-utilisation of the tangible and intangible assets such as cinemas and a strong brand.
Yet Nollywood is one area that highlights that Nigerians are resourceful by nature. But we can do more - less quantity, more quality. Take South Africa's Tsotsi. The film cost $3 million and grossed thrice that amount in revenues. And two international awards to boot: an Oscar and a Golden Globe, for best foreign language film in 2005 and 2006 respectively. South Africa does not make as many films as Nigeria; its focus rather is on quality. A more sustainable strategy with multiple income streams.
Local content, global appeal
This informal sector has spurred Africa's largest film industry – Nollywood churns out 90 percent of African films. On a shoe string budget of $40,000 to $210,000, digital films are shot within 10 to 20 days (with 1 to 2 weeks is spent on post-production) and shipped straight to video stores. Consumptions patterns vary. Most rent, some buy and a few watch in cinemas.
Locally some movies rake in sales on more than 20,000 copies while blockbusters can do half million. However, the biggest market is the thirst for local content abroad: Africans in Diaspora swallow over 50 million copies. An ingenious but archaic value-chain, given Nollywood's potential.
UIS's report, which yielded data from 99 countries – 11 were developing countries, noted trends in the film industry of developing countries. Digitisation of films into DVDs or video formats is rampant in Africa. Kenya and Uganda are borrowing a leaf from Nigeria. This has rapidly increased the number of consumers.
Not moviegoers that patronise conventional multiplexes ie, cinemas with at least eight screens, in Europe, America and India. Rather Nigerians watch their films either at home on personal "home theatres" or at "video theatres". Video theatres make up 99 percent of Nigeria's 4,871 cinemas.
Nollywood movies aren't indifferent to their audiences. They cater for a broad spectrum of Nigerians. Between 1993 and 2007, of every 100 films produced 44 were in English. The number of films in Yoruba, Hausa, and Igbo were 31, 24, and 1 respectively.
According to UIS "Digital film production has given birth to a two-edged sword. On the one hand, it has allowed for the rapid expansion of the film industry in certain African countries, such as Nigeria, because it is low-cost and self-financed. On the other hand, the pirating of films is likely contributing to the eventual shrinking of the film sector"
Full implementation of the recommendations by the Institute of Strategy and Competitiveness would extract more value from this industry. For instance, government, by curbing piracy and formalising distribution channels through licensing supports the industry's survival.
Political mileage can derived from getting throngs of youth in the industry move from being waka pass actors and actresses to employable professionals. Luring experts to establish more training schools is one way. Nollywood is one of the sectors targeted by the World Bank's 61 billion naira ($420 million) Growth and Employment in States (GEMS) programme, to generate employment for Nigerians.
The private sector's involvement – funds and management expertise – can help revive a cinema-going culture. The level of security cinema locations will encourage more outings and boost revenues.
Nollywood's fame, at home and abroad, can be further publicised through award ceremonies and festivals. Africans in Diaspora will come in handy here. Well told, shot and marketed films have a halo effect on the country of origin. The Congress Party in India rode on Slumdog millionaire's success at the Oscars. The film's theme song was adopted by the party. Nollywood can blow more than hot air if professionalized.