if God says yes no one can say no--------Daniel Kalu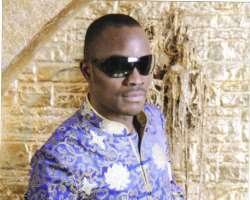 Daniel Kalu is a Nigerian who has been living in China for so many years now. He was once into business ventures but had to succumb to his desire and long time yearning of going into music. He got into music professionally in 2004 but has been singing since he was eight years old. In this revealing and very interesting interview DANHANSOM (that is his stage name), spoke with Emmanuel Gabari of www.nollywoodgists.com and he talked about his journey to music, the challenges he had to go through and how happy he is now doing what he loves doing. Enjoy.
PLEASE CAN WE KNOW YOUR FULL NAMES
My names are Daniel Ndukwo Kalu, but I prefer to be called DANHANSOME because it keeps me going.
WHY DID YOU CHOOSE THE NAME DANHANSOME? IS IT A STAGE NAME OR YOU HAD GOTTEN USED TO THAT NAME BEFORE NOW?
Apart from God who holds my destiny, the name is like a propeller that carries me through the storms. When I was going through several challenges in life, especially when I was new in China and facing some hard times, each time I remembered the name, it kept me going.
WHAT DOES "HANDSOME" MEAN? IS IT THE NORMAL WORD OF A MAN BEING HANDSOME?
No. Mine means ...Determined Ability Naturally Has Always Navigated Success On Merit Excellence (DANHANSOME)
WHEN DID U REALISE YOU HAD TO GO INTO MUSIC?
While I was in Nigeria I loved music and had so many songs which I wrote but  still did not take music as a profession until I came to China on the 1st of October, 2004, I found myself in a place of worship and just realized I had to surrender to the calling of God.
SO YOU STARTED PROFESSIONAL SINGING IN 2004 WHILE IN CHINA?
Yes. I got to China and discovered it is God's gift to me. I met two brothers who have the same passion for music just like me then we started working out something. I also forgot to tell you I was anointed for praise and worship here in China after that I started having an inspirations from God
HOW HAS IT BEEN SINCE YOU DELVED INTO MUSIC?
I thank God for everything. So far, so good.
HOW MANY ALBUMS DO YOU HAVE NOW?
I had one album with my group Newmen. Right now we are working on the second album and my solo album will soon hit Nigeria market soon. I have finished work on my solo album
WHAT WAS THE TITLE OF THE FIRST ALBUM, HOW MANY SONGS AND WHEN WAS IT RELEASED?
Newmen is the title of the album I had with my group. It had 12 tracks in the album and it was release in May 2006.
OK, BACK TO YOUR PERSONAL MUSIC MINISTRY.  HOW LONG HAVE YOU BEEN SINGING?
I have been singing from my childhood at the age of 8. I joined my church choir in the Children Department. Later on, I was transferred to the adult choir
AND WERE YOU LEADING SOLOS WHILE IN THE ADULT CHOIR?
No. I was not leading songs but was a good back-up. I was doing this until I traveled to Kaduna State Nigeria, after my secondary school to study Marketing in Kaduna State Polytechnic.
HOW WERE YOU ABLE TO GIVE EXPRESSION TO YOUR MUSIC MINISTRY IN CHINA, KNOWING IT IS A DIFFERENT PLACE IN TERMS OF CULTURE, LANGUAGE AND ALL THE BARRIERS INVOLVED?
Thanks so much ...Actually it has not been easy here in china considering the language and culture barrier but I have been able to get the attention of the Chinese youth by combining their rhythm with our African rythyme in my music which makes it appealing to them. Also Chinese youths identify good music because they know popular musicians from America.
MUSIC IS TRULY UNIVERSAL.  SO WAT KIND OF MUSIC DO YOU PLAY?
I am a gospel artist, though I also write, sing and perform contemporary music, provided the lyrics are not offensive. I can sing any genre but am more of a hip hop singer.
DO YOU PERFORM LIVE OFTEN AND HOW HAS THE EXPERIENCE BEEN FOR YOU?
Yes I perform live often here in China and it is good experience and what interests me most is that everything works here. Almost every week, I have a show to attend.
WHAT DO YOU LOOK FORWARD TO EACH TIME YOU HAVE TO PEFORM ON STAGE OR IN A SHOW?
Each time I have to perform, I work hard so I can please my fans. I desire the best. I want people to be happy and feel great after my show.
HAVE YOU BEEN EMBARRASSED BEFORE?
Yes. That was when I was told that I could not make head way with the kind of music I play but if God says yes no one can say no. I met a producer and after listening to some of my tracks he advised me to sing other people's songs instead of having new songs which people have not heard.
LETS TALK ABOUT YOUR NEW ALBUM COMING OUT SOON.  HOW MANY TRACKS DO YOU HAVE IN IT AND WHEN WILL IT BE RELEASED?
It has twelve tracks in it with some bonus tracks which are movie sound tracks. It will be released later this year.
HOW DID YOU COME ABOUT YOUR HIT SONG "I GO MAKE AM"?
I am based here in China. Most people in China are businessmen. I was also doing business until I discovered God's gift of music in me then it made me realise that I was carrying wealth in me which made me say after all I go make am because I have finally discover the path to my destiny.
WHAT MESSAGE DO YOU WANT TO PASS ACROSS WITH YOUR MUSIC?
Message of hope, togetherness, love and one God, which will truly make us one united nation of the world
SINCE YOU DO MORE OF GOSPEL SONGS, ARE THERE LOTS OF CHRISTIANS IN CHINA?
Yes of course, lots of them. A lot of people love my music whether they are christians or non-christians, my lyrics are educative, something to learn from because my lyrics come out of experience either from me or from people around and it speaks reality.
HOW WILL YOU DESCRIBE YOURSELF?
I am gentle, easy going and God-fearing. I never say it's over until I get it right. I walk by faith not by sight, just as my bible tells me and I live by it.
SO WHICH PART OF NIGERIA ARE YOU FROM?
I am from Abiriba in Ohafia Local Government Area of Abia State in the eastern part of Nigeria.
HOW WILL YOU RATE GOSPEL MUSIC GENERALLY?
I think gospel music is the best as long as music is concerned but the only problem is that we don't invest much money in it that is why it seems that the circular music is overtaking us. Just watch out in a couple of years from now, the reverse is going to be the case because I see a lot of professionalism now in the gospel music.
WHAT ARE YOUR PLANS FOR THE NEW YEAR?
I will be coming back home to Nigeria to promote my music. I am also working seriously to explore Canada with my music
DO YOU HAVE PLANS TO GO INTO OTHER THINGS ASIDES SINGING?
Yes. I am a model already. I model for a company in Canada.
DO YOU PEOPLE HAVE YOUR TOWNS MEETING IN CHINA?
Yes.

SO WHAT'S YOUR FAVOURITE FOOD? OR HAVE YOU GOTTEN USED TO THE CHINESE MEALS?
My favourite soup is okro soup with pounded yam. Sometimes I eat Chinese food because they are medicinal.
PRECISELY WHICH OF THE CHINESE FOOD DO YOU LIKE EATING?
Honestly, I don't know how they prepare it but it's a green vegetable that looks more like mushroom.

LASTLY, WHATS YOUR WORD OF ENCOURAGEMENT TO YOUR FANS, FRIENDS, FAMILY AND EVERYONE?
In all you do, keep the faith. Don't loose hope. Hold on to God who has your destiny. With determination, patience and perseverance you will make it in Jesus name...one love