Moving Back To Nigeria Is The Best Decision I Ever Made -Banky W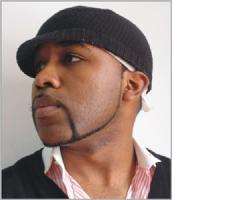 Bankole Wellington, who many refer to as Banky W, returned from God's Own Country to Nigeria, in February 2008. Upon his coming back to his root, he quickly got involved in the country's entertainment industry. At first, many considered him an 'import', desperate for recognition, having failed to make it in the highly competitive music environment in the U.S. That criticism seemed to find a strong leg when he released his first single entitled Ebute Metta, which was a remake of Rihanna's hit single, Umbrella. Sceptics quickly dubbed him an impostor. He has, however, proved them wrong. A full album and three music videos after, many have come to terms with the fair skinned dude who told his story to Reporter, Gbenga Bada.
You refer to yourself variously as Mr. Capable and Mr. Incredible. Are your good looks and fashion sense responsible for these appellations or are they just flights of fancy?
Mr Capable and Mr. Incredible are names that were bestowed on me by my fans. I believe the title was given because my fans believe and know that I'm capable. My fans and supporters over time realised that I'm a capable kind of guy. My look is to the glory of God.
You relocated to Nigeria last year, has the relocation given you all you expected from the local music industry?
Relocating to Nigeria has been all I expected and so much more. I'm very grateful for everything that I've been able to accomplish so far. I have no complaints and I'm grateful.
Would it be correct to say you have been able to do well for yourself in the last one year?
It feels good and I feel really blessed because you know, I have only been here a year and have come pretty far. So, I feel pretty fine about it and I hope I would continue not to let people down; exceed people's expectation of me, and get to raise the bar for myself and my career.
You will be hosting the 2009 edition of the Hip Hop World Awards in Abuja. What is it going to be like for you?
I don't really concern myself with anything. I only try to be the best Banky W that I can always be, put up the best image and make people connect with it. Luckily for me, I'm blessed to have the opportunity of hosting an award ceremony and getting nominated at the same event. I am always going to be Banky W and I hope that would be good enough for everyone.
You were once signed on to one of the leading music companies in the world but something went wrong and you quit to do things on your own. Can you tell us what really happened?
I have had situations recording outside the country before in general! it's a different world out there. For every artiste you see on TV, there are always another 100 who are trying to figure out how to get there. So, it's just one of those things and for me, it made much more sense to pursue the Nigeria thing; to be here in my country and do what I do best, and get appreciated for it. The music industry in Nigeria is huge, I think moving back to Nigeria is the best decision I ever made, and it has been working fine for me.
But hasn't your decision to relocate to Nigeria been affecting your expectations in terms of financial and other rewards?
The truth about it is whether you are abroad or here, there is both positive and negative development. In Nigeria, you might not get much money from some companies, but over there, you get much money from record sales and there's publishing. In this country, there are so many things the industry needs to work on to make it better for us. Artistes only get paid for CD sales alone, nothing from publishing.
Are you prepared to continue, knowing fully well that all these things you have mentioned are not in place in Nigeria?
You see, there's no publishing in Nigeria, and people don't get paid their royalties and other stuffs like it is expected of every company or organisation that uses or play your songs publicly. In the United States of America, anytime your music is played on radio or used as a sound track, you get some amount as right, and that's what music income is, but in Nigeria we don't have that. However, we have our compensation through endorsements, shows and concert, but we still have a lot more grounds to cover and we are starting to do that.
Your videos are rated as some of the best in the industry. Is this as a result of your foreign exposures?
The truth is whenever I write a song I kind of have the video for it in my head. So, as I write the song, I write a concept for the video and I meet a director whom I show what I feel the video of the songs should be or look like. I have been able to study the industry and know what really I need to sing about and the video that would best suit it. My videos have got better and better, and I can only hope that I can keep the standard going by God's grace.
Before your relocation to the country, you were said to have battled with cancer twice.
I don't really want to go into that, but what I would say is that sunshine comes, but you can't go through it if you haven't gone through the rainfall. That's one of the low points of my life, and I thank God that every time such things come, He gives me the strength to overcome and become a better person. It's one of the things people go through. If everything goes smoothly, you'd never appreciate life. I'm here. I'm grateful and we thank God.
Your debut album in the country has been successful, what are the plans you have to consolidate on this effort?
A new album is coming soon and it's called W Experience. It has two singles that are dropping and they are entitled Strong Faith and Lagos Party. Strong Faith is produced by Cobham Asuquo, while Lagos Party is produced by Dr. Frabs. Those are the new things that are expected to consolidate on the first album and further position me in the industry.
With your handsome look and aura, how has it been with the ladies?
It's lovely with the girls!
How do you cope with female advances?
Like I said, it's been lovely!