Queen Ure in love again?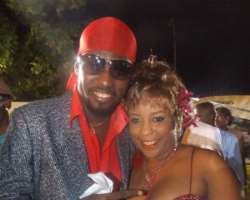 Queen Ure and Soul E (EX)
One good thing about love is that its flame has a way of rekindling as many times as possible. Yes, it is true that love can go sour and its flame can be put out but if you are able to gather yourself together, pick the pieces of your shattered mind almost immediately, let go the past and forge ahead, you would definitely find love again.
If you doubt this, then ask Queen Ure Okezie, Soul E's ex wife how she did hers. Or haven't you heard the latest about her? Well, I will only whisper it into your ears but don't say you heard it from me o! The gist is that our beautiful Ure has jumped into a fresh romance barely few months after her marriage crashed. Did you say 'Ozor kwa (again?). You don't need to blame her now, 'Body no be wood, abi?'
After all gospel singer, Kenny Saint Brown, whose marriage also crashed once said that if you have been hurt, terribly hurt, that you should first run to somebody who would give you love, attention and listening ears. "Run to your pastor, or your pastor's wife, your confidant, your mother or anybody who would give you love and attention because you have been sapped of love", she advised.
It appears Ure harkened to that juicy advice and decided to run into the arms of a younger man for love and attention. It doesn't matter whom a woman runs to at this period of her life, as long as the person gives her love and attention. That is the advice from an experienced person or what do you think?
Wait, the gist is not over yet. I heard that Ure ran into the arms of a hip-hop artiste, who is simply called Gcelmp. Gossips said the young guy received her warmly. The light-skinned banker, they squealed is even older than Gcelmp. But please nobody should blame this glamorous 'Sisi' for her choice. After all, she is used to having them young and hot. Was she not older than her ex-hubby? She prefers them y-o-u-n-g. After all, the younger the better, some ladies tend to say. So mind your business.
When 'http://nollywoodgists.com called Ure on Thursday last week to hear her own side of the story, she refused to comment. "Please, I'm not ready to talk about it or grant press interview because you would go and write what you saw and would even quote me verbatim. You would do it in form of question and answer stuff where you would 'vomit' all that I said. I don't want that please. Let me be."
When a man is in love with his wife, he extends good gestures to his in-laws. For instance, when the father-in-law of Kris Okotie, the funky pastor of Household of God Church visited him and Stephanie his daughter, Kris bought the old man a sleek car. That's good; after all the Holy Bible says that giving is better than receiving.
Now, Mario Buhard, the Lebanese lover of Bacchus Night Club's Louise Priddy is also following the same footsteps. It is good to emulate a good thing. He gave two brand new Range Rover Jeeps to his mother-in-law and brother-in-law to-be. That goes to show that he is gathering momentum to be a good and caring husband and in-law.