Independent producers killed Nollywood-----Lancelot Imasuen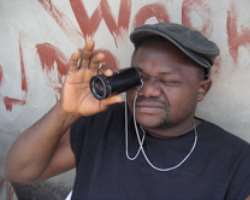 Lancelot Imasuen has sensationally declared that independent producers are to blame for the malaise rocking Nollywood.
Just back from Boston, USA, where his Edo-language based-movie, Ebuwa, premiered, the multiple-award winning director cast the blame for Nollywood's lack-lustre performance at the foot of independent producers.
Tracing the genesis of the problem, he said: "The industry crashed when marketers came in and began to dictate. Directors were excommunicated from the process of film making and until professionalism is re-introduced, there is no way forward. We are here today because of failure on the part of the independent producers. A lot of them cheated those that were giving them money to shoot films! It's sad but that's what happened. My argument is that I was given money and I did not cheat, so, why am I being made to suffer the same fate as those who cheated? Is there no selective punishment for those that goofed? Ask any marketer today whey he decided to come into Nollywood, he will tell you that it was because those he gave money were cheating him. There were reports that some of our big men today, some shameless men actually collected money from marketers but did not give results. It is only natural that these marketers would want to protect their investments. So they started coming into the industry."
It would be recalled that at its peak, artistes like Nkem Owo, Liz Benson among others earned six figure salaries. That era gave birth to the discovery of talents like Kate Henshaw, Genevieve Nnaji, Omotola Jalade-Ekehinde among others..
However, the run ended when marketers came in and insisted on using the same old faces for all movies.
According to him, the entry of the marketers also had another effect. It demystified the stars, whom the marketers had come to look upon as demi gods and this spelt more troubles for Nollywood..
"Those days if you bring the investor on set and he sees stars, he is dazzled; they were so elated and happy and the artistes had their field day! When I was on the set of a movie in 1997, Liz Benson was treated like a star. That was professionalism. In 1999 again when KOK, Olu Jacobs, Rachael Oniga, Rita Nzelu were on my set, we had separate cars taking them to location. They were lodged in three star hotels but when we started doing follow follow and worshiping investors, these things dropped. The big actors started calling marketers chairmen because of hunger!
However he added: "We all at one time or the order contributed to the fall of Nollywood but I blame the producers more because there is no reason a man will taste sugar and spit it out! Some guys that could not even express themselves came into Nollywood and took charge. That was how we got here!"
Ebuwa
He also spoke on his movie, Ebuwa, which has premiered in a dozen European and American cities and the Federal Capital Territory (FCT), Abuja.
"Ebuwa is part of celebrating and sustaining my Edo language initiative. I am also trying to challenge my colleagues in Nollywood. The days are over when you have to sit in one place and expect things to happen. We have to be hard working and out-reaching. I have decided that my major business now is to make my language internationally acceptable through movie. I am privileged to come from a place that is extremely cultural and I am aware that the people don't seem to know the peculiarity of that place. Historically, the place called Benin has a lot of weight in the history of black Africa and the entire black world. So I said to myself, how about making some good movies touching on some sour areas of society, using my language as a medium. I have since realised that language is not a barrier to film production. After all, we were enjoying Indian films in those days but we did not understand them. As far as entertainment is concerned, film has no barrier.
According to him, the response has been out of this world!
"How could I have known that Ebuwa would get the kind of attention it is getting. Politicians, captains of industry and stakeholders honoured me when it premiered in Abuja. People are now learning the Edo language outside of this country because the movie is sub titled in English, and viewers are able to match the words. We have moved from Abuja to Boston, from Boston to New York, from New Your to Atlanta. Our next port of call will be London on June 13, before the movie would be release in Nigeria. The response has been wonderful. You wouldn't know how much people appreciate you and what you are doing until you are opportuned to meet with them. The support has been massive especially from people of Edo extraction in the Diaspora."