Unveiling Nigeria's leading petite entertainers like Aki and Paw-Paw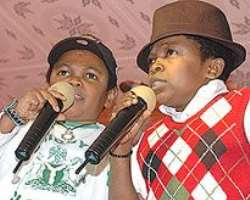 Some are dwarfs, others are midgets but these sets of people have simply chosen to see themselves as petite and small.

Just like the albinos, some go a long way to detest the existence of these sets of people while some others just cleverly avoid them.
As such it was with great awe, suspicion and at times surprise that many saw these Nigerians several years back. But with the evolution of the Nigerian entertainment industry, these little men and women have decided to take the bull by the horn and be at the forefront of events in the Nigerian economy.
The seeming revolution of the small men in the entertainment industry began few years back after the incursion of the first brave and pioneering petite man, Chinedu Ikedieze.
Chinedu plunged himself into the world of make-belief and before long, he had become not only one of the best actors in the country, but the only diminutive and successful actor in a very long time.
With the way at which these diminutive dudes are going, it might not become surprising should one of them eventually emerge as a lawmaker of holding political offices.
Carefully analysed in this piece is the world of the four biggest Nigeria's petite entertainers, who have become not only prominent but have been able to hold sway as perfect entertainers in the Nigeria music industry.
Chinedu Ikedieze (Aki)
Widely known and referred to as Aki of the popular flick, Aki and Paw Paw, Chinedu remains one of the most talked about petite personalities on the Nigerian entertainment scene.
This Theatre Arts graduate, who decided to take his destiny in his hands after refusing to be relegated among every other Nigerian citizen, leads the pack of diminutive entertainers in the country.
That he is a comic relief is like stating the obvious as his roles in several comedy flicks have become sources of laughter to many audience.
However, Chinedu is one of the few petite personalities who won't be taking for a ride irrespective of the personality or circumstances.
In his few years in the world of make-belief, Chinedu has not only attracted fame to himself, the good looking youngman, has also become the darling of many women while good money has been rolling in droves.
Though he once got engaged to a beautiful lady, who is several feet taller than him, the union didn't last long for several reasons that Chinedu has decided to ignore and continue with his life.
Residing to fate and now living his life to the fullest, many personalities wonder how he does his magic on stage and his charisma in reality.
Chinedu would not allow himself to be disrespected by anybody whatsoever. The strict and good-looking dude knows his way around the country.
He has become a source of joy to the family and many of his friends while several other individuals like him now look up to him as a mentor of some sort. Chinedu, just like his counterpart, Osita, has been able to win more laurels than six feet personality in the movie industry and some other parts of the world.
Osita Iheme (Paw Paw)
Call him Paw Paw and you won't be far from wrong. Christened Osita Iheme, this diminutive individual is one of the most confident personalities on the Nigerian entertainment scene.
So confident of his status, personality and brilliance is Osita that it is hard for any large-sized or long-sized being to disrespect or mess around with him.
He crept into the industry like a thief in the night and before long, had literarily become the second half of Chinedu, Aki.
The combination of both actors in the well loved flick, Aki and Pawpaw, has not only gone down in the comedy history as one of the most loved comic flick, it has further showcased the ability of these small men.
Osita's brilliance can't just be overlooked as the handsome looking and quite stylish dude knows his onions in many sectors of the entertainment industry.
At a point in his career, this dude was said to have encouraged his other half, Chinedu, who isn't from his mother, to employ the services of bodyguards that go around with them so as to prevent fans or people from mobbing them.
Osita not only stands out as professional, he has been said to have attained the height of prolific actor alongside his fellow actor and same height and size actor, Chinedu.
Osita, just like his counterpart, Chinedu, has been able to win more laurels than what six feet personality in the movie industry in Nigeria and some other parts of the world have not been able to achieve.
Jonathan Cyril
Born in Kaduna State as Jonathan Cyril, this indigene of Enugu is another petite sized dude, who has been able to distinguish himself from several others.
After spending several years in Abuja without nabbing a record deal, this dude resorted to finding greener pastures in Lagos.
And since his berth in Lagos, this dude, who has God, movies and people as his source of inspiration, has become one of the successful petite beings in the entertainment industry.
With a single from his forthcoming debut album getting so much airplay at the moment, Lil Jojo as the dude is fondly called, has resorted to doing music big time.
Currently signed unto the Kuf Entertainment, the diminutive rapper, who stands out as the fourth of a family of five has not yet quit plans to get his B.Sc from one of the Nigeria's higher institutions.
With the conclusion of his debut album entitled Naija factorof 13 tracks, Lil Jojo has distinguished himself as a rapper to watch out for after several performances in Abuja, Ghana and South Africa since he began his music career.
His major priority is his determination to project his album on a larger scale and get more attention than he already has been able to get.
Though not as popular as Osita and Chinedu, Jonathan is poised to rule the Nigerian entertainment industry with his incursion into the world of Hip-hop music.
It was gathered that the dude is currently working on plans to collaborate with some of the top Nigerian entertainment hit makers.
Ibro
Like his counterparts in the movie industry, Ibro, as he is widely known and fondly called is one of the fastest rising stars in the entertainment industry.
Though he has not been able to successfully beat or supersede the brilliance and works of Osita and Chinedu, Ibro has been able to carve a niche for himself.
The Surulere, Lagos, based diminutive actor, who has been on the rise in recent times has been able to prove himself as a worthy young actor.
Though not as wealthy as his other diminutive actors, Ibro still ranks high as one of the little men, who are enjoying the life of a movie star.
At the moment, the fame of these diminutive men, including Ibro, is on the increase and there has not been any form of discrimination between them and taller artistes.
In his own little way, he has been able to live off the streets begging for alms after strategically getting himself busy with the roles that are being assigned to him in Nollywood.