Nigerian-British Woman May Face Firing Squad for Drug Smuggling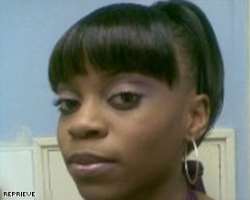 A campaign has begun to save a pregnant Briton from facing a firing squad when she goes on trial for smuggling drugs in the Far East.
Samantha Orobator
Pregnant Briton Samantha Orobator, who faces a firing squad in Laos if found guilty of drug smuggling
Samantha Orobator, 20, was arrested at Wattay Airport in Laos in August last year allegedly in possession of 1.5lb (680g) of heroin after a holiday in Thailand and the Netherlands.
She has been held since her arrest at the notorious Phonthong prison, where she became pregnant in December and where inmates have complained of being beaten and abused.
Orobator, from south London, lived in both Camberwell and Peckham before going first to Ireland, where her mother Jane Orobator, and three young sisters live.
Reprieve legal director Clive Stafford Smith said her trial had been brought forward after arrangements were made for her to see a lawyer for the first time.
He said: "It's pretty shocking that they would do that apparently to avoid her seeing a British lawyer before she has to go to trial. The notion that no lawyer should be appointed to defend her is outrageous."
He said she was "certainly not guilty" and had originally told police the drugs were not hers.
In Laos, people caught with more than 1lb (0.5kg) of heroin face a mandatory death sentence.
Mr Stafford Smith added: "We're dealing with a woman who has clearly become pregnant in prison. Nothing that happens in that prison is voluntary."
Clive Stafford Smith, Ronke Oseni and Stephen Pound MP
Samantha Orobator supporters Clive Stafford Smith, left Ronke Oseni and Stephen Pound MP
Ronke Oseni, 21, a psychology student at Kingston University, has known Orobator for 11 years and said her friend would never take drugs.
She said: "There is no one there to visit her, no one to talk to, she doesn't speak the language. I'm really scared for her. I can't even imagine what she's going through.
"The punishment does not fit the crime. They want to shoot her but what about the baby?"
Miss Oseni said Orobator had led a troubled life and had made several suicide attempts in the past, adding: "She suffered from low self esteem because she suffered a lot of abuse by men, by family, by friends."
Labour MP Stephen Pound, vice chair of the all party group on the death penalty, said the situation "cannot be over-dramatised".
He said: "A young woman who is now pregnant, is in prison in the most inhumane circumstances, and is facing the death penalty by firing squad."
Earlier a Foreign Office spokeswoman said: "We are paying close attention to her welfare and are in discussion with the Laotian authorities about her case."
The British Government only learned of Orobator's situation several months after her arrest.
Mr Stafford Smith said the Laotian government's "excuse" was apparently that it did not have a fax machine. There is no British Embassy in Laos and the nearest is in Thailand.