Me, date D'Banj? That's an insult------Child prodigy, Chichi of Africa,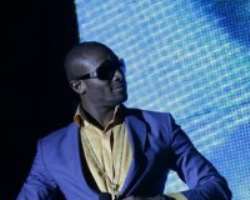 Child prodigy, Chichi of Africa, has denied ever dating the Koko Master, D'Banj. Happily married with a baby girl, the singer, who hit stardom in the late 1980s as a toddler, denied ever being romantically entangled with D'Banj.
"That's a very crazy thought for anybody to think," Chichi laughed, dismissing the rumour with a wave of the hand.
"At that time, we were close. He was like a brother to me. I helped with his album launch when he came back to Nigeria and also took part in some productions before he became a superstar. That was in 2006 or early 2007. Don Jazzy also helped me produce some songs in my album. So, basically, we're like brothers and sister.
Denying rumours that she dated any member of Mo' Hits Crew, she continued: "When I was in London, we were all living together; it was not like it was just me and these two. There was D'banj's cousin, Gboyega and another cousin, Kemi. Then I was working on my album, which Don Jazzy was producing. D'banj was about to launch his album a second time in the UK. So, it was work for me. But stories flew everywhere; people just love to talk. It was fine though, a real fun time for us." Back in those days, because of their closeness, word hit town that they were having a full-blown romance.
Marriage
Today, she is happily married to the man of her dreams and is the mother of a bouncy baby girl, Emerald. Her marriage was secretly consummated a year ago.
"I'm married now," she said, beaming with smiles. "My husband's name is Idowu. I met him in Lagos through a friend and I'm a nursing mother now. He's in aviation school, training to be a pilot. He used to be an airline cabin crew for Virgin Nigeria. Let's say it's about two years going to three. It's in the second year that we got married. Our marriage was a year last December. And I have a daughter now; her name is Emerald."
According to her, when they hooked up, it was not love at first sight: "No, it wasn't. It was much later that we got into each other. I didn't even know that he's the kind of person that I'll marry. We started out as friends and even after marriage, we're still good friends. Definitely, it's better to be friends because it creates opportunity for understanding and love becomes stronger. If you're in a relationship and friendship is not there, then, there's no basis for marital relationship. Even when there's a quarrel, friendship, which is the bedrock, ensures that it is settled amicably. Idowu and I are very compatible. I won't say we're opposites but he's extremely quiet while I'm the out-going type. He supports my career and listens to my songs a lot."
PMAN
One man who definitely contributed to making her a star and still has profound influence on her is her father, who died in controversial circumstances on the heels of what is now known in music circles as PMAN Kaduna elections, 2006.
The election culminated in the even more controversial victory of Bola Rosiji, who is alleged to have edged Teemac out of the race with help from Charley Boy, the same man who chased him out of office less than year later. Her dad was expected to have contested that election, but was suddenly disqualified. He had stormed out of the venue in Kaduna and returned to Lagos by night bus a bitter man only to die suddenly when he got to his family home in Lagos.
Today, the memory is still fresh on her mind. Apart from describing the body as a total failure, she said she wouldn't touch anything PMAN with a 10-foot pole.
"PMAN is dead right now! I'm happy that my father finally left PMAN wahala and went to rest. He was at the last PMAN election in Kaduna and you know about the things that happened there. Everything went wrong! When my Dad returned, he died! And people started saying PMAN is messed up; that everything my father worked hard to build is now in vain. For me, I don't want to have anything to do with PMAN again."
Recounting the antecedents that culminated in her father's sudden exit, she said: "My father was never told he could not contest for the position of President. When he got to Kaduna, the venue of the election, they suddenly told him he was disqualified. But when they looked through the constitution, there was nothing against him to justify the decision."
However, she does not believe that people in PMAN killed her dad. She insisted that his death was natural: "But I must say that nobody killed my father. He left when it was his time to go. However, there are things that make me unhappy about PMAN but my Dad died when he had to die. It was his third year remembrance three weeks ago."

Last word
Last year, word was in the air that her new album would be released. However, to date, nothing has been heard of the project.
"Yes, my album has been ready for close to two years now, but I have to re-work it because at a point, I got discouraged. First, I lost my dad. Next, my record label lost focus and that discouraged me a lot. I was going to abandon music. But with my friends and family rallying around me, I decided to get back to work. I would've done that last year but with my pregnancy and the arrival of the baby, I had to take time off. This year, I'm going to start reviewing the album again and see where I'll go from there. If I tell you I know when the album would be released, I'll be telling you a lie. Motherhood is a new thing to me, it's not something I've experienced before. I'll put everything in God's hands. I'll handle it. I mean, I love my daughter and my family means a lot to me. My husband's been very supportive. I can't thank him