Pasuma, Rosiji, Kollington endorse Naija Fuji Fest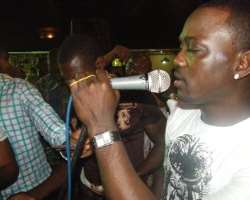 WASIU Ayinde Pasuma, past PMAN president, Bolaji Rosiji, present PMAN President, Admiral Dele Abiodun, Saka Orobo, FUMAN national president, and Ayinla Kollington, among others, have endorsed the staging of Naija Fuji Fest in Nigeria later this year.
Making this public declarations at the White House in Ikeja, Lagos, last Sunday, Pasuma said he was in support of the festival because the organiser showed particular interest in improving the welfare of fuji musicians worldwide.
According to him, the concert deserves all support as it is grande and befitting not only to fuji musicians, but the image and tourism potentials of the country, which would be positively enhanced.
"Most of us who have travelled far and wide know that music has the power to promote a people, add value to people and nation, and also unite them.
"That G'ENNIE Leisure had thought up an idea of this magnitude speaks volume of the thoughts of an average musician," added the Arabambi (II), who hurriedly arrive the venue when Saka called him while asleep." It's the respect I have for our president and FUMAN that made me cut short my sleep", he injected.
Even non-Fuji stakeholder, Bolaji Rosiji, declared that a music festival had been long over-due, especially that of fuji, whose members used to block the entire Ikeja in the 70s and 80's whenever they performed.
"Fuji music transcends tribal bounds, Igbos, Tivs, Ijaws, Fulanis and Hausas dance to the music, not only the Yorubas. It's 20,000 members have become tightly knitted that they've are now the single most powerful and marketable music in Africa. For me, I will do anything to help this group of enterprising Nigerians," he promised.
Not left out of the unvieling was Admiral Abiodun who drove straight from an event in Owo, Ondo State, to the venue.
The recently confirmed PMAN president by a Lagos High Court confessed how pained he was to have been beaten to organising the first musical festival in Nigeria, but praised the efforts of the organiser in not only bringing Rosiji, Pasuma, Kollington, and officials of some corporate organisations to the univeiling, but for also seeking the assistance of other stakeholders in ensuring a successful hosting of Naija Fuji Fest.
"I had planned to announce something like this on Thursday during our maiden press brief, but then I will still support G'ENNIE Leisure because the owner is also a stakeholder in the entertainment industry.
"The task at hand is enormous, that's why we all need to work together on this because I see great opportunities in tourism development and the festival's ability to bring global attention to Nigeria, especially as we are now re-branding the country".
"Our doors are always opened to the organiser as well as other event planners out there who are not thinking of money first, but how to practically improve the lot of Nigerian musicians.
"I'm particularly happy that other genres of music will be co-opted into the festival, it shows that the organiser is interested in developing the industry for the benefit of all. I can't wait to see the event take off", he expressed.
In his speech, Orobo canvassed support for Naija Fuji Fest, still in its embryonic stage, appealing to the corporate bodies, individuals, the entertainment media, to support the event, just as he assured that FUMAN and its BOT was ready for a lasting relationship with G'ENNIE Leisure.
"A concert of this proportion deserves the support of all fuji musicians and its lovers. Three days of performance by our members at one event will be a landmark in the history of entertainment in Nigeria, we shall give it all it needs to hold as long as FUMAN is around".
Present at the event were Fatai Olaroju, Musibau Wese, Lady Mandela, Aremu Akinbusayo, Safejo Amama, Fancy Alamu, Ganiyu Compser, Adebayo Morubo, who represented Ayinla Kollington, Yaya Daniya and Seyi Akerele.