Abdul Salam takes on AMAA organisers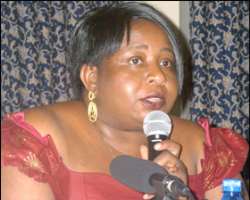 Mrs. Peace Anyiam Fiberesima, CEO of AMAA
A TOP Ghanaian producer and CEO of Venus Films Productions, Abdul Salam, has said this year's edition of the African Movie Academy Awards (AMAA) was a scam to get other African countries on board the awards.
This, he claimed in an interview with BEATWAVES, was the reason why Ghana could not impress at the awards ceremony held in Nigeria a couple of weeks ago.
According to Abdul Salam, movies that were presented for the awards were not better than those from Ghana as it was being claimed in the media.
"I am not disappointed since our movies have been recommended and we had 8 nominations.
To get such nominations is even an achievement. Before the awards night, I saw the Kenyan movie that won some of the key awards like best pictures and director and I didn't even expect the movie to be the best movie until after the awards.
I understand! The organizer is also a business woman. She is trying to bring everybody on board to keep the awards going. If the awards is genuine, I think Ghana deserves an award. At least we deserve an award.
At least our costume should have won an award because it was different, but that was given to a Yuroba movie.
I said wow! I have realized that all this while the awards had been about Ghana and Nigeria and this time round, they are trying to get the other countries on board, hence giving them those awards," said Salam at Mataheko-base office.
Last week, the West Africa manager of the award told BEATWAVES that Ghana could not shine at the awards because of the qualities of movies presented, adding that movies from North and South African countries were of better quality than their West African counterparts. But Salam thinks otherwise.
His Venus Film Productions presented the movie, 'Agony of the Christ' and had six nominations including Best Actor and Actress which went to Majid Michel and Nadia Buari for their lead roles in the movie.
The rest are AMAA Achievement In Art Direction, Make-Up, Visual Effect and Best Original In Soundtrack, but they could not come home with a single trophy.
By Francis Addo