My father may have influenced my career - Dare Art Alade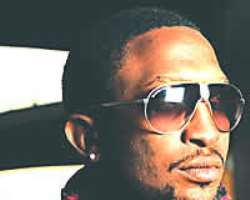 Dare Art Alade is indeed his father's son. His father, Modupe Art Alade was an enigma in his time. It is not surprising that his last child, Dare has stepped into his shoes. The Unilag graduate first came into our consciousness with his membership of the acapella group, Chord Webs. He was second runner-up at the Project Fame contest which became a launching pad of sorts for the talented young man. With the release of his Un-Darey-ted album, accompanied by a number of videos, and produced over a period of three years, with collaborations with Naeto C, 9ice, Pheel and Tuface Idibia, he scores another first leaving him in a class of his own. He tells Adia Ukoyen the secret behind his success so far and his plans for the future.
How did your romance with music start?
Having a father like I had, I got to hear things like "who is going to take after your daddy?" That got me thinking and asking myself if I could. It started when I was about eight in the children's choir of my church. While at CMS Grammar School, I led the choir. We would perform at functions. I was also a member of the choir of the Cathedral Church of Christ. Not satisfied, I enrolled for music lessons with the Musical Society of Nigeria, MUSON. I capped it by studying music at the University of Lagos. Some friends and I came together and formed a singing group called Chord Webs. We were doing everything, you just name it. My meeting with Adeniji landed me a regular gig at a night club in Victoria Island. This further widened the scope for me and soon enough, I got my radio job with Cool FM.
Did your being your father's son influence your choice of studying music and taking it up as a career?
I was twelve when my father died so I did not really know him. But I got to see him on TV a lot. I met Dizzy Gillespie through him. His works may have influenced my career subconsciously. When he died, I didn't think I would take up music professionally. But I guess growing up in that environment kind of conditioned my mind towards music.
What memories do you have of him?
He was a talented man, very humorous. That is about all I can remember of him. He was always taking us out.
You were very popular at Cool FM. How did you deal with the fame?
What the job did for me was that I became a compere, headlining as an MC or a performer. I began to write my songs at Cool FM.
How were you able to distinguish yourself while at Cool FM?
In all humility, my delivery was unique. I tried not to do things like others but my own way. Being an on air personality came to me naturally. I was not out to impress anyone but to do my thing and be remembered for it and I guess I achieved that. Commitment also helped.
What did Project Fame do for you?
It opened the door to my first album. I came third and got a record deal that never saw the light of day. But with perseverance I was able to launch my first album.
How did you meet your wife?
We met at a function in Abuja. With time we became friends and here we are today, husband and wife with a lovely son.
Did you know that she would be your wife when you met her?
I knew almost immediately.
There was some sort of uproar about the age difference between you two. How did you deal with that?
I don't care about the age difference, therefore nobody should. I really do not see what age has to do with anything. Rather, the issue has helped to strengthen our relationship in view of all that was said about us.
How would you describe your wife?
She is a fantastic person, very creative with an eye for detail. She is very supportive of my music career.
You married rather early for an entertainer. What have you learnt from being married?
I have learnt to be patient. I have learnt to persevere. I am more focused and I work harder because I have more responsibilities; to my family and my career.
How do you deal with female admirers considering the fact that you are a handsome young man, and famous too?
Female attention is no big deal especially when you are in the eye of the public. I managed them before I got married and I am still managing them.
Your album, Un-Darey-ted is generating a lot of attention. Can you tell us more about the album?
The album has ten records and it contains mostly love songs. It is a mixture of slows, mid-tempo and fast songs. The album is a nice mix. The predominant theme of the album is love. There is a little bit of everything; fuji, juju, afrobeat, funk. I have been privileged to work with some of the best hands in the industry, people like Tuface, Naeto C, Cobhams, Don Jazzy. From reports reaching me, it is a good album.
What are your plans for the future?
To keep growing in my career. I want to be synonymous with good music. I am on course. My latitude and longitude are on the right path.