I Don't Follow Women Around - Baba Ijesha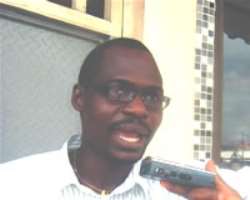 Even when discussing a serious matter with you, one is bound to laugh because of the way he talks, which he says is inborn and inherited. James Olanrewaju Omiyinka, popularly known as Baba Ijesha, is a comedian per excellence, whose presence cannot be overlooked in the Yoruba movie industry. Cornered recently in Lagos by GBENGA OLUMIDE, he spoke on sundry issues. Excerpts:
Who is Baba Ijesha?
Baba Ijesha is a nice man, a gentle man indeed, an old man on set but a young man in real life . My name is James Olanrewaju Omiyinka.
How has it been?
Well, we thank God for everything. I can't say it's been good or bad, but I thank God for everything. This is just the beginning. I'm still looking forward to my glory and automatically, the glory will come. So, let's just hope that things will be much better.
Can you let us into your background?
Well, I always tell people that I'm a native of Ijefe; my parents are from both Ilesa and Ife. I just combined the two to say I'm from Ijefe. We are seven in my family, I'm the fourth and I schooled in Ile-Ife and Lagos. At present, I'm pursuing a course abroad.
Which course?
Theatre Arts. I just want people to say that I have a degree in Theatre Arts. Before I registered for the course, I already knew all the rudiments of acting. It's a natural talent. But despite this, I still want to be able to tell people that I am a graduate of Theatre Arts.
What is the name of the school?
I don't want to say anything about that. When it is time for me to let the cat out of the bag, I will let you people know.
When did you start to act?
I started early when I was young. I can remember when I was in primary school, people used to say it in their dicussion that I have the talent in me and that through that I may become somebody in life. And today, I thank God for everything because their prediction has come to pass. As I said, I started acting early in life and today, I'm among the recognised actors in Nigeria.
Apart from the ones you did in the primary school, who actually introduced you to acting as a career?
Nobody, that's what I'm saying. It's only God. I said I started early, from my primary school days. And I've never stoped for a day. I was doing it gradually from primary school to secondary school. But in 1985, I moved from my town down to Lagos where the professionals were living, and I joined them. Since then, I've not looked back.
Who is your boss among this professionals?
Boss? I don't think I have any boss, but I have leaders who I can point at that through the advice they gave me, I was able to achieve the little I have achieved today. God has used people like Prince Jide Kosoko, Yinka Quadri, Ogogo, Dele Odule, Latin and Dejo. These people are my mentors and they have in one way or the other contributed inmmensely to my success in this profession.
How many films have you produced?
About six. They are "Arokan" "Baba Masoko" "Baba Mario", "Gelede", "Opolo", "Sagba di were".
How many film have you featured in?
They are too numerous to mention.
You are Baba Ijesha on stage. How did you get the name?
Actually, my fans gave me the name after I featured in a film where I played the role of an Ijesa man and it was very interesting. I just heard people calling me Baba Ijesa. To cut it short, it is my fans that added the prefix -Baba- to it.
Which film brought you into limelight?
It's not film per se, I started with Soap Opera on TV. There was a time I was working with AIT. Then, we had a segment on a programme called "Minijojo", on every Sunday.
In this segment, we used to have a comedy of about ten to fifteen minutes. I held the comedy aspect of it. We were about seven people anchoring the programme at that time. In spite of what people said at that time about the programme, I knew that I would become somebody in life and today, I thank God that I'm one of the recognised comedians, in the circle of Yoruba movie actors. To answer your question, I can remember vividly that a film titled "Omo Orita"written and produced by Saheed Balogun brought me into limelight.
Based on what you've earned from all these films that you've produced, would you say you are fulfilled?
I thank God, though I'm not yet fulfilled. I'm comfortable to a certain extent.
Are you married?
No, I'm not married yet. I'm planing to get married this year and by the grace of God, things will work out well.
Who is that lucky girl?
Please let me keep that to myself and don't be too anxious because when the time comes everybody, including you journalists, will celebrate with me.
Some actors say that the love of women is their hobby, what about you?
You see, everybody has his or her own life style. I don't follow women around as people think. Though I love them, the love I have for them is casual. Before, I used to have girl friends but then, it was not as if I could not live without them. But now, my job is paramount to me.
You are a comedian per excellence, why did you choose comedy?
I can say it is genetic. Most of us in my family know how to crack jokes and it is because I'm into acting that gave me the opportunity to use the talent endowed me by God. When my father was alive, before he said two to three words people would start laughing. He was even nick-named Baba Alawada and I used to imitate him then, not knowing that it would be a source of income for me today. Comedy is not a thing you can learn within the four walls of a classroom.There is no school in the whole world where they teach it. It is an in-built skill. If you don't have the skill and the talent you can't do it.