Re-branding Nigeria:Entertainment sector is best tool to drive campaign — K.O.K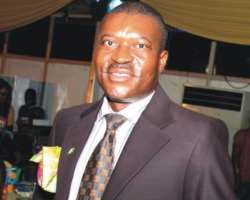 Foremost Nollywood star act and businessman, Kanayo O. Kanayo has called on the Federal government to engage the Nigerian entertainment sector, especially his immediate constituency; the movie industry, as a vital tool to drive the current campaign to re-brand Nigeria.
He also spoke on the recent ban of foreign soaps on Nigerian television prime time by the Nigerian Broadcasting Commission, proffering solutions on how local content can be sourced to fill up the vacuum created by the ban. He spoke to http://www.nollywoodgists.com.
Excerpts.
COULD you comment on the recent ban of foreign soaps from Nigerian television prime time by the NBC?
The move is commendable, but I must say that it is coming a bit late. I have always been an advocate of the campaign to ban foreign soaps from Nigerian television, not only from prime time segment. Especially Mexican soaps.
Why I am specific about Mexican soaps is because, they have lately dominated our airwaves. These soaps are not only accompanied with strange storylines, they also contain nothing of serious value to foster on the Nigerian viewing populace.
Already, most Nigerians, so indoctrinated with their false values have started acting out what they copied from such soaps.
This ban has created a vacuum of over 400 hours of daily programming on Nigerian television nationwide desperately yearning for local content. Corporate Nigeria has expressed great fears that Nigerian producers might not be able to provide quality content commensurate with the sponsorship privileges the foreign soaps provides.
Those fears are unfounded. Nigerian producers can not only fill their prime time adequately, they are also able to provide enough quality programmes to run a television stations twenty four hours a day. Tell me, from where do Multichoice get the programmes with which it runs Africa Magic. Is it not provided by Nigerian producers?
The problem here is not that Nigerian producers are not capable, but the fact that the government and Corporate Nigeria are not willing to encourage us.
The foreign soaps they so buy into to sell their products were not packaged in an environment like ours. They operate in countries where the government and corporate entities give maximum support.
They once said that the Nigerian music industry was hopeless and would never be reckoned with, today you go to parties and what you hear from evening to the early hours of the morning is Nigerian music and people love what they hear.
Radio stations can now play Nigerian music and make good patronage from paid commercials, which a few years ago was not the case.
What's your take on the current campaign, as championed by the Information and Communications minister to re-brand Nigeria?
I said it recently and I still maintain that the entertainment industry, especially the films and television sectors are the best tools for the Nigerian government to use to drive the campaign, if it is serious about rebranding Nigeria.
Though I always prefer to say re-orienting Nigerians, not re-branding.
First, let me tell you this story. After the 9/11 incident, President George Bush called Hollywood producers. He intimated them with the governments' intention of projecting an image that would show that no country or group of persons can start a war of terrorism against America and go free. The message was supported and Hollywood went ahead to make films that projected this idea. That is what I call cultural diplomacy.
So what I expect government to do, either through the National Orientation Agency or through the Ministry of Information and Culture is to call movie makers and independent producers to a round table. But the meeting must not be publicized, because certain things we plan as a nation should be our strategy to surprise the world.
Government must call us to a meeting and they will say, in re-orienting Nigeria, or call it re-branding, but I believe it is more appropriate to say re-orienting Nigerians, this is the provision from government for the next five years, help us drive this vision. Government can give our producers things to work with.
It is going to be a gradual process. These producers will go back home and write-befitting scripts. Remember, these scripts are not meant to launder Nigeria's image, but are meant to give us a push above where we are now. People will watch these films and television programmes and believe that government is truly working. Do not under estimate the power of television.
I once noted at an event recently where the Honorable minister of Informational and Communication, Professor Dora Akunyili was present, that government's plan to re-brand Nigeria would not be complete without involving the Nigerian movie industry.
Why I say Nigerians should be re-oriented before the nation is re-branded is because if things were working well, Nigerians will be proud to represent their country well. But I wish the minister well.
A lot of strategies have been put in place to galvanize film distribution in Nigeria, but another core aspect that has not received equal attention is films funding. Can you comment on why nobody is talking about funding?
They are interwoven. These are two critical areas the industry has been lagging, it's either because we have not gotten our acts right or because our acts have not gotten us right. These are two areas in any movie industry that determines whether you are doing well, in terms of financing and in terms of creating networks of distribution. Distribution is a tentacle; how well you spread it determines how well you make money. The problem with out distribution is because the structures, economically and culturally have not been put right.
Tell me, which of our distributors presently has presence in at least 30 states of the federation, in the six geographical zones. None of them.
Distribution outlets in Nigeria should be operated as banks have branches. We must begin to borrow ideas that have worked elsewhere into the movie industry, for instance let's begin to study how bank functions through its branches, both locally and internationally, especially through the instrumentality of affiliation.
A national distributor must have presence in almost all the state of Nigeria, to do an effective job at distributing films.
You talk about financing. Who are the big players? What kind of stories are they playing with? Nollywood must look inwards and start developing stories of international standard with local relevance, and I tell you we have a lot of those stories.
If we still continue with domestic stories with no relevance, we are not taking Nollywood to a recognizable level.
Stories have begun to make the rounds that activities are picking up gradually.
Where?
In Nollywood.
How do you mean?
I have spoken to some industry people who confirm that jobs have started in several locations.
Well I do not know about that.
Does this mean that the restructuring of the industry has not started yielding results?
What restructuring?
I am talking about the new distribution framework that aims to galvanize distribution and others.
As far as I am concerned, the framework has not taken effect. Has it taken effect?
My investigations shows that it took off after the former minister issued certificates to over 50 registered distributors since December last year.
You should be informing me
I have talked to some of the registered distributors and they confirm that they have set up presence in some states.
Well good luck to them.
What are you presently involved with?
I am in school. As you can see, I am preparing to write my exams.
Exams, for what?
I am presently in Unilag, reading political science.
Great. What level are you in now?
I can't tell you that. You will have to find that out yourself.
Good luck in your exams.
Thank you.
BY VICTOR AZUKA MORDY