WHAT DO MEN LOOK FOR IN WOMEN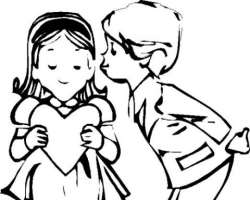 Women love to do things that attracts the attention of men to themselves. A woman is always eager to know what her man wants, especially on issues that concern her body in it's entirety. Some years back, an over weight woman aroused no resentment in Nigeria. Infact, the creed was, the fuller the better. And men used their full-bodied woman to show case their ability to adequately provide for them. But not any more as most men now cringe at the sight of apple – shaped women whose every step screams obese.
Femi loves big women. I mean woman on the plump side, "My fiancée has lost some weight and I have told her often than I care to remember to fatten up. I am one of the many men who love their woman with a little extra flesh on, something to "hold on to" . However, I cannot explain the pull between us. Fat or slim, she has a corner in my heart for always".
And yet, there are men who go for slim girls, Ladele is one of such men. Ladele is tall and heavy. He loves good things as well as beautiful women, but only slim women really win over his heart.
Victor loves a particular girl because he believes the girl is a perfect match for him in love-making. Love making was all he ever wanted her for, and she, the same-whenever he thinks about this aspect of their relationship, his temperature rises.
This girl unlike any other girl Victor has had. Once or twice, he convinced himself that he must be in love with the girl…. That, of course, is an affair to remember.
If there is one thing Peter looks forward to at the end of a hectic day in the office, it's his wife's smile. Her smile brightens up everything. " It is like having flowers-bright colored flower blossoming all year round in the home, says Peter.
"When my wife moves, she moves to an unheard rhythm. Its like watching a gazelle move, This was how Kofi described his wife to me. His description reminded me of an old pop song-poetry in motion.
Yet for some, it is not the way some one moves, it is the pair of legs. I've heard a man say to a girl "I love your legs, I can pick the pair out in a crowd".
"It varies from my sampling women sexually" says Ray Ugiagbe, "at times you derive ultimate satisfaction from slim babes and on the other hand, you find some fat women to be acrobats in bed. One cannot really say with precision which surpasses the other. The individual matters.
"The averagely built who has some tangible features is preferable " cos they are more amenable in terms of "relaxation" The fat ones are too heavy to direct, while the slim ones lack enough substance to entertain. The slim makes one to labour too much in getting to El Dorado while the fat is easily fatigued and so, is capable of spoiling an otherwise good show".
Some men love hairy women. On the skin of a fair African woman, black hairs produce an illusion of colour and beauty. And in some case, hair on the skin means a wealth of hair on the head. A beautiful head can make ones imagination run wild.