Nollywood star, Sola Fosudo battles Landlord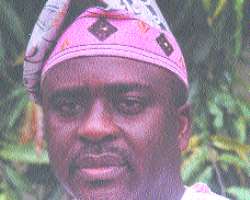 IN what may look like a Nollywood flick but is ultimately real, Nollywood star, Mr. Sola Fosudo may be fishing in troubled waters as his landlord is poised in giving him the battle of his life following his refusal to offset his rent for nine months and subsequently vacating the property.
http://nollywoodgists.com reliably gathered that Fosudo who lives in a three-bedroom bungalow and boy's quarters at House No 4, Close 66, Satelite Town Lagos was notified by his former landlady one Alhaja Kolejo about her intention to sell off the property sometime in 2007. Fosudo, as a sitting tenant was given the opportunity to indicate his interest. He was informed that the price for the property was fixed at N6million and Fosudo was asked to indicate interest in writing but if not, he should vacate the property at the expiration of his tenancy in May, 2008. Fosudo through his lawyers made a counter offer of N4.5million vide a letter dated April 14, 2008. It was gathered however that a new buyer (Mr. Andrew Onwuka along with his wife Mrs. Tessy Onwuka) bought over the property ostensibly at a higher price than what Fosudo was willing to offer. This development eventually necessitated a change in ownership of the property which led the new landlord's lawyers (Onyeisi Chiemeke & Associates) notifying Fosudo about the new ownership. However, Fosudo's lawyers in their reply of May 20, 2008 regretted the fact that the property had been sold to another buyer without their client's knowledge even though he had also indicated interest to buy.
The lawyers subsequently asked that Fosudo be allowed to remain in the apartment for a period of 12 months to enable him purchase an alternative accommodation.
It was gathered that among the terms reached by the lawyers was the need to file the terms of settlement in a court so that it could be entered as a consent judgment, in case of any intention to commit a breach by either party. The terms of settlement were drawn, typed and copies were given to Fosudo's lawyers to append their signatures since November, 2008 but it was learnt that they have refused to sign thus making it difficult to file same in the court. However, since it was also agreed by counsels to both parties to legitimize the entire settlement process through the judiciary, lawyers to Fosudo's landlord in October, 2008 had filed a suit at the Rent Control and Recovery of Residential Premises Tribunal in Apapa Lagos. The Suit with Number RT/AP2037/08 dated October 23, 2008 among other things is asking for the possession of the property by its owners among other things due to Fosudo's refusal to pay rent, breach of covenant and the need for the new owners to have the property for their personal use.
The Court has however fixed April 2009 date to hear the suit even though the nine months given to Fosudo by the new owner would lapse by March 31, 2009.
As at press time, efforts to reach Fosudo or his lawyers to react to the allegation remained futile. According to Barrister Onyeisi Chiemeke, the non-signing of the terms of settlement by Fosudo's lawyers has regrettably created a room for Fosudo to buy time to illegally over-stay in the apartment contrary to the earlier agreement.