Women Love Me And I Love Them - Sunny Ade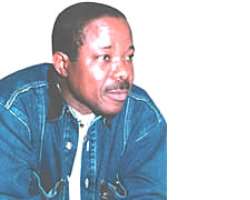 King Sunny Ade is like a proverbial albino, who stands out in a multitude. Wherever this evergreen musician is, he is surrounded by news. That is why Gbenga Olumide could not resist it when he had the opportunity to 'meet' the king at a popular TV station recently. The meeting was quite entertaining. Excerpts:
Which was your first album?
"Alaanu Oluwa."
So many of your fans don't know about that album. Why don't you reproduce such evergreen albums?
I would have done so, but the recording company I was using at the time has not released the master tapes since 1974/75. Up till today, the master tapes are with the recording company. The case is at a High Court already and I believe justice will prevail.
Why is it that musicians always fight?
Well, I can't say generally. All I know is that I'm not fighting anyone, and I don't abuse anybody through music.
Does any of your children sing?
Yes, I have at least two of them who sing.
Male or female?
Both; the male calls himself PSA. He is married. He stays abroad. The other is a lady, a spinster based here in Nigeria.
How do you feel when you see or hear them sing?
I feel proud, of course. Which parent will not feel great seeing his children doing good during his lifetime? The only thing is that as a parent, one has to keep praying for them, giving them words of advice and reminding them of how long you have been in the business without tarnishing your name, so that they will not bring that name into disrepute.
Do you ever intend to retire, and if yes, when?
Do musicians retire? Have you ever heard of any musician who retired? I've never heard of one. One may stop stage/live plays when one gets too old for such, but to retire altogether, no. Even our Oga, Baba Sala still sings. At least he still sings in the church.
Was there a day you felt like quitting, and what happened that day?
There are two sides to everything in this life. Everyday, there is positive and negative, so I always thank God for the positive things and I do not dwell too much on the negative. But there was a time some members of my band just decided to leave one day. I asked why, but no reason was given. That day, I was so disturbed in my mind that I almost decided to forget about music. Within a few days, though I got myself back on track, those few days were harrowing to me. It was later that I got to know that there was a jealous outsider that caused the problem.
And which was your happiest day?
Every blessed day is a happy day for me. Whenever I sleep and I wake up hale and hearty, I give thanks to the Almighty. And anytime I think of God's love for me, which is unqualifiable, I'm always thankful. So, I'm happy everyday.
How would you compare music of yesteryears, and that of today?
There is a lot of difference between music then and now. And this difference has to do with the musicians themselves. Musicians of yesteryears, of whom I am one, were churning out good and sound music then; there was a lot to learn from their music. It is no longer the same today. The young musicians of today, most of them sing just anything. It is the mass media people that celebrate them, otherwise maybe they would have to go back to the drawing board. But when the mass media promote them, members of the public too have no choice other than to buy their music believing such music must be okay for radio and TV stations to be putting it on air.
Which is your best food?
I like solid foods, precisely Eba, Amala and Iyan. My mother used to run a restaurant where about 600 people came to have breakfast and the same number came for dinner/supper everyday. There was no type of food these people wanted that was not available. 18 women were working for my mother there –pounding, cooking and doing other chores, getting their own livelihood. But of all these foods, I've always preferred solids.
People say you are fond of women; wherever you are, there will always be hordes of women there. How true is this?
Anybody in this line of business must be loved by women. Women love me, and I love them but not because of any lustful desires. Women are special creatures. Any musician who is not loved by women is doomed. It is the musician who will know his boundary. It's he who should be able to identify why women love him –is it because of his music, fame or wealth? So, I am not corrupt when it comes to women. Those who say such things do not love me.
A word of advice for young and aspiring musicians?
They should be humble. They should know that no matter what, Rome was not built in a day. Prayer is also a useful weapon they should employ in their journey up the ladder.