Kenny St. Brown: My Life, My Music, My New Image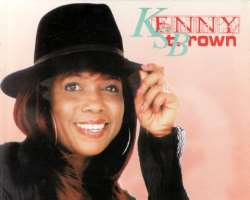 She is as bold as a lion to confront any situation that contends with her, unlike most of her female counterparts who remain permanently down if they face what she experienced. Few years back, she suffered bad press because of her broken marriage but Kenny Saint Brown (KSB), strong as a lioness has decided to put all that behind her and move ahead with what she has passion for; singing and ministering to children and teenagers. At a recent event in Lagos, she spoke on her new album and life as a single parent.
Attired in a white top with blue jeans trousers, yellow belt and black slippers, Kenny Saint Brown (KSB), as she is fondly called, came in company of some of her friends to an event organised by Nigerian Breweries Limited (NBL). She was in joyous mood all through, chatting and dancing to the lyrics of the guest artiste. Our reporter summoned courage to go and ask this woman who has a regal carriage but approachable and friendly for an interview.
"Hello, good afternoon KSB, I am from Independent Newspapers Limited, can I have a brief chat with you?"
Pronto, she replied in the affirmative. She told her friends to excuse her and the interview began.
Her latest album, titled Turn Around, has hit the airwave and highly accepted. So, when our reporter asked her about what she was doing now, she smiled and said, "I know you are not a radio person because my song is now on air in different radio stations. It is highly accepted. Some of the tracks are: Turn Around, Merry up, Abanikonda and Moti Goke, Moti so. They are very powerful and inspirational. No doubt, they have hit the airwave."
The new songs, according to KSB, came out of her personal experience in life. Little wonder when she was asked why it took her long to come out with the album, she said, "Actually, this is my 11th year of doing music. It took me experiencing some pitfalls, some shame, and setbacks that have drowned some female artistes for me to come this far. Those things didn't drown me, they became higher ground for a new me to emerge. I passed through some situations that are now giving me the kind of inspiration to write the kind of songs I am now doing. While I was going through those situations I couldn't have written these songs because I didn't have the experience. These songs came out of my personal experience.
"You know when I say something like Turn Around it means I am telling God that since it was situations that brought me this low, please turn me around. Moti Goke Moti So means that you this naughty situation I have overcome you. A person who has not gone through anything cannot say I have overcome. At the same time joy brought me back from the experiences I had in the past few years. The Bible says the joy of the lord is my strength. If anything happens to you and it does not touch your joy, you are intact. So I am saying instead of these situations killing me, I am going to be joyous by being merry. So that gave birth to Merry Up. So those are the things we are talking about."
Speaking about the concept behind the album, she said she needed a turn around and everybody needed a turn around in every aspect of his or her life.
"I need a turn around, you need a turn around and so everybody needs a turn around," she said smiling.
Try and be specific KSB, which aspect of your life do you need a turn around? Our reporter asked, " I need a turn around in every aspect of my life. For some people it is the issue of capital market while some are looking up to God for the fruit of the womb," she said sharply.
Ask her if she is still a Sunday school teacher as she claimed to be sometimes past, her answer was in the affirmative.
"I am not just a Sunday school teacher, I am the teenagers Church pastor," she quipped.
KSB is known to be a full gospel artiste but now she said she has crossed to mainstream.
"I am still a gospel artiste but I have crossed to the mainstream. I am not only singing songs that are restricted to Sunday morning. I sing songs that motivate. Mainstream is not just restricted to praise, I counsel and encourage through my songs. I sing music that can inspire and motivate everybody," she said frankly.
There is no doubt that KSB is looking good, happy and sparkling hence this prompted our reporter to ask her who was taking care of her. She managed a smile and said "me" as if that was impossible. Our reporter asked again "I mean who is taking care of KSB?" This time around with more explanation she said, "I am taking care of myself. Even if you give me money I will use it to take good care of myself. I am enjoying my life because God has made me victorious," she said.
Unlike most women in her shoes who would scream at journalists when the word 'marriage' or 'love life' is mentioned based on their past life, KSB was quite different. Her answers were cool when the subject was raised. "Everything around me is fine, as for marriage not yet. But my children have been wonderful."
Talking about the apparent re-branding of herself and her music considering the number of artistes that featured in her latest album, she said "re-branding is always a strategy to re-position the brand to its rightful place. If it worked for Coca Cola, I don't see why it won't work for the brand KSB. I have a new energy, a new image, a new freshness and a new message, new expression and a new approach to life especially with the image, which has suffered over the past years, due to bad press. I want to wipe that away from the mind of people."
She wants to motivate other people who are going through what she has passed through or those who have passed through what she has passed.
"I have passed through it and I survived it. It is over. Some people don't make it after a bad press or a bad break up. I thank God I survived it and I am still standing. Some people withdraw to depression, some people become shadow of themselves, and some go mental while some people die," KSB rightly reasoned.
She admitted that it was the grace of God that made her withstand all that happened to her because of her failed marriage.
In her words, "the spirit behind everything is God who knows the truth. The Bible says you shall know the truth and the truth shall set you free. I live in the truth and the truth I know has given me peace. It energises me and I know it will vindicate me. The break up did not ruin me and the bad press was really bad but did not break me. Those things would have drowned me yet I emerged stronger. That in itself is a big victory."
Some of her friends were reported to have betrayed her during the crisis but KSB said she has moved on in life because there is God's spirit behind her, stressing that she handles blackmail and betrayal well because anytime she sees one she is sure that promotion is around the corner.
So, how is life treating you as a single mom? KSB was furious and said, "I am not a single mom; I am a single parent. There is a difference between being a single mom and being a single parent. The single mother gets a pay pack from her husband while the single parent doesn't get anything from the father of her children. Single mother gets all the support from her children's father. In all these the grace of God is sufficient for me."
Kenny Saint Brown started her music career while still in the school in 1979 as a member of her school choir with special interest in worship songs. From her love for worshiping God in songs, she became endowed with the gift of writing poems, which later metamorphosed into songs.
She released her debut album in 1998, titled Totality. The album was an instant hit and was on the top chart of most F.M. radio stations all over Nigerian with the hit track You are worthy worthy. Prior to her release, gospel videos were aired on Sundays due to the quota given to Nigerian Broadcasting Co-operation (NBC). But she came, and broke that barrier, as TV stations in the country are now playing Gospel music videos everyday.
Her follow up album in 2002 Kum-ba-yah further put a seal of approval and confidence on Kenny St. Brown as a delectable Nigerian female singer with substance, dexterity and versatility. Kum-ba-yah has the spirit of Africaness that cries out for the healing of the land, their colourful and breathtaking videos still among the most celebrated gospel works of the time. The Kum-ba-yah album in 2003 gave Kenny St. Brown KORA Best West African Female Gospel singer and an automatic nomination for KORA best female African gospel singer that year.
The overwhelming success of the album made Kenny St. Brown become one of Nigeria's mainstream artistes while her music still maintains strong gospel messages.
In 2005 she released two singles from her third album titled Hallelluyah Club Praise, and Love Mix, both eccentric praise songs for those that would love gospel music played in club houses and at parties.
Kenny St. Brown is well sought after at city crusades, camp meetings, and corporate events as well as Christian festivals across Nigeria. The concept of her music as it cuts across age barriers is very entertaining and fresh with contemporary vibes without neglecting Afro rhythms and beats. The spirit of her music is pure, soulful and uplifting for the building of the body, spirit and soul of a man and of the people.
KSB has a Masters degree in Theology. She is set to season her world to achieve a positive effect through gospel music. She is mother of two, a son and a daughter.
She is presently working with numbers of new generation musicians like 9ice, Cabassa, Kelly Hansome, Dagreen Sheyman and host of other notable artistes in Nigeria for her new album. "They want to identify with the new KSB. Some of them are even saying that this is the original KSB," she said.
The album will be out before Easter, but before then she promises that the video of Turn Around would be on air. The video, according to her, will be shot in Nigeria. KSB adds that the experience she had has made her to be everything good.