I want my family affairs kept private — Peter Okoye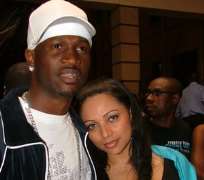 Peter and Paul Okoye are Nigeria's hip singing sensation and they remain king of dance choreography what with their energetic stage performances.They have played in every big gig you can imagine and have travelled across Africa, performing, times without number.
Their have close to 50 awards both from within and outside the country. Yet their professional singing career is only about five years old. Following the ban on singer 'Dapo Oyebanjo aka D'banj from the Glo Rock N Rule, fortunes smiled on the R N B twins- P-Square when they were beckoned on as replacements.
Shelving other engagements, they accepted the offer and they have gone from Ibadan to Akure, and then Makurdi- where we caught up with them back stage and hurried this interview. Here Peter- whose older lover Lola Omotayo delivered a baby boy about four months ago- comments that he'd like his family matters kept away from the press.
How's the Glo tour coming along?
So far, its been good. Sometimes people say after the festive season, there's gonna be a break. But for P-Square, there's never been a break because we always go in and out of the country almost every week.
But this time, luckily enough for us, when Glo contacted us, we started talking to people outside the country letting them know what's going on. All because, this is our country and what's going on with us right now is that we're trying to balance our timing.
For those we already promised shows after the festive period, we have to reschedule because now we have the Glo shows to perform.
What's your relationship with Globacom?
Its business. Glo means business for us.
How would you describe your experience on the Rock 'N' Rule tour. This is your third show.
Yes and it has been fantastic, lovely. I think the tour buses are very accommodating. The first experience we had was a great one but then we told them to boost the security because it wasn't good enough. And they have done that now.
How true is it that you are recording your next album?
I don't know where that came from because we are not recording. You know maybe because of the people that come around the house and see us working in our studio, they conclude that we must be recording our next album.
Whereas when we say recording here, its not as if we're recording for an album. We record songs everyday. We don't go to the studio because we want to release albums.
So when do we expect your next album?
Soon.
What kind of songs should we expect to hear?
People are going to see the mature P-square; not that we were amateurs before but now you'll see the grown up P-square. We're 28 and people should expect more from us. Now we're more experienced and more addicted to what we do.
Is your style going to change?
Its not going to change because its not about changing styles. If you listen to the kind of music playing in Nigeria now, you'll find out that there are some day-to-day styles and I see people beginning to complain. So I think it's going to be kind of stupid for us to go ahead and adopt those kind of music.
If you look at the 'Do Me' and 'Get Squared' albums, songs like 'Ifunnaya' and 'No one like you' are tracks that people of all class can identify with. It's general for both people on the streets, corporate people and everybody. So we're looking at more classics like that.
So we're expecting more love songs...?
Definitely. Anytime, P-Square comes out, you should expect love songs.
There are a lot of new artistes coming up. Are you guys in any way scared of competition?
I don tire for the industry sef (laughter). It's not like that. It's just that there is more than enough space for everybody.
You guys were more outside the country last year than inside, is it going to be the same this year too?
Yeah we made it that way despite the fact that our album was selling fast. We tried as much as possible to go out because people outside the country needed us too. Sometimes you need to balance things; stay home a little, go outside then come back.
What's your relationship with W.A.C.K?
Wack is a new event company that just did our birthday for us. They sponsored our birthday and that's all.
How is your son doing, Peter?
My son is doing very well. Very, very great too.
When are you planning to finally tie the nots with your 'baby mama', Lola?
In ten more years.
What is your son's Igbo name?
His name is Cameron. Why do you want to know his Ibo name?
Because his father is Igbo and I'm sure you would have given him a native name.
Chinonso. His Ibo name is Chinonso
And how are mother and son getting along without 'Daddy'?
They are already in the country. They've been in for about two and half months now.
Why did you have a low key naming ceremony?
I did it quietly because I don't want the press to know about us anymore. I want to keep my family life private. I don't want them to be like me on whom everybody is running their mouths. I've done it and I've done it (naming ceremony) but many people don't know and I love it that way. I want to keep my family private.
By Lolade Sowoolu