OKOROCHA'S RESCUE MISSION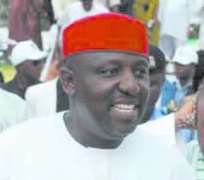 As you are well aware, Governor Rochas Okorocha ran a massive campaign that was anchored on a Rescue Mission theme. Rescue Mission means that all sectors, all areas of Imo State will be revived and resuscitated. As the serving sports commissioner, I can tell you that the Governor has already taken off.
If you really followed events up till this point, you will have realised that one of the first places the Governor visited was the Dan Anyiam Stadium, when Heartland played host to Warri Wolves in a Premier League encounter. Although Heartland played a goalless draw, he still encouraged the team not to lose heart.
Apart from that, we are taking a total look at sports in Imo State. That is, it is not going to be only Heartland and football but all sports. I have told some journalists and other stakeholders that I will not be a football commissioner. In other words, we will cover other sports like female football, handball, tennis, basketball, athletics, boxing, wrestling, etc. We are really on a rescue mission.
HEARTLAND FC
That Heartland is playing in the final of the Federal Cup is enough evidence that we are in the right direction. Heartland last won a national title in 1993, when it was crowned the Premier League winner and it last played in the final of the Federation Cup in 1999 and lost. But now, Okorocha's magic touch and his Rescue Mission have made it possible to railroad Heartland to the final of the Federation Cup, it is the starting point and more glories will come when the team plays in the continent next season. Heartland is one of the best teams in the Premier League and we shall do our best to return it to glorious path. Mind you, it has produced great players and so many good coaches have equally passed through the team, thus, the team has a track record.
NEW STADIUM
I can tell you right away that the government of Okorocha will construct a world class Olympic stadium, with all modern facilities, for Imo State and it is going to be Astroturf. It will be located at the Owerri\Port Harcourt Road. You see you cannot build success on a rickety foundation. We want Imo State to be among the best sports centres in the country and we cannot achieve anything unless we make the arena decent.
Again, we shall upgrade the Dan Anyiam Stadium even as we have concluded plans to erect a five star hotel within the sports complex. This is a way of generating revenue to Heartland and other state owned teams, so that they do not continue coming to the government for assistance. At the same time, we shall ensure that all our athletes are well motivated and taken care of.