Is this Nkiru Sylvanus latest catch?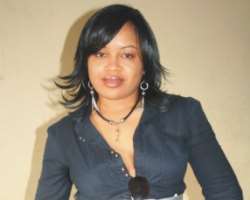 NOLLYWOOD Nkiru Slyvanus is one actress whose private life has been guided jealously but the way she was seen holding tightly to entertainment journalist, Patrick Uwalaka during the recently held National Association of Movie Journalist (NAMOJ) award night after party was so close for comfort that many started asking if the duo had something going on for them.
When http://nollywoodgists.com tried to ascertain from the actress if something was going on, she refused to respond and also Uwalaka refused to comment on the matter which makes the matter more complicated. http://nollywoodgists.com will keep on trying to uncover the rhythm of passion between the duo.