Mercy Johnson's endowed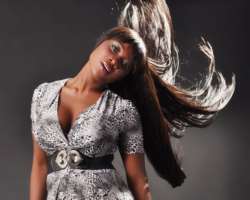 One of Nollywood's best, Mercy Johnson, is not only blessed with a hourglass figure, which she readily flaunts, she also dresses very well.
Over the years, the pretty damsel's red carpet appearance has changed from skimpy to classy and well revealing looks, which has made many to adopt her as the 'sexiest girl' on set.
Embrace her look
Let it fit
Mercy Johnson is known for wearing fitted clothes. To achieve her style, you need to wear tops that will make you look bigger.
Perfect lingerie, conceal it
Without doubts, hourglass figures are well endowed. However, never underestimate the impact of body-shaping lingerie. It can hold you up and as well reduce or enhance your curves apart from concealing your bumps and lumps. More so, a well-fitted bra is a must-have for you; if your bra does not fit properly, you will certainly look terrible.
Accentuate your waistline
Mercy is not just only endowed, she has a slim waist and that makes her sexy. To get her look, show off your waist. Just like her, celebrate, accentuate and exaggerate that great waist. A small waist is considered the very symbol of sensuality; so, don't hesitate to show off your small waist. Drawing attention to your waist with a belt or a top with a fitted waist will accentuate this great asset.
Choose pencil or slightly A-line skirts
Pencil skirt draws attention to the waist and hip, giving you a sexy silhouette. Straight styles and certain A-line skirts could also be right for you; so far they are fitted around the waist and hips.
Go for V-neck or scoop neckline
These necklines slim the neck and chest. Apart from making the neck to look lengthy; it generally makes the wearer to appear smaller and slimmer. They will flatter your figure.
Fitted pants
Pick well-fitted pants with flared bottoms or in boot cut style. They will balance your generous bottom and make you look slimmer. Avoid bottoms that are tapered and get narrower towards your ankles as they could make your bottom look large. If you want to wear the skinny jeans trend, go for slim fit instead. They are not very tapered and yet slim enough. Team them with some high heels to add height that would slim you down.