I'm anything from sexy to sophisticated – Vanessa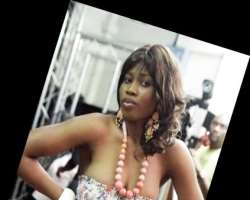 Vanessa Adekola Vanessa Adekola, an actress, television presenter and a model, is a delectable, multi-talented young woman. Although, born in Nigeria, she is resident in London, she is the reigning Miss Nollywood, United Kingdom, Vanessa did not hesitate to share with Angela Davies her style and why she is called sexy legs.
Let's know more about you
My name is Vanessa Adekola, Miss Nollywood United Kingdom. I won the coveted crown in 2008. But, I am still the reigning queen. I am from Ibadan.
How can? Your reign is supposed to last for just a year?
Yes, but another pageant has not been held after 2008. So, I am still the present Miss Nollywood, United Kingdom.
How was growing up?
It was alright. Well, I was born in Nigeria, moved over to the United Kingdom at age 18 or 19. I had my university degree over there. I studied Business Information Technology and Management.
What are those childhood memories you hold dear to your heart?
I hold a lot dear to my heart. But, I remember singing and dancing in front of the mirror, I still hold that dear to my heart. That I think has led me to be what I am today. I am an actress, known very well in the UK just trying to break into the Nigerian market.
What is style to you?
For me it means the person you are really, it is how you feel. Style is making a statement without actually saying anything.
What is your own kind of style?
I am anything from sexy to sophisticated, to fab.
Best perfume?
It's Coco Chanel because I love the smell and it lasts for a long time.
What are some of the movies you have done in the UK?
I did Natasha De Prodigal just before I came down to Nigeria. Also, just before I came here, I did a movie with Omotola Jalade Ekehinde and Van Vicker. The title is Amina. I have also done movies with Ayo Mogaji, done soap operas on Ben Television, OBE and I am also a presenter for Sky Network in London.
What is that fashion item you cannot do without as a woman?
hat would be accessories. I love anything accessories be it earring, necklace or rings. I love rings actually, how can I forget rings?
What is that clothing item you would not be caught wearing?
You would not catch me wear anything tacky. You won't see me in tacky clothes because I don't do tacky. I do sexy, sophisticated and fab. What kind of shoes do you love to wear? I love high-heels. I love them high.
But you are quite tall?
I know I am already tall but I still love them high, that is just me. Once you are in high heels, it changes you as a woman; you walk elegantly as a woman in high-heeled shoes. The higher they are the better for me.
What part of your body can you flaunt?
O my God, my legs. They don't call me sexy legs for nothing. My legs are long and sexy. What kind of clothes do you love to wear? Short dresses and any dress that would just elongate my legs.
What is your greatest fear in life?
Hmmm … To be honest with you, my greatest fear, is not making it. I mean not making it as big as I want to.
So, how big do you want to make it?
As big as the country permits me (laughs), if I can say.
I believe you pray. What do you tell God?
I just ask God to grant me my heart's desires. To make my wishes come true.
When will the wedding bells toll?
(Laughs) All I can say is soon.
How do you love to carry your hair?
I carry it anyhow. But really, it depends on how I feel.
How do you like your make-up?
It depends on the occasion, however, not too heavy.
Describe yourself. Who is Vanessa?
Vanessa Adekola is an actress, a presenter, a model and she is also the CEO of Nessa Dance Academy. She is friendly, outgoing, easy to get along with, stylish and beautiful.
Tell us about your beauty routine
I don't necessarily have one. I just wipe off my makeup before I go to bed. I don't necessarily follow beauty regime.
How do you keep fit?
By dancing, I dance a lot.
How do you relax?
I love partying.