Terry G, Danny Young @ war!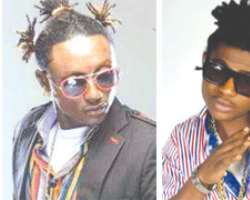 An all out war looms between Terry G and fast rising singer Danny Young as the Ginger ur Swagger crooner battles to keep his name slate clean of another piracy allegation that accuses him of infringing on a colleague's intellectual property.
Danny Young in a press statement is alleging that Terry G has robbed him of the concept of his song.
According to Danny Young, the song which he originally titled Elijah was given to Terry G in the presence of another rising hip-hop act weeks back in attendance to voice his part to the song, a development he (Terry G) promised to do.
After waiting for several weeks, Danny Young's management claim they put a call through to Terry G to find out why it was taking so long for him voice his part of the song, only to discover that Terry G had released the song on Notjustok a music downloading site on Saturday, July 7, 2011.
Angry at the betrayal, Danny Young who was away to the Netherlands went back to the studio and re-mixed the song and took several swipes at the Swagger crooner calling him an intellectual robber on the second verse of the song without mentioning any name.
According to the Danny, 'Terry G's new song, Jah Hailo was originally my song and idea. I sent a data of the song to him (Terry G) and never heard from him afterwards.
Few days back, I was alerted by my management while I was out of the country that Terry G has released the song on the internet. However, I'm armed with relevant facts to the outright ownership of the beat and some lines in the song".
At the moment, both Danny Young and his record label are insisting that Terry G is armed with a song that is not his.
Neither Terry G, or his publicist would comment on the issue, but his manager of many years, Don T said "I have called Danny Young to my office and listened to both versions.
What I found out was that both artistes have different titles for their songs. While Terry's is titled Jah Hailo, Danny's version is titled Eli Jah. Both versions are also different in terms of genre.
Terry's version tilts towards the celestial church's style while Danny's version is more of R & B. I don't see any resemblance between the two songs. However, I think both songs are great songs and can fly on their own"
On Terry G's reaction to Danny's accusation, Don T said "Terry feels very bad but there's nothing anyone can do about it. If we take a step concerning the issue, it means that we're helping Danny to climb on the wings of Terry's fame and we won't do him that favour.
We will allow fans to judge by listening to the two songs and see whether they are the same or not. This is just a distraction and it will pass"
It will be recalled that this is not the first time that Terry G will be feasting on fellow artistes' songs. His hit song Free Madness, was allegedly originally produced for an upcoming artiste like AY Zee. He's also had issues with Ditty Black and Side One.