I am not begging anybody for Marriage -Uche Iwuji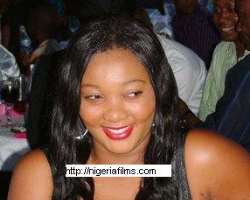 Though she has been dubbed the bad girl of the movie industry, sexy Uche Iwuji seems to be unperturbed as she is preoccupied with her studies. She intends to finish her academic studies before considering a return to the profession that brought her to fame and to the limelight. The tattoo-loving actress opened up this chat with us on her academics, love life and how she has lived with and overcome several controversies about her.
What are you doing presently?
I have been around. It's just that I have been in school for now and things have been so hectic for me; though I spend most of my time in school.
It's been a while you appeared on the screens, is it because of your controversial nude pictures?
I didn't leave Nollywood because of any controversy. Why should I do that? I have done the job; funny enough, most people didn't see the pictures. So, there is no point talking about it as I shouldn't. I am still, a part of the system. I still act for most of my friends. The issue is that I have to concentrate more on my education.
Were the pictures superimposed?
(Laughs) They were my pictures.
How did the pictures become public?
My phone was stolen. That was how it got to people's hands.
Was it a blackmail?
I don't know.
What were your parents' reaction?
They didn't react too seriously. They heard my side of the story, supported me, encouraged me and advised me to be careful.
Has this made you any stronger?
No, things happen to people but one has to be wise?
After all the years in the Nigerian movie industry, why did you finally decide to make education a priority?
I thought I could combine acting and education but it wasn't easy. We have some lecturers who are so strict. You have to attend their lectures. They don't accept any excuses for any lazy attitude towards academic work; therefore, one has to be present at most lectures.
After your academics, what next?
I will come back to the movie industry.
When was the last time you were on set?
Last year was the last time I was on set. Though this year, I have a job to do though I am not really sure about it.
How do you get picked for your scripts?
The notion is that this girl is wild and this is the kind of role she is supposed to play. They just call me and say, "Uche, this is what we believe you can do, act it and that's all. You don't need to say anything."
Are you really a wild girl?
No, I'm just a happening girl. I'm not wild. It's just unfortunate that people concluded thus.
Do you get drunk at parties?
The truth is that I drink but not to the extent of getting drunk. I know how to control myself. Everybody drinks and most of them get high. I drink and I know my limit.
Is there any story behind the tatoo on your breast?
There's nothing much about the tattoo. It just signifies two hearts in love.
Do your parents love it?
Initially, my dad queried me. I told him it was something I drew for a film. He asked if the tattoo would go off soon and I told him it will but he just kept asking, so one day I just told him it won't – that it would be there permanently and he looked at me and took it like that but my mum has been cool about it.
You are one of the sexiest actresses in Nollywood, when are you planning to settle down?
You know I have been embarrassed because of this settling down issue when a certain tabloid wrote that I was crying for a husband, but I am not begging anybody for marriage and I am not crying for a man. I am not ready to settle down for now till God's time or when I'm ready. I have not seen the correct man, but for now, I am single and not searching.
You have not seen the right man?
Yeah!!
Describe your kind of man.
I have not thought about it because I am not just ready yet.
How do you cope with your male admirers?
They don't even come to me. They just appreciate and admire me. When I wear my sexy clothes, I'm with people.
Have you ever been embarrassed for wearing sexy clothes?
No!!
What have you got to say about the rumour of lesbianism in Nollywood?
I have heard about it though I'm yet to see the lesbians in the industry. I'm still wondering where these rumours are coming from.
Are you saying you have never been approached by one?
You know you have fans that call you and they start to tell you one or two naughty things like "I love you so much" and I tell them that they should stop calling my number but they can call me when they have better things to say and if I'm in the mood, I would answer but if I'm not. I wouldn't.
When do you normally refuse to pick calls?
When I'm busy?
Busy doing what?
When I'm studying.
You are really serious with your academics, so what happens to your acting career?
My dad really wants me to have a degree for myself which he would be proud of; that's my father's wish and I must comply. Frankly, my mates are out there making money but I'm not a fool. I just want to do my thing and finish up and face the industry. I want to take first things first – finish school. The industry is there to stay; it's not running away. I have made a name for myself of which when I come back people will still watch me do my thing and professionally too because I'm studying Theatre Arts, I know how to act and I am a good actress. So, I don't see how I can't move up and remain popular and relevant in the industry.
Have you ever had a crush on any man before?
Yes, but internationally.
Who is he?
Brad Pitt.
If you see him, what would you tell him?
I won't be able to control my emotions.
If he comes to you now, what would you do?
I'll beg him to marry me…(Laughs heartily)
How romantic are you?
I'm a very romantic person. I love romantic things like travelling and having fun with my guy – like going to places you've never been to.
Tell us your romantic fantasies.
Travelling.
That's not romantic...
I'd like the idea of going to a private beach – just me and my boyfriend wearing something nice and sexy. We'll just relax at the beach and be tanned by the sun that is just okay for me.
So, who is the man that you would be having these romantic moments with?
I don't have any. I'm just trying to imagine having romantic moments with him but I don't have anybody.
What are those things that would make you unhappy?
When you are heartbroken and there is no money. Being alone would make you feel so sad.
Have you ever been heartbroken before?
Actually, I'm the one that's always breaking up with them and I now save the heartbreaks for myself.