Jonathan, govs, and Nollywood stars mourn Sam Loco Efe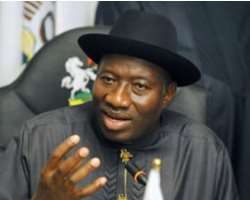 With the sudden transition of one of Nigeria's veteran actors, Sam Loco Efe, on Sunday, a number of state governors and many of Loco's younger colleagues have continued to eulogize his virtues and qualities.
President Goodluck Jonathan yesterday joined millions of Nigerians to pay tribute to the late Sam Loco. While recalling his beginning with his role in Hotel De Jordan, which first featured on Nigerian televison in 1970, and his part in Langbodo at FESTAC, Jonathan said Sam Loco remained a leading and dominant figure on the country's very vibrant acting scene until his death.
"His professional accomplishments helped to raise the profile of the Nigerian actor on the contemporary stage. I urge members of his family, his fans across Nigeria, his colleagues in Nollywood to take solace in the knowledge that he was a most accomplished artiste, a natural and gifted entertainer, who will always be remembered with respect and admirations."
Governor Babatunde Fashola of Lagos State described him as an extraordinarily gifted thespian whose mastery of his craft on both stage and screen was unrivalled. Said Fashola: "Efe was a cultural model, who truly belonged to the class of greats in the world of creative arts…I hope his unwavering commitment to his chosen profession, discipline and legacy of high standards would serve as source of inspiration to generations of up and coming artistes."
Also Governor Adams Oshiomole of Edo State, said of Efe: " I remember his role as Chief Ukabribri in the TV series Hotel De Jordan in the 70s and his rise to stardom as the best actor for his role in Langbodo, Nigeria'a drama entry for FESTAC 77. He brought smiles to the faces of Nigerians with his witty roles in almost all his movies."
In the same vein, Delta State Governor, Emmanuel Uduaghan, said: "We will not forget Sam Loco's ability to get our ribs cracking with laughter with his hilarious performances…he was a polyglot, who did not only speak the major lanuages in Nigeria but could easily have passed as an indigene of any of the regions of the country."
Mr. Dele Morakinyo, a theatre practitioner, also said: "Sam Loco! That's some treasure gone! Many of us, especially the Ibadan culture community of the 70s through the 80s, will miss the tiger on stage, self pronounced, albeit indisputable senior artiste of Nigeria. His versalitility gave him an easy inroad into Nollywood when that became the in-thing, otherwise Sam Loco was essentially a stage performer."
Popular movie maker, Zik Zulu Okafor, described the name 'Loco' as being 'locomotive', noting that it is a name that has come to stay in the movie industry. His words: "I have known the late actor since my days at the University of Ibadan when he used to perform on stage. He was an incredible performer, one, whom we can call a performance performer. He lived, breathed and slept acting. His body language too exuded his acting prowess. You cannot but notice Sam Loco, he always stood out from the crowd. He was a professional and I have no doubt he died doing what he loved best."
He added that in civilized countries, the acting style of the late actor would have been studied and taught to upcoming actors who wish to carve a niche for themselves. He described him as a serious performer who set a standard in the industry. ''When you see him, you see an all rounded performer. Nollywood will miss him, his professionalism, the fun he added on set because he was a very funny person. He will be remembered from his glaring contribution to the industry because he lived for acting.''
For Onyeka Onwenu, the tragedy that has lately befallen the entertainment industry is troubling.
"It is sad news and a great loss to the entertainment industry. I pray that God will comfort his friends and family at this trying period of their lives. Although I never met him in person, I will miss his funny, natural attributes as an actor. I have watched some of his movies and I ended up laughing so much. He was a born entertainer, who cannot be replaced. We in the industry wish and pray that there will be no more deaths in the industry. Nigeria has lost an icon, a major contributor to the growth of the movie industry."
Another Nollywood actress, Chiege Alisigwe, also said she would miss the late actor because of his uniqueness. " There is no one like him in the industry as he was someone who cannot be replaced. He was a rare breed, a natural entertainer and actor, who derived great pleasure from what he did. I am going to miss his lively but funny personality. May his soul rest in peace."
Nigeria's foremost Film maker, Eddie Ugbomah, described late Efe as one of the best actors Nigeria had produced. He ranked the late actor among the likes of Olu Jacobs and Enebeli Elebuwa, adding that the part he didn't like about the actor was his sojourn and cross over to comedy.
Paul Adams is yet to come to terms with the news that Sam Loco Efe has left the Nollywood industry. "If it is true that Sam Loco Efe is dead, this is one blow too many on Nollywood. I pray a stop to the incessant deaths, plaguing the industry. This is a wake up call for all of us to seek the Lord while He may be found."
Vice President of Association of Voice Over of Nigeria (AVOA), Mr. Ehi Omokhuale said: "Sam Loco Efe was an art enigma, veteran and a mentor to many."