AL-MUSTAPHA NEEDS HIS HEAD EXAMINED-LAM ADESINA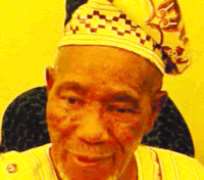 • Lam
Former Oyo State governor, Alhaji Lam Adesina, was one of the South West leaders in the fore-front of the agitation for the validation of the June 12, 1993 mandate won by the late Chief Moshood Abiola. A leading voice in the National Democratic Coalition (NADECO) and Afenifere, which were thorns in the flesh of the maximum ruler and dictator, Sanni Abacha, he later participated, contested and won election as governor in the political transition programme of Abacha's successor, General Abubakar Abdusalami, under whose watch Abiola was allegedly murdered.
In light of recent revelations from embattled former Chief Security Officer (CSO) of the late tyrant, Abacha, that some Yoruba leaders were sucked into the plot to undermine the agitation for the actualization of Abiola's mandate, and support a new political engineering consequent upon his death, Lam, as he is fondly called, was asked what he knew of the alleged bribery scam.
But, the former governor and current leader of the Action Congress of Nigeria (ACN) in Oyo State , dismissed the allegations as spurious and diversionary, saying Al Mustapha was merely looking for a way to escape his ordeal with the law on the killing of Abiola's wife, Kudirat. He wondered what connection his rigmarole, which dominated the headlines for the better part of last week, had to do with his alleged complicity in the late politician's wife's murder.
He also spoke on the Boko Haram challenge, which he declared could only be solved if the Federal Government enlisted the help of northern leaders. Lam also spoke on the controversial Islamic banking and his protégé, Governor Abiola Ajimobi's nominations for the Oyo State cabinet, which is causing disaffection among party faithfuls in the state.
Excerpts.
Al -Mustapha, CSO to the late Gen. Sanni Abacha has in the course of his trial, alleged that MKO was murdered. Did this come as a surprise to you?
No, it's not a surprise to me. At least we all heard that there was conspiracy to kill him, and that he was given poisoned tea to drink and in front of the United Nations representatives too. It was an international conspiracy to kill MKO Abiola and we all knew that. So, it was not a surprise at all.
The former CSO said that South West leaders were bribed to douse tension in the region because of the death of Abiola. What do you have to say to that?
I think he has to justify his allegation. He's in the court of law now. Let him release details about that. As far as I know, I'm one of the South West leaders and a member of Afenifere. Nothing like that happened. We continued our fight until Abacha died and we founded Alliance for Democracy (AD). So, I would like the former CSO to mention names. Let him mention the amount given the South West leaders. To the best of my knowledge, none of my leaders took such.
He's actually named Pa Adesanya and Chief Bola Ige, to whom you were very close…
But the two of them are dead. He named dead people. What about those who are alive? Adebanjo is alive, I'm alive. All others are alive. Why not talk of the living? But at any rate, I trust all my leaders. They will never do such a thing. Papa Adesanya? Those who knew him know he'll never do a thing like that.
So, are you saying he's saying nonsense?
It's arrant nonsense! I think he's trying to blackmail some people. I don't know why that even came up in the defense of the murder case he is involved in. Here you are being prosecuted for the murder of Kudirat Abiola and you are talking about MKO. What's the connection? I think he's being diversionary, or maybe something is wrong with his health, having been incarcerated for a long time now. Something has gone wrong with him. All my leaders, from Awolowo to Adesanya, are men of integrity, an integrity that can never be compromised. That is why we took after them.
Why do you think he'd want to blackmail Yoruba leaders?
Because he's trying to wriggle out of this case. I think they are teaching him to say all these arrant nonsense, maybe to get reprieve or to be discharged. Otherwise, I don't see any other reason, other than that his brain must have been affected.
You were a beneficiary of the Abdusalami transition programme. At what point did NADECO decide to embrace the transition programme?
I know when MKO died, we felt like fighting on, and then even pulling the South West out of the federation. But after reflections and considerations, our leaders said we should not do that, as it was only going to complicate matters. And when Abdusalami came and promised to return the country to democracy, which was what we were fighting for, through Abiola, we accepted to participate in the transition programme, because Abiola died for it. In fact, his memory would salute us that we had fought for democracy to a justifiable end. But there were some of us who said we should not participate. Activists like late Comrade Ola Oni said it was going to be another wasted effort.
I remember a stormy meeting we had in Ikenne, where we were debating whether to participate or not, those of us who insisted that we should participate said that if we didn't take part, other parts of the country would participate and it would be another loss. Secondly, pulling out would soil Abiola's memory. This man fought for democracy and died in the process.
The world would they would say we're not democratic. Thirdly, should we continue to be protesters for the rest of our lives? Since we had the opportunity to tell our people to come out and vote for us, should we continue to be protesters when other parts of the country had accepted the thing? We had seen repercussions of that in history. In the 1964 federal election, the UPGA said they were not going to participate. In the South West, we refused to participate. But in the east, NCNC was part of UPGA and they participated.
So, when elections were held, I remember the caption of Daily Times of Nigeria at that time read: Half and half elections in Nigeria . So, that was when people like Late T. O. S Benson and others won with 300 and something votes. Three hundred and something votes in a federal election! Because we did not participate. At the end of the day, there was compromise between Zik and Balewa. They said they were going to form a broad-based government. And the South West lost out. South West progressives. We considered all these and agreed.
Do you think it has to do with the fact that Al-Mustapha probably has an axe to grind with Gen Abdusalami.
He's been kept in the cooler for about 13 years now. Don't you think he should be freed?
No! If he committed an offence, he should pay for it. At least he's before a court of competent jurisdiction. If he's guilty of the offence, let him pay dearly for it. If he's innocent, let them release him. The mere fact that he has spent 13 years doesn't matter.
He can stay there for 30 years as long as he is guilty of the offence. Mustapha and others really troubled Nigeria at that time, killing people here and there. I was a victim. If not for the fact that God needed me, I would have died in Agodi prison because they said they should poison me there. The person they sent came to tell me confidentially that if they gave me so… so… so…, I should not take it. The same way they wanted to kill Ige. Why? So, if they've actually committed the offence of killing Kudirat Abiola, they should pay for it.
Let's talk contemporary issues now. What is your take on the Boko Haram siege in the nation?
I've said it times without number. These people have motive for doing these things. It's just that those of us, who don't know, misinterpret them. I've advised the Federal Government to contact the leaders of the north. They know why Boko Haram exists and why they are fighting. Let them hand it over to the Sultan of Sokoto to call all the Emirs and leaders of the north. Once they do that, there'll be solution.
Do you think these leaders are complicitly involved?
I'm not saying they are complicitly involved.
So, how can they solve the problem?
They live together there. Sociologically, people like Sultan of Sokoto will know the origin of anything that happens in the north. Let them make use of them. In Yorubaland, when something happens, you know where to go.
When there was 'Agbekoya' riot during the regime of Maj. Gen. Adebayo in the old western region, was it not Awolowo that went to meet the 'Agbekoya' people? Did he not know where he met them? Did he not find out the causes? And from that point, everything just went down. So, we should give unto Caesar what is Caesar's and unto God what is God's. Let them approach the leaders and rulers of the north, they'll tell them what to do. If they say: 'take the army or police there' do that. If they say: 'No', then let them be.
Some people have said it is political, that it has to do with the zoning issue and the presidential election which President Jonathan won. They say the idea is to intimidate Mr President and make him look incompetent in terms of maintaining national security.
That is guess work. This Boko Haram thing started before Jonathan's election. Some other things might have come in, but that is not the original intention of the Boko Haram people. They said that they don't want western education but I believe there's no one in Nigeria who would say he doesn't want western education.
So, it's political….
It may be political, it may be religious. That is why I said they should approach the leaders of the north and let them recommend what to do, instead of applying unworkable solutions. Even, the Boko Haram people went to the palace of the Shehu of Borno. Why should they go there?
The government has said that it is opening a window for dialogue with them. Do you think that could also work?
What I have recommended is what they should do.Those are the right people who should be contacted in the north to find a lasting solution. Look, the situation is assuming a very bad dimension. Suicide bombers have never been seen in this country before. Black Africans don't engage in suicide bombing. The black man loves life. That is why we have different adages. When there is life, there is hope, etc. Somebody taking his own life through a bomb should send a signal that the situation is worsening by the day. If Boko Haram could go to Louis Edet House in Abuja , police headquarters, where can they not go?
The debate has been on about the six-year single tenure for the president and governors. What is your contribution to it?
I've enjoyed the debate so far, both for and against. Both sides have good reasons for liking or not liking it. But, the question I want to ask is: 'Six-year tenure for president and governors; is it an idea of the African man in Nigeria or is it another borrowed idea? Whatever we want to do in Nigeria today should be an idea that is generated from home.
When you talk of a single tenure, either six years or whatever, are you suggesting a system of government like France? The danger in the six years they're talking about is that it will be too boring for both the ruler and the ruled. And gradually, dictatorship may creep in. If you know you are going to renew your mandate within the space of four years, then you have to work and be prepared for it, otherwise you'll be kicked out. See the last elections. Those who did not work very well were kicked out. Now, you say six years single tenure.
The tendency is for that person not to do what he is supposed to be doing but concentrate on stealing. He'll just say: 'After all, after six years I will leave. There'll be no incentive for him to deliver. 'What am I going to do after six years? Let me steal what I can steal'. Why do we want to bring in corruption through the official door? Six-year tenure may not work well in Nigeria . It may work elsewhere, but not in Nigeria. On that ground, I oppose for both president or governors. Let everybody use four years and renew. That is what will make democracy tick and make people think about good governance at every point in time.
Do you think the rage against Islamic banking by Christian leaders is justified?
It's much ado about nothing. We don't trust one another in Nigeria . We insinuate different types of motives into everything. Is it going to islamise Nigeria? I'm a Muslim but I always take a liberal stand about religion. It's not going to Islamise Nigeria . If Britain and America and other parts of the world could allow Islamic banking why not Nigeria? Oritsejafor said it will lead to war and Datti Ahmed said 'go to war'. What kind of nonsense is that? Do we base Nigeria on religion? I was born into Nigeria not because I wanted to be a Muslim. It's an act of God. Religion is a personal matter.
That is what I believe. If you like Islamic bank go there. Nobody can compel you. Nigeria is a secular state. Nobody can Islamise or Christianize Nigeria . Leaders of religious organizations should watch their speeches. They should not push Nigeria into another religious crisis. We have advanced beyond that.
There were protests this morning at the ( Oyo State ) secretariat over the composition of Governor Ajimobi's cabinet. He's made concessions to the Accord Party in the name of alliance. What is your party's disposition to the issue of alliance with Accord Party?
I don't have any alliance with them, to the best of my knowledge. At least, my chairman in Oyo State has not come to tell me that he has signed an alliance with Accord Party. So, to that extent, that does not concern me. Even if you say you want to run a 'Government of National Unity' in Oyo State, it's not only one party that is in the House of Assembly.
The PDP is there. If you want to run a GNU, then you invite the PDP as well. So far, what I see in the House of Assembly is that there is cooperation among the members. PDP supporting ACN, Accord supporting PDP, at least in the choice of the principal officers of the Assembly. So, the situation where you now find Accord having a pride of place will not be acceptable to our people. I think that is one of the things causing problem. And I know the governor is competent to resolve that issue as quickly as possible. He shouldn't allow such a matter to affect our party.
I understand some of them came here this morning, they are party leaders. They know what they want. And some of them who came here, what they were saying is that they won the elections in their own areas. Why bring another person who has never been in the party. It's not even Accord Party. These are the allegations now. Somebody will work another person will eat. Something is wrong somewhere, but I know the governor is competent enough to resolve the dispute. I consider their actions democratic, because they have to show their grievances. So long as they don't engage in violence. If they don't want something, the party must agitate. That is why the party exists.