FIRST BANK PLC TAKES OVER JOSEPH YOBO'S BUILDING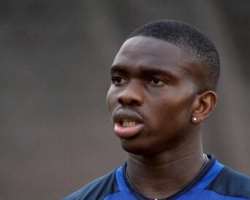 Nine months after closure, once upon a time bubbling night club, Insomnia owned by Super Eagles skipper Joseph Yobo is said to have been acquired by First Bank of Nigeria Plc, for N 100 million.
Source revealed that the transaction took place few weeks ago when the bank picked interest in the choice property at 113, Awolowo Road, Ikoyi Lagos and decided to negotiate for it when they heard the owner was no longer interested in night clubbing business.
Thus, they sent notification to the club owner and hubby of former Most Beautiful Girl in Nigerai, Adaeze, to negotiate the terms of acquisition. At the end of the discussion, a N100 million deal was said to have been agreed upon by the two parties. And the bank decided to pay in cheques.
Although the bank has not started any operation at the property, they will soon start renovating the place so that it would be adequate for the purpose it's meant for.
It would be recalled that the popular fun spot was shut down in 2010 and the Joseph Yobo led management claimed it was due to renovation. Prior to the closure, the club was enmeshed in crisis and there were many versions to the Insomnia palaver.
The first version was that due to Yobo's inability to stay in the country to monitor operations of the hangout, the club was riddled with financial misappropriation to the tune of N65 million. Another version alleged that the club was put under lock and key due to a bad debt of N50 million and poor management.
The third version claimed that leadership tussle between Joseph Yobo, Ahmed Uwhubetine and Akeem Shodeinde crippled the night club. The tussle, we learnt, may have strained the relationship between Yobo and Akeem.
All these crippled the activities of the clubs and an insider in Yobo's camp confirmed to us that Yobo was done with Club Insomnia.
According to him, the decision was informed by the bitter pill Yobo was forced to swallow by those trusted with the management of the club. And now, First Bank of Nigeria Plc is the new owner of the once vibrant haven of fun.