FROM CHARLY BOY, AREA FADA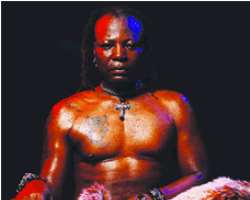 Charly Boy
For three months, Charles Oputa aka Charly Boy has been in the studio cooking some good music. Coming after his run away chartbuster, Ninja Bike, the controversial musician has rolled out yet another hit entitled, Area Fada. Indeed, the single is currently getting a massive airplay across the country.
According him, Area Fada clearly indicates a transition. 'It is an obvious departure from the prevalent music trend to a more matured traditional African vibes. The combination of African traditional flavour in the singles has sent a very strong message to my teeming fans that the African value system is rich in content and aesthetically endowed,' he says.
Music analysts indicate that Area Fada is a strong message to the Nigerian youth, admonishing and propping them up to be the best they can, no matter the setbacks. The hit track appears to expunge Charly Boy's more than 33 years' entertainment career in Nigeria, detailing how tough it was at the beginning. The song also emphasizes the symbiosis of pain and gain with the philosophy that pleasure is an offshoot of challenges and suffering; thereby justifying the essence of individual adherence to personal and purposeful driven dreams.
Critics have equally referred to the singles as a reflection of the life of Charly Boy, with its general application on the life of every Nigerian youth who dares to be exceptional in his own way. Hear him: 'The song spurs one into action and propels the mind to act like Oloro Ihe Loro-Enyi (The animal that devours the animal that devours the Elephant). Speaking further, he stated that the brand will continue to awe his fans, as he gets set to produce his trademark inspiring videos, adding that the ultimate creative joker will finally come after the shooting had been concluded.
'The song simply teaches that there can be honesty in a dishonest society; hence there is still hope for the nation,' Charly Boy concludes.