Kokoro: How He Died, His Unfulfilled Dream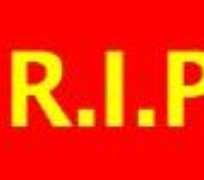 The death of the blind mistrel, Pa Benjamin Adewunmi a.k.a. Kokoro on 25 January, 2009 came to many Nigerians as a rude shock, but many people did not know how he really died.
http://www.nollywoodgists.com can reveal that the late Pa Adewunmi died of diarrhea-related ailment.
The ailment according to his wife, Madam Beatrice Abike started a week before he died. "Kokoro was stooling continuously and when all efforts to stop it proved abortive, I sent an emissary to the Governor of Lagos State who sent his personal physician to take him to the hospital."
Madam Adewumi said that he was admitted at Crystal Hospital, Akowonjo, Lagos where he spent about one week and was later discharged.
She said the ailment relapsed again on 25 January and before he could be taken to the hospital from the Adewunmi's Millenium Estate, Shasha, Lagos abode, he died.
She added that the remains of the blind mistrel have been deposited at Lagos State University Teaching Hospital (LASUTH) morgue for autopsy and pending when the family will meet to discuss the burial date.
Investigations revealed that Pa Benjami's unfilfilled dream was to release an album titled Igi Araba. The release and launch of the record was scheduled for MUSON Centre, Onikan, Lagos on 11 February, 2009.
http://www.nollywoodgists.com learnt that the governor of Lagos State who donated a two-bedroom apartment to the late Kokoro has mandated Keem Kommunications owned by Yomo Opakunle to do an audio and video song for the blind minstrel.
Opakunle said the eight track song was produced by the man who produced Kokoro's album in 2002 for the then Governor of Lagos State, Asiwaju Bola Ahmed Tinubu, Toyin Ojeyomi a.k.a. Papa Spanky Tee.
He said that the album was ready and the Audio Visual produced by Jide Moronfolu of Xtrain Brain Production. Also Jide Adeniran of Core Media has done the marketing and Zmirage Productions is supposed to do the stage work before the blind mistrel's burial.
The Keen Kommunications boss said the album will now be launched on Kokoro's posthumous birthday scheduled for February 2010 at the MUSCON Centre, Onikan with BRF as Chief Host, to the family's benefit and glory of God.
Yomi Opakunle said one unique thing about Igi Araba is that it features a young blind singer named Asimiyu Olowookere.
He Was Caring —Widow
Madam Abike Beatrice Adewunmi, the wife of the late Benjamin Adewunmi a.k.a Kokoro, spoke about how they met and the relationship that spanned 32 years…
Q: When did you meet the late Benjamin Adewunmi?
A: We met 32 years ago.
Q: What attracted you to him?
A: I got married to him out of pitty and love for him. We met in Owo, Ondo State.
Q: How did you actually meet and in what circumstances?
A: That is a long story, but I don't want to say much because if I reveal the suffering days, I feel like crying on daily basis.
Q: How many kids do you have for your late husband?
A: Yoruba tradition forbids the counting of children. So, as far as I'm concerned, I have children for him.
Q: While he was alive, what interesting things did he do?
A: Whenever he was bored, he will ask for his drum and start to play and sing.
Q: How did he acquire the drum?
A: I bought the drum from our sweat. The last one he used before his death was purchased at the cost N4000.
Q: How often did he change his drum?
A: Before now, I used to buy the drum from Tinubu Square, Lagos, but with the the changes in technology, I can get it from any where.
Q: You were like siamese twins, so how did he die?
A: Huh! I thank God for his mercies that his death was natural. But when the problem started, he was stooling. It started a week before he died. I called for help and the nurse in my area assisted but when it got out of hand, I got across to the Governor of Lagos State, Mr. Babatunde Raji Fashola who, through his personal, doctor took us to Crystal Hospital, Akowonjo, Lagos. After some days, he was discharged. But when the ailment started again, we took him to the hospital.
He died on the way to the hospital. He was confirmed dead in the hospital.
Q: Before his death, what did he tell you?
A: You cannot ask me a such question. You cannot know the secret between husband and wife but as far as I am concerned, I was his jewel, we were like siamese twins.
Q: What kind of person was your husband?
A: He was a very nice person. Let me correct an impression, I got married to him out of love and pitty because he had nothing when I met him.
Q: Was he born blind or what exactly?
A: No. As far as I can remember, he is from a royal family. His father was told to ascend the throne in his life time but he refused.
Q: Was that how he became blind?
A: No. His step mum afflicted him with blindness when he was 12.
Q: What do you appreciate about him?
A: He pampers me a lot. Whenever I was annoyed, he will find one way or the other to make me happy. One thing he kept telling me was that things will get better.
Q: How did you meet the Governor of Lagos State, Babatunde Raji Fashola?
A: We met in 2007 during a show organised in his honour. Then, King Sunny Ade was on the band stand.
Q: When was that?
A: 24 December. We left our house as usual, thinking that it was the Lagos Airport Hotel, unfortunately, the show was at Onikan. After all the odds, we got to the show. Despite the initial suffering, we met Fashola at the show. As I stepped forward to greet him, he came to greet Kokoro and asked us what the problem was and I told him. It was a housing problem. The house we were staying was given to us by Eko Bank. Five days after the meeting, Fashola presented us the keys to the house we now stay at the Millennium Estate, Shasha. I thank God and BRF. He furnished the house before giving it to us.
Q: What of the feeding and general upkeep?
A: God has been merciful to us. I wouldn't hesitate to thank people like Asiwaju Bola Tinubu, Governor Babatunde Fashola and others who have made life bearable for us.
Q: Now that Kokoro is dead, what would you remember him for?
A: He was everything to me. In fact, he meant so much to me.
Q: What was Baba's favourite food?
A: He enjoyed black amala (yam flour) and Egusi (mellon) soup. I prepared it for him whenever he wanted it. I knew all that he needed any time. We hardly fought. We were a perfect couple.
Q: I know you attend a lot of shows, but which artiste is very passionate about Baba?
A: Ah, K1 The Ultimate, Adewale Ayuba, Lagbaja, Obesere and other top artistes. These artistes give Baba his full compliment.