I ORIGINATED THE SINGLE TENURE CONCEPT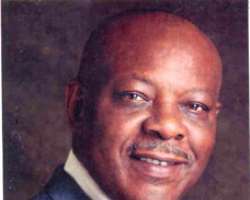 MBADIWE

At the middle of a popular street in Victoria Island Lagos lies a large compound, now wearing greyish look, from where the bombastic and flamboyant politician of blessed memory, Dr Kingsley Ozuomba Mbadiwe[K.O] operated. 21 years after his demise, there are still visible signs of his style in the compound.
Whether it is the long Vauxhaul, Chevrolet or any of the exotic cars of yester-years, still dotting the compound or even the pleasure boat , there is no mistaking the elegance and up tempo lifestyle of  the man who owns that place.
But he has passed the baton to his son, Ambassador Greg Mbadiwe who confesses that he actually set out to be a corporate lawyer, having read law in London, but is now stuck in politics. It is easy to know that Greg is, indeed, a chip of the old block. He may not be as bombastic as his father but no one can deny that the current chairman of National Bureau of Statistics is certainly cerebral. Little wonder former President Olusegun Obasanjo made him Director of Research and Strategy in the run up to his second term bid and still allowed him to retain his Mission as Ambassador to Congo Republic.
If you push hard enough, Greg could also be poetic or is it bombastic? What does he describe as ' the last vestiges of a dying phenomenon?. You will soon get to know.
But the apparent bomb he threw in this interview is that he originated the six- year single tenure concept now at the front burner of political discourse. Greg Mbadiwe says the view he canvassed nearly ten years ago at the political conference convened by the Obasanjo regime remains the most veritable solution to Nigeria's political instability issues.
He reveals that the view truly originated from his late father's political wisdom bag, but he [Greg] has only modified it to suit the exigencies of the day. Here are excerpts from the interaction;
What legacies would you say your father late K. O. Mbadiwe left as a politician?
The first thing is to understand that he was a committed patriot and one of those at the vanguard of Nigeria's independence. He left the shores of Nigeria for further studies and search for greener pasture in the United States of America in 1938. They were about 30, commonly referred to as the 30 Argonauts. They were sponsored largely by his late brother Chief J.
Green Mbadiwe who was endowed by God with some resources and he deployed some of it to giving people quality education at that time. Among those who went to America at that time included Mazi Mbonu Ojike, Ikejiani, Okongwu, Nwafor Orizu, George Mbadiwe amongst others . Whilst they were in America, they had already started to commit themselves to struggle. My father was very active and had already formed what was to be known as African Academy of Arts and Research. It was to provide some succour to Africans who were coming into America for studies at that time.
They also established the Africa House in Bronx, New York. The dream was for it to finally become a museum and that dream has come true today. It was from there that the zeal to liberate Nigeria from its colonial masters was engendered in them. Before coming back K. O. had acquired a Masters degree from Columbia University. That set of Nigerians went straight into politics when they returned to Nigeria, they were largely inspired by the works of late Nnamdi Azikiwe who had already established the West African Pilot newspaper which was like a voice for the struggle for the liberation of the country.
They all joined hands with Dr Azikiwe. In fact it was Azikiwe who inspired them to go to the United States in the first place. My father's first port of call was Lincoln University which was where Zik  studied. When they came back, they linked up again and the struggle continued. So I think part of his legacies include the activities leading up to the liberation of Nigeria.
Having achieved independence in the first phase, the second phase now was how to integrate the country. The spirit at that time was a cohesive Nigeria where everyone existed without any feeling of being sidelined, irrespective of where they came from. Politically K.O had visible legacies. For instance, it was a motion he moved in parliament that led to the establishment of Nigeria's Central bank. When he was Minister for Lands and Survey he inspired most of the low cost Houses you find in Surulere area of Lagos. In those days he initiated a group known as the National Rebirth where the likes of Herbert Macualay and others met to fashion out how to move the nation forward.
He worked very closely with his compatriots including the late Mazi Mbonu Ojike whose slogan was 'boycott all boycotabbles' while my father's slogan at that time was 'greater tomorrow'. When Mazi Mbonu Ojike died my father started something in his memory in Arondizuogu. It was a massive hospital which today has been taken over by the Imo state government. They did a lot that time to give Nigerians a sense of direction and belonging.
One of the accusations laid against politicians of Igbo stock in your father's era was that they focused so much on national politics and ignored their local abode, unlike politicians from other parts of the country.
I would not agree because there is a correlation between national and local politics. I would not undermine either but the problem was that you could not play proper Igbo politics and benefit the people if the Igbo voice was not strong at the national level, you needed some strong voices. They were like the Igbo Ambassadors at the national level.
While they were there, there were others like the late M.I.Okpara at the regional level doing well for the people. They all played their parts; none is more important than the other. A lot of the benefits that are enjoyed by the component bodies are sorted out at the national level. Yes it appeared as though they were playing wholly national politics but there were benefits accruing therefrom.
For instance my father was leader of parliament, which made him the highest ranking minister in the first republic apart from the Prime Minister. It was not entirely true that they forgot their immediate constituency. But they believed and fought for the corporate existence of the country. Today Nigeria is still one, largely due to the pioneering efforts of these founding fathers. In the later years people like former President Olusegun Obasanjo still held on and insisted on the indivisibility of the country. Some of these comments also came up in later years to erase the contributions K.O made in the evolution of Nigeria. But the truth is that those contributions can never be erased. They will remain there.
But in spite of these contributions, in his later years the great and bombastic K.O Mbadiwe could not win elections into the senate in Orlu zone in 1983. What happened?
You have to understand the dynamics of these elections. Most elections in Nigeria have never really been a reflection of the wishes of the people. It is more or less the survival of the fittest. I was not old enough at that time but I followed what happened. For instance I was beaten up in Urualla when I tried to protest against the lights going off and votes being switched. But where was K.O at that time. The man was sleeping in his house.
There was no way you could have seen him in that place where votes were being counted. That was not his style. So small boys simply short-changed him. It still happens. In 1998 when I ran for the primaries for the governorship of Imo state, it was clear that of all the candidates, perhaps I had the best and a clear agenda of where I was going and what I wanted to do for the state and till today I still believe that the contributions I wanted to make for the state still stand as valid, even after successive governments. But I did not win the election when virtually every body had conceded the position to me. In the normal Nigerian style, a cabal sat and decided who they wanted to take it. And for us in the Mbadiwe family it is not a do-or-die thing. It is all about service.
People should make efforts to safe guard their votes and we are seeing that happening now. The short changing that my father suffered in 1983 was not a reflection of his status and contribution to the society. And we the electorate suffer for some of these things because we hardly put our best foot forward. Politics is a sequence. What you see happening today is a reflection of what happened yesterday. If you have not been there and you just jump in, you will not understand. That has largely been the bane of politics in Igboland. There is no progression in political experience; people just jump in and after a while you start to see the lapses because there was no solid foundation.
My background and entry into politics
I went to Secondary school in England . I read Economics for first degree and came back to do youth service and went back to Scotland to read law and came to Nigeria for law school and call to Bar.  I worked briefly with my father as Executive Director in his Property firm and then went on to be a board member at Consolidated Breweries. In 1990 I lost my father. A year after he died some young Igbo men ran into me in Enugu and told me that I should not allow the political legacies that K.O left behind to die, that I should do something about it. Before then politics was not really my cup of tea because my mother used to tell me that I would not make a good politician, that I was too frank and open, and I agreed with her. But when these people came I said alright just to satisfy them, let me run for the senate.
This was around 1992. I ran under the NRC[National Republican Convention] and I was cheated out. I did grass root mobilisation and worked very hard, I went to virtually every hamlet in Orlu Zone, and my opponent at that time was not a strong contender. Everything was going for me. But at the end of the day another result was announced. I was very angry and then felt trapped in politics. I actually wanted to go to the senate and do one tenure in obedience to those who wanted me to hold up the legacies of my father and pull out and continue as a corporate lawyer, which was what I wanted to be.
But having lost in that controversial circumstance, I felt trapped and wanted to prove a point. So when the presidential elections came up through option A4, I went for it to correct impressions and make use of the momentum I had garnered in the previous senatorial election. I won the slot for Imo, even though I was very young and that was not really what I was aiming for but I wanted to show that the previous election was manipulated against me.
I represented Imo state in the main convention in Port Harcourt and then lost to Tofa. That was how I became a politician. That era was suspended and when the ban was lifted in 1998, I ran for the governorship of Imo under the Peoples Democratic Party[PDP].  I was again cheated so glaringly.  The powers that be decided to compensate me with an Ambassadorial posting to Congo. I believe the thinking was that given the followership I had garnered in Imo the best thing was to send me out because there might me instability in the state at that time if I was to remain around.
I was now Ambassador to the Congo and once I came back for consultation with  President Obasanjo and we spoke at length and I told him that given the kind of work we Ambassadors think he had done at that time by pulling Nigeria back from the status of a pariah state, there was need to put that kind of work on record. I promised him that I was going to coordinate the other Ambassadors to put those things on record as a book.
And the result was a book on his efforts at bringing Nigeria back to a respectable African country, which I started during my tenure in Congo and completed later [he brought a copy of the thick cover large book]. Two years into my tenure I was made Director of Strategy, Research and Planning of the 2003 presidential elections otherwise known as Legacy 1. At the top of the hierarchical structure was the President, Vice President, National Coordinator who at that time was Alhaji Adamu Ciroma, then the deputy National Coordinator was Chief Tony Anenih.
Fidelis Tapgun was there as Director-General, Idi Faruk was Deputy Director-General, I was there as Director of Strategy, Celestine Omehia was Director of Finance, Kazaure was Director of Mobilisation, Akin Osuntokun was Director of Publicity and we had a lady coordinating the women. The most interesting thing about that was that the President promised me that coming to work for him in Nigeria at that time did not mean that I would lose my Ambassadorial posting and I think that must have been guided by the fact there was only just a year left and there was really no need for changes. So I happen to be on record as one of the few Ambassadors who had a mission but operated from Nigeria.
Why do you think President Obasanjo had such confidence in you to give you that privilege?
To be honest with you I do not know. But my earliest contact with him naturally started from Jos before he even won the primaries. I was a member of the convention that conducted that primary. Immediately after that event in Jos, a team was constituted to work with him, it was made up of myself, Mohammed Waziri and a few others. We were in the advance party of the presidential team. Being there meant that we were everywhere he was and had contacts with him. I remember that it took a long time before he began to recognise me. I remember that every where he saw me that time he would look at me with that kind of where-do-i-know-you look and I would say 'I am Greg Mbadiwe sir'. He would nod ok. Another time he would give me the same look and I would introduce myself again.
That kept happening until one day at the Defence House in Abuja. He was in the sitting room and we were at the dinning table  eating and after that  I was just stepping out from the dinning and he was coming into the dinning area, then he looked at me with the same kind of eye and I said 'Greg Mbadiwe' he said 'I know you Greg'. I was fascinated with Obasanjo because in his manner of dressing and certain speech mannerisms he reminded me so much about my father.
He had that kind of figure and Obasanjo was a very simple man but people did not know. And few of us who knew that he was such a simple man capitalised on it and people were calling us Obsanjo's boys. But the truth is that we found that he was such a simple man. Obasanjo takes all his phone calls, even as a president. Even when he was going to play his favourite game of squash, he would call the operator and give instructions that his calls should be directed to the squash room. And if you came to see him he would  see you, regardless. And the villa operated almost on a 24 hour basis.
He would be there until 4am in the morning. That was some of the secrets we found about him and closed in on them. Indeed after Legacy House he actually asked me if I wanted to return as an Ambassador. At that point I reasoned that I had already stayed four years outside the country and I needed to make contributions from inside.
Also I had set up some personal things that needed my attention. So I knelt down and begged him. I told him my father had told me when he was alive that when you are asked this kind of question at this level it was not really a question, it was like an instruction, which had to be complied with. So I begged him to allow me stay in the country and not go for any posting outside the country again. He said ok if that was what I wanted. And that was how I lost that opportunity to get an Ambassadorial posting a second time.
Indeed I thought he would give me another job. But that did not happen. It was then  I realised that with Obasanjo appointments do not just come like that. He plans his appointments way ahead of time and apparently that ambassadorial position was what he had for me and since I turned it down, he apparently felt helpless.
His appointments were like things already on the shelve, when the time came he just went and pulled it out. He had pulled out mine and I turned it down, thinking he would give me something else. But that did not happen. So after a long time he called me and said the regime was planning a political conference and he knew that with my background I should have something to contribute. But he said he could still not find a space for me in the conference.
Then he said he would give me one slot from the ones meant for the youth and warned me that there was going to be resistance about giving me that slot, but that I should not worry, I should just hang in there, that the resistance will eventually die down. I did not understand what he was saying until the announcement was made and I found my name in the section to represent the youth. When we came to begin the conference and people were introducing themselves and their groups and I introduced my self and said I was representing the youth. The whole place erupted. People were shouting no, no. And truly I was going to turn 50 about four months from that time.
When the noise came I then understood what he was talking about. He had already told me to calm down and not react at the objection, which was exactly what I did. I did not have a big 50th birthday bash because of that conference and incident. That was how I stayed back in the country. Shortly after that conference he nominated me as a member of the board of Federal Road Safety Commission. It did not take one month after I became a member of the board before our chairman was appointed to head the PTDF [Petroleum Trust Development Fund]. When that vacancy came, I was announced as the chairman. That was how I became chairman of FRSC board.
That was the job I did until the Yar'Adua administration. But before then I was the secretary of the convention committee that brought up Yar'Adua. If you recall at the Eagle Square I was  counting the votes. That one prepared me for the in-coming administration and through that effort and other things I was made chairman of National Bureau of Statistics. Prior to that something happened, it was never envisaged. I never saw it in my radar screen, no premonition of any sort. That was my being given a National Honour.
You cannot believe how I felt. It was awesome. I went into the Villa one day to greet the President and bumped into Idi Faruk at the red carpet section. We were just chatting and Obasanjo would come, take a guest and meet with him and come back to take another. Then he would tell Idi Farouk and I to wait, that he would see us. We were the last people he saw. It took till about 3.30 a.m before he saw us that day. When we came we just thought he wanted to chat with us as he used to do, because he enjoyed chatting with us after hours. But this one was different. He said gentlemen I am putting your names for National Awards.
I was so overwhelmed; I almost fell on the ground. It was probably the happiest moment of my life. I never saw that at all. Nothing in my contemplation could have brought about that. My father never got any National Awards in spite of his contributions. I was not expecting one at all. I am very grateful to God and to Nigeria. That's why I have continued to build the national discuss because I feel that given my background and what I learnt at my father's feet, I have a lot to contribute.
That's why when I make some statements people who are not informed just think that I talk for talking sake. For instance when I proposed the single six-year tenure, I was not talking from the blues. My father had proposed it although he was going for five zones and he said after it had gone round once then we can unzone. The idea was to give everybody sense of belonging that as a Nigerian you have a right to aspire to the highest office in the land no matter which part of the country you come from. He reasoned that for so long as it seemed that people were being schemed out of that office then the country will not have the cohesion needed to enable it attain its rightful position in the comity of nations.
You were linked with third term agenda during Obasanjo's era based on this proposition because the feeling was that you made the proposition knowing that he was still in office, so that he would benefit from the new order.
First of all I made the distinction between third term and tenure elongation. I chose to call my proposal tenure elongation as distinct from third term. It happened that Obasanjo could benefit but that was not the overriding interest. However Obasanjo is my father, if I made a proposal that he would benefit from I have no problem with that but I had no intention to do that in the first place. I wanted to benefit the country, particularly after going through the works of the founding fathers, including my father who had proposed a single tenure. It was not anything new.
It was just that people knew my relationship with Obasanjo, particularly when I was his director of strategy. They now said it was part of the strategy and that Greg has come up with a new game plan to keep Obasanjo permanently there. I had a rough time explaining to people that I was just talking about two additional years, which was really nothing in the life of a nation to achieve long lasting political stability.
Since then almost ten years have gone by, what has changed? If we had done it at that time we would have perfected it and moved on, but the suspicion made people throw away the amendment I was proposing. I saw the conference as a place all the nationalities were called to come and lay down their case.  Although I had no one in mind the truth is that I saw my single tenure proposal as one that could eventually help Ndigbo to get to the Presidency  since it was looking as if the group would never get there. At that time neither the north nor the west could sincerely say they had been short changed at the level of presidency.
I expected Igbos at  the conference to latch on to the single tenure thing and be the arrow heads pushing it and perhaps cut a deal with other groups in order to achieve the change and get to the presidency faster. See, in politics if you don't know how to cut a deal then others will cut a deal against you. I know and still insist that the single tenure proposition remains the best thing for Nigeria. Mine is to make the proposal and it is for the component units to see the angle that suits them. I wont be the one to show anybody his or her angle.
So you still believe that t he single tenure is best for Nigeria.
Naturally, except we are not sincere to ourselves. You must have observed in the first place that less than ten percent of old public officers are voted out of office after the first tenure. It is almost like everybody gets eight years. Then why don't you just call it a single term of eight years and let people  stop burning all that money for second term polls. And where do you think those funds come from anyway. It is still public money which would have been used for development.
And some politicians stash money away on the guise of second term. But that's not the only problem. The real thing is this; we are a heterogeneous country and we should think more about the things that unite us rather those that divide. If power is made to move round faster then we will achieve national cohesion and that will also bring about commitment to the continued existence of the nation. If everybody is committed to corporate Nigeria then we will development faster because there will no longer be suspicion.
The truth is that Nigerians actually love themselves and this is manifested more when you see them outside the country. When it comes to sharing our national resources internally we then begin to play up our differences. I think it has come to a time when we have to be sincere to ourselves and forget about those differences and admit to ourselves that we are not moving forward in terms of unity and it is inevitable that we must stay united.
The consequences of not staying together are too gruesome to be imagined. It is better for us to do what ever it takes to stick together'. There is more than enough for everyone but we are not harnessing and producing enough because of suspicion and lack of harmony. Militants wont let the oil sector operate well because of susupicion and all that. Then you have current disturbances in the north. It is time for change. I think President Goodluck Jonathan's emergence is a step in the right direction. Now the South-south can no longer complain of not having an opportunity to have a shot at the presidency. The next one would be the Igbos.
Are you proposing that the six-year tenure should begin with Jonathan[the interview was conducted a day before Jonathan publicly ruled himself out from the new proposal]
It has to begin with him. If we are going to accept the proposal then now is the best time to start it. If you don't start it now then it becomes useless for ever because there is only one group left to get and it would have gone round. The aim of getting accelerated access to power for everybody would have been defeated. Again it is ideal that Jonathan should start it because he had already publicly told the country that he is forsaking his second tenure so if we allow him to have those two extra years, he is actually still making a sacrifice of two years which he would have got had he gone for a second term. I don't see why he should not start it.
However all I will say is that we should all continue to pray that the Jonathan team will deliver the right benefits to the people. If he could legitimately have some more time then there is no reason for us to change him. It is just that the Jonathan team must understand that the true and proper political and economic destiny of this nation lies in his hands. If he does well the people will only be very happy to have him take two extra years. Indeed it is a win-win situation because even the governors need it too.
If you take a statistical census of elections since this democratic dispensation, you find that only about ten percent of governors are changed during elections, why waste resources on second term. These were the things we saw earlier and felt that everybody would have seen it  then. Well it is not too late, especially now that we hear more voices in support. And now they know that I was not making the proposal at that time for any selfish reasons, all those who lampooned me at that time should be courageous enough to come and apologise to me.
Would politicians not seek to manipulate the constitution again like Obasanjo was accused of trying to do?
You know I was accused of being at the helm of third term agenda which, as you can now see was not true, nothing near what people said at that time. And I am still surprised that Obasanjo did not punish me for inadvertently making people to see him as what he is not. I don't see where else he planned this so-called third term thing within that political conference .There was never any talk of any third term during the conference.
The only person that talked about tenure elongation of any sort was me. I don't see how they came with this general talk that he wanted to manipulate. We finished the conference and submitted the report. He did not manipulate anybody over any third time. if that happened outside the conference, then it a different cup of tea which , in any case was not known to me. As far as that conference was concerned, nobody can ever stand up and say Obasanjo approached him or her for a third term.
Even my move for tenure elongation was subject to serious debate and I was made to defend it when everybody had seven minutes to speak toward the end of the session. After I defended it the conferees understood where I was going and agreed with me. I wanted the change to happen in Obasanjo's era because I knew he had the courage to pull it through and enact the new constitution. At the power sharing committee of the conference we agreed that there was need for power rotation amongst the groups.
We said we should start with the least favoured to the highly favoured. It is unfortunate that Nigeria had been allowed to drift to this point before we started making amends and the truth is that for us to make amends some people would have to make sacrifices to make up for what happened in the past. Some people have stayed without this power for 40 years.
If some others have a little discomfiture of a few years I don't think that is too much of a sacrifice to make to ensure that there is equity if we are sincere. At this point I want to congratulate those PDP governors in the north who aligned themselves with Jonathan during the presidential primaries at Eagle Square and made him get the ticket. I call them the young Turks who correctly read the handwriting on the wall and saw that Nigeria needed to be united by all means necessary, that it requires serious sacrifices.
We also noticed the older people coming together to  talk about consensus and all that, well I call those things the last vestiges of a dying phenomenon. We, the digital Nigerians want to be more united and develop the country with the speed of a rocket. We have no time to be bickering over things that do not make sense. So I congratulate those northern governors for seeing ahead and lining up behind Jonathan. I would also want to say these  activities currently happening where people are just killing each other must stop. It does not make any sense. Killing people would not change a progressive stand. If Nigerians have decided on where they are going there is no point in killing people because it won't change anything. It is better we find how to work it out than to continue with these retrogressive actions.
Let's talk about your home state Imo. Your party lost power there, what really happened?
The truth of the matter is that the peoples will prevailed. We in the PDP are grateful to Imo people for giving us the opportunity to be in power for that period before the change. We still believe that we had the best intentions for the state. But the power lies with the people and they had decided. That is why you find that after some time the people may reflect and statr giving credit to those they had already sacked. We as a party may have done some things wrong and I know we also did a lot of things right. But we have lost and there is no need crying over spilt milk.
We now join the rest of the people to pray for the success of the new governor who, in any case ,is from the PDP in the real sense. Rochas just has the head of APGA but the rest of his body is still PDP. But talking about the PDP we all have to come together again and rebuild the party. It has been shown that most of the opposition were all founding fathers of the party. Something must have gone terribly wrong with our internal democracy therefore we must refocus and ensure that we don't have cabals within the party shortchanging the wishes of the people.
We have to go back to the original concept of the party. I was a signatory to the original charter of the party. Olusegun Agagu was also a signatory on behalf of the New Era foundation at the Ladi Kwali Hall in Sheraton hotel Abuja.  One of the reasons we chose the Umbrella as our logo is that we wanted to accommodate all shades of opinions.We shall put our house in order and I know that at the end of the day the party will reclaim its premier position in the state .
You said Rochas has the body of PDP and the head of APGA, which means you expect him to return to PDP.
I don't see why he will not return. I have already said that his seat in the PDP is still vacant, waiting for him. the truth is that he was a driving force of the PDP in Imo. You cannot count ten top notch of the party in the state without counting Rochas, Udenwa, Agbaso, Myself among others. We were the fulcrum of the party in the beginning. We went ahead and defeated the big boys in the state who were all in APP at that time. There were people like Chief Evan Enwerem, Arthur Nzeribe, Iwuanyanwu were all in APP at that time before crossing over to the PDP.  With the right kind of leadership now emerging at the state level of the party I believe that we shall soon sink our differences and all current opposition people will return.
What is your assessment of the current Government in Imo
I think it is still early to make comments on governance in the state. we need to give the governor and his team some time to see what they will come up with