HOW EX-BEAUTY QUEEN, GLORY CHUKWU FELL IN LOVE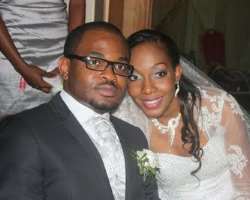 On Saturday 23rd July 2011, Glory Chukwu, former Most Beautiful Girl in Nigeria (MBGN) got married to the love of her life, Uchechi Umunna. The event which took place at the Civic Centre, Ozumba Mbadiwe, Lagos was indeed a great celebration of love.
Uchechi Umunna is a Civil Engineer and works with NLNG, Lagos .Glory Chukwu, MBGN'09 currently work with an oil servicing firm (Vandrezzer Energy Services) as a Corporate/Client Services Executive.
According to what bebeakinboade gathered, they met at Glory sister's wedding in 2008. He was the best man while Glory was the maid of honor. They dated for 3 years. He supported her at the MBGN Beauty pageant and was also present when she was crowned.