'My Regrets At Fifty-Five'—Jide Kosoko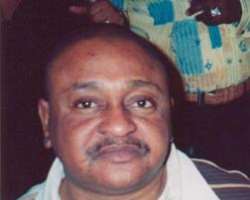 President of the Association of Nigerian Theatre Arts Practitioners (ANTP) and versatile actor, Prince Jide Kosoko, who turned 55 recently, says his regrets include losing two wives in a quick succession and the state of the Yoruba movie industry.
Speaking withhttp://www.nollywoodgists.com, Kosoko said: "I thank God for his mercies but it is unfortunate that one would recall this kind of a thing when one should be celebrating. I lost two wives in quick succession. That was in 1992 and 1993. I thank God that I was able to overcome that."
The ANTP president said when he became the president of ANTP, he tried to restructure the association by creating different guilds. "Things are improving but it is not at the rate one expects, because there are lots of gate-crashers in the Yoruba movie industry."
Prince Jide Kosoko, who will be rounding off his tenure as president of ANTP, said: "if I have my way, I would have reduced the number of ANTP members because some people who do not have any business in the industry have gate-crashed into the association because they knew somebody who knows somebody in the association."
He added that he is not ready to re-contest the position of ANTP presidency. "I am 55. I'll rather leave the administration of ANTP to a younger person or anyone interested in it, because I will be going into politics as soon as I leave the office."
The actor added that he will not quit acting, but he will be supporting the movie industry with his pet project; Art Thinkers International, which is aimed at training the younger ones.