CONFUSION IN MKO ABIOLA'S HOUSE OVER HAFSAT'S APPOINTMENT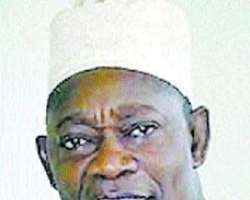 With her appointment by Ogun State Governor,Ibikunle Amosu, as a Special Adviser,Hafsat,the hardworking daughter of late heroine of June 12 struggle,Mrs.Kudirat Abiola,may not find it easy coping with the attendant family disturbances, if information at our disposal is genuine.
Some of Hafsat's siblings, we heard, were yet to come to term with the shocking announcement of her appointment.
Not all members from the late business mogul's family have even congratulated the lady on her new task, we were told.
The source added that some family members, perhaps, had a candidate of their choice but the governor shocked them with Hafsat's selection.
Of late was the case of one of her elder siblings from a different mother who got entangled in the web of N36 million fraud.And, again, her immediate elder brother Jamiu, alleged he was forced to step out of the race for a political seat for a Godfather's Son.
However, none of this is said to be giving Hafsat sleepless nights, as she has focused mainly on being a good Ambassador of the new generation.